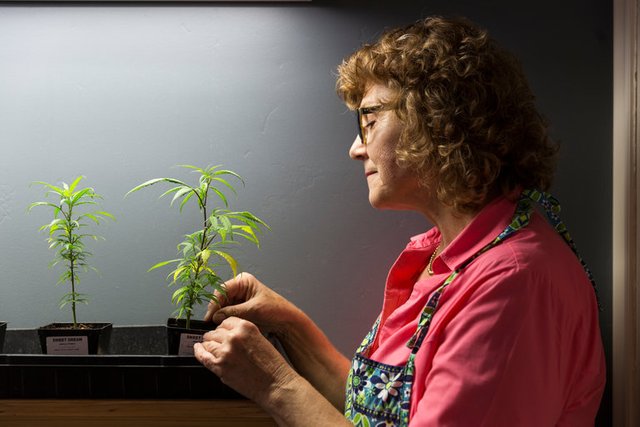 Ms. Moss, 62, of Marina Del Ray, Calif., had quit her job as a marketing consultant before she had her hip done in 2014. As she left the hospital, her doctors handed her a "shopping bag filled with opiates," she said. The drugs made her disoriented and woozy.
So she switched to medical marijuana, which is legal in California and was familiar to her, having grown up in the nearby Venice section of Los Angeles. Within a week, she had tossed away her pharmaceuticals.
As it turned out, Ms. Moss was in good company: Many of her friends were also using cannabis to manage their ailments. Slightly embarrassed about carrying around a drug associated with naughty high school students, the older women would lament that they had nowhere to stash their drugs.
Continue reading the main story
RELATED COVERAGE
Opinion Maureen Dowd
Don't Harsh Our Mellow, Dude JUNE 3, 2014
Marijuana Goes Industrial in California APRIL 15, 2017
Opinion Taking Note
Checking Accounts for Marijuana Businesses AUG. 15, 2014
Editors' Picks
The Golden State Warriors Are Simply Too Great
JUN 5
A Modern Art Pioneer Down in New Orleans
JUN 5
In Its Series Finale, 'The Leftovers' Crosses Beautifully to the Other Side of Grief
JUN 4
India, Pakistan and Something Deeper Than Cricket
JUN 4
The Biggest, Strangest 'Batteries'
JUN 3
See More »
"Everyone was pulling baggies out of their Gucci and Louis Vuitton purses, and I thought, 'Why are we sneaking around like guilty teenagers?'" Ms. Moss said.
In 2015, she started a business called AnnaBis, a line of aroma-controlled handbags, clutches, vape cases and other pot-related accessories. Soon after, she began publishing cannabis-friendly travel guides exclusively for women — becoming one of a small but growing number of older women who are marijuana entrepreneurs.
"What other industry is growing so fast there's the opportunity and low cost of entry?" Ms. Moss said. "Entrenched opportunities already have their systems set up. This hasn't been created yet."
Her story is typical of the women in their 50s, 60s and 70s who have started up businesses in the world of pot. Inspired partly by their own use of the drug for pain relief, or by caring for others who use it for their own aches, these women see viable business opportunities and view their work as therapeutic for their customers.
"It's definitely a trend," said Troy Dayton, the chief executive and a co-founder of the Arcview Group, an investment and market research firm that focuses on the cannabis industry.
"A lot of women have this family recipe, or they were making a certain kind of tincture for a loved one who was suffering. Now that pot is legal, they're like, 'Wow, that thing you were making for Grandma could be a real product.'"
According to Mr. Dayton, the market for legal recreational and medicinal marijuana in North America hit $6.7 billion in 2016, a 34 percent rise from the previous year. Marijuana Business Daily, a trade publication, reported in 2015 that women comprised about 36 percent of executives in the legal-marijuana industry, compared with 22 percent in senior roles in other areas.
Since the industry is still finding its way, there is no "built-in institutional bias against women of any age," said Nancy Whiteman, 58, a co-owner of Wana Brands of Boulder, Colo., which sells sour gummies, salted caramels and other products laced with THC, marijuana's main psychoactive ingredient.
"In a lot of other industries, there are hundreds of years of history of who is successful and who is not, and there are glass ceilings to be broken," Ms. Whiteman said. "But there's no norm here. Everyone is figuring it out together."