A REVIEW ON OLAMAX EXCHANGER
When Steemit was introduced to me by my friend, the first question I asked is how possible it is for me to exchange my earnings for fiat. He told me about the open market and it didn't really answer my question. I discovered telegram some months later when I started making cool earnings yet the process was tedious. It was rowdy and man has to be careful of scammers parading like traders. When online exchangers came up, it was easy and convenient for me then the dip occurred. You know the rest of the story.
An online exchanger is a platform where you can exchange your tokens/coins for tokens/coins or to fiat. The key characteristics of an online exchanger is the ability to get your fiat in your bank account faster and convenient. No hassle, no delay and no long stories. The advantage of exchangers existing on platforms like Steemit is that investors will love the ability to buy and sell faster without delay. Back to the Nigerian setting, I have used many exchangers but mostly are just to sell which limit my chances of investing. I don't want to be a seller alone, there are times I have extra money and wants to buy without hassle. This is the sole reason why I became a part of Olamax Exchanger.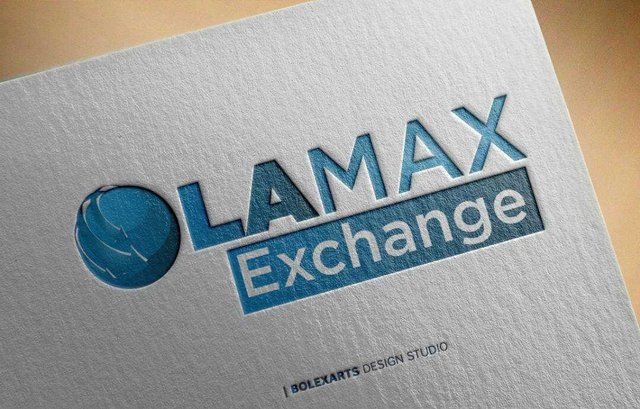 Source
Olamax Exchanger is a platform to buy and sell Steem, SBD, BTC and Dogecoin. To write out a proper review, I had to perform a transaction. Follow through as I write out the steps to sell Steem on the platform as done by me:
Step 1:
Login to the website: https://olamax.io
If you want to sell, you don't need to register/login.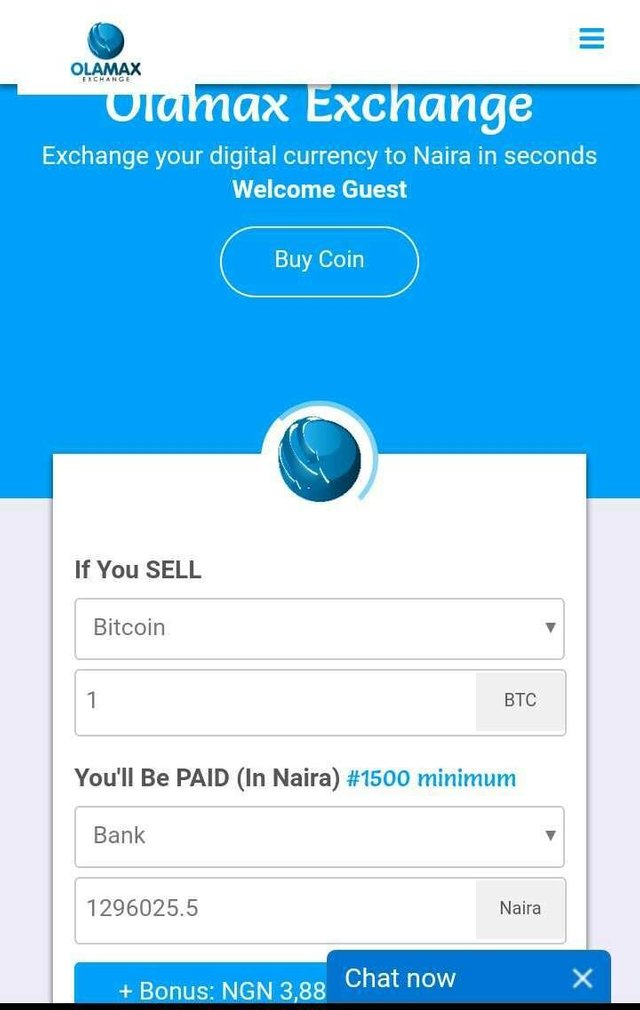 Step 2:
Select the coin you want to sell; Bitcoin, Dogecoin, Steem or SBD. I chose Steem for my transaction.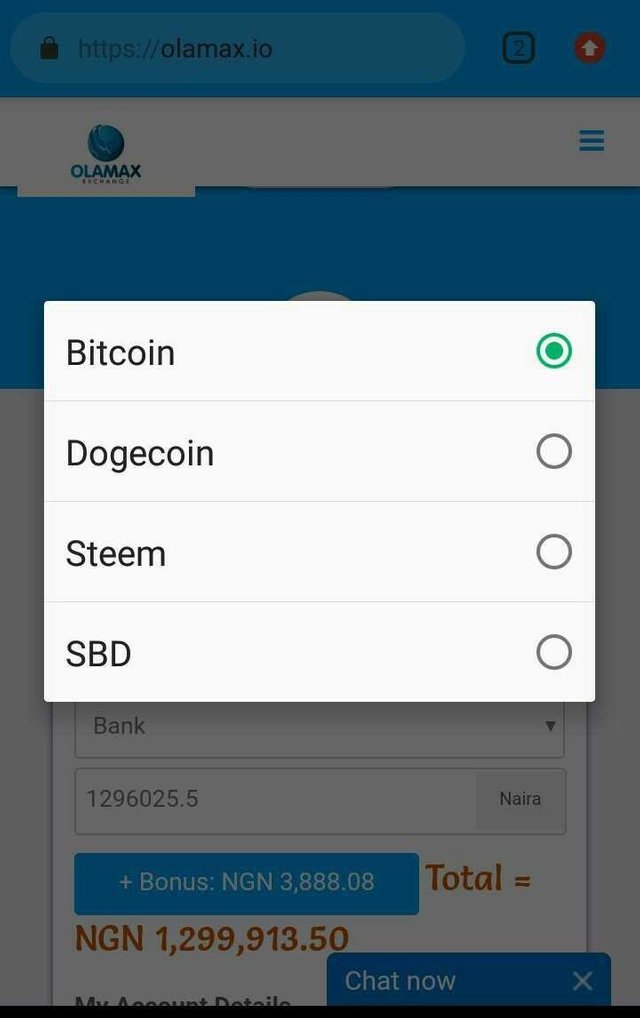 Step 3:
Input the volume/number of Steem you want to sell.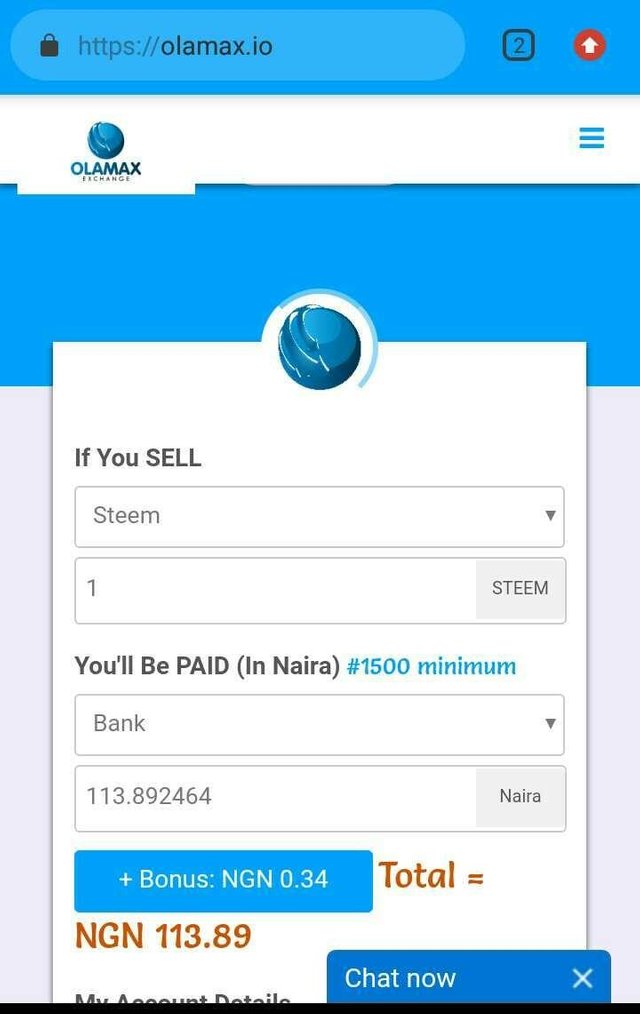 Automatically, the system will calculate the amount in Naira with a bonus (bonus is still on, don't miss out).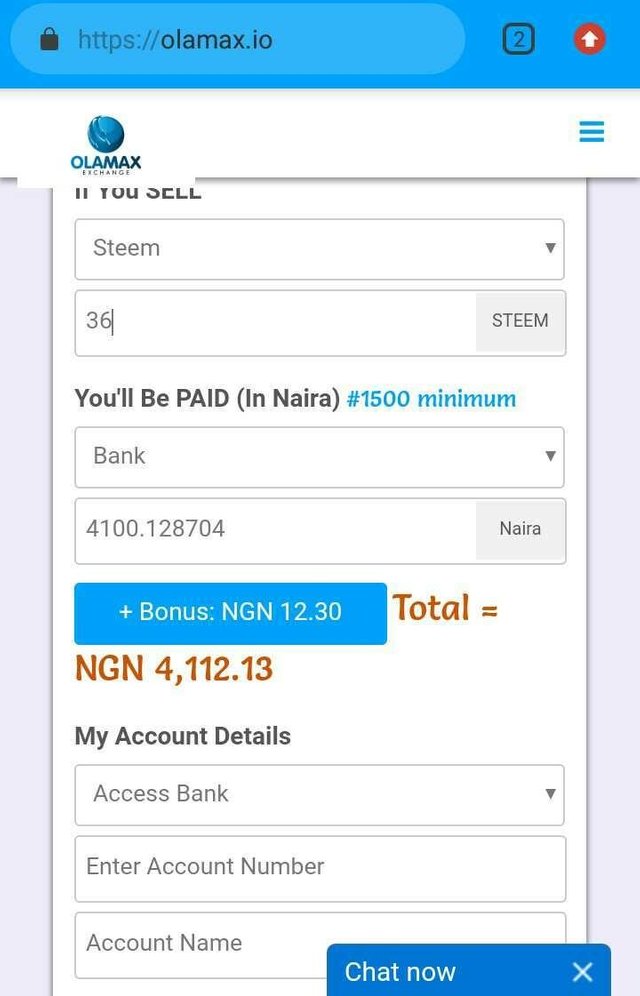 Input your Account details; your bank name, account number and account name. Then click "Begin Transaction".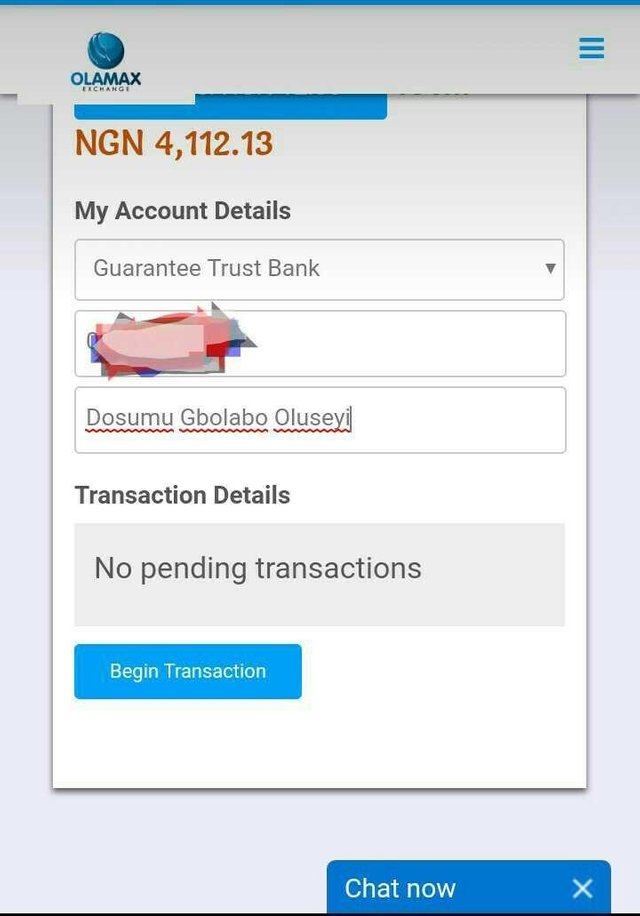 Step 4:
A pop-up will show that will bear the details you have provided. Click "Begin" to proceed.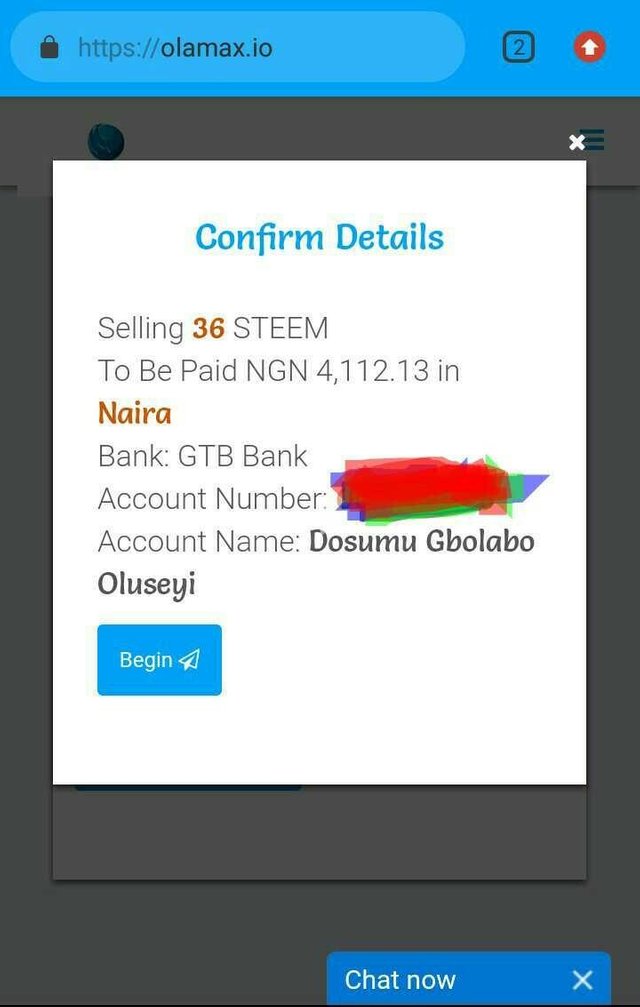 Step 5:
This is where you complete your Steem transfer, there are two options – SteemConnect and Manual Transfer. It is advisable to use SteemConnect if you are sending directly from your Steemit account. Input your username and click "Transfer Using SteemConnect".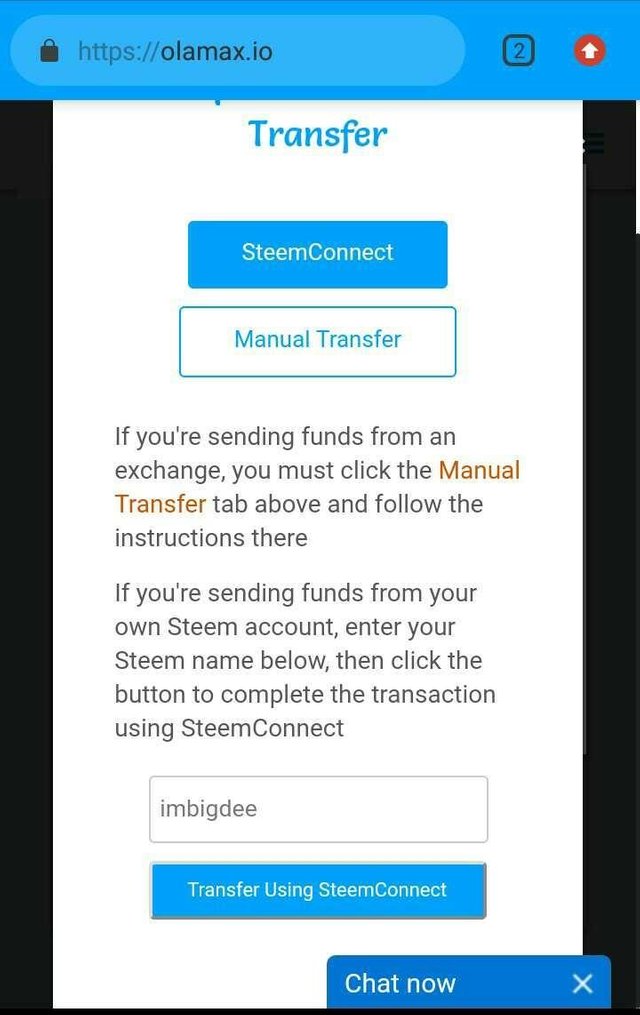 A pop-up will show to show the operation of transfer from your account to Olamax. Click "Continue" if you are sure.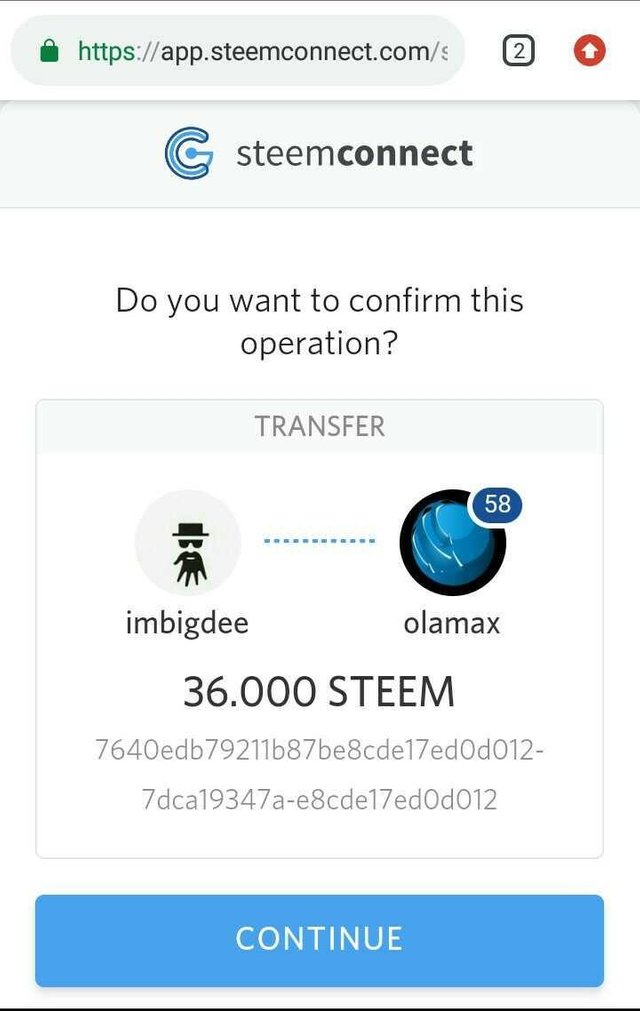 This will re-direct you to SteemConnect website. Input your Steemit username and active key then click "SIGN IN".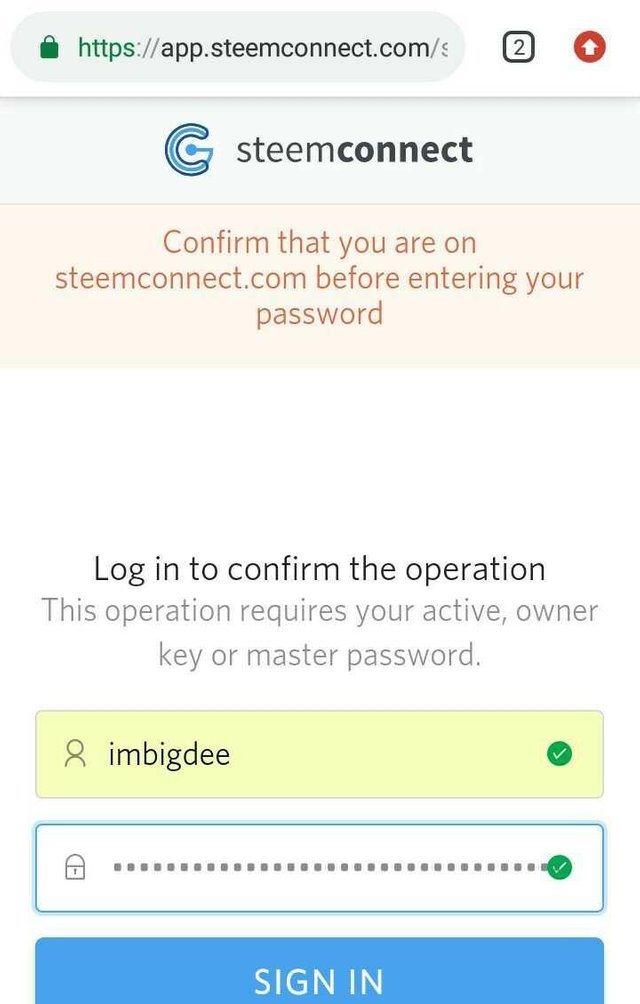 You will receive a "Congratulations" message to show that operation has been successfully broadcasted.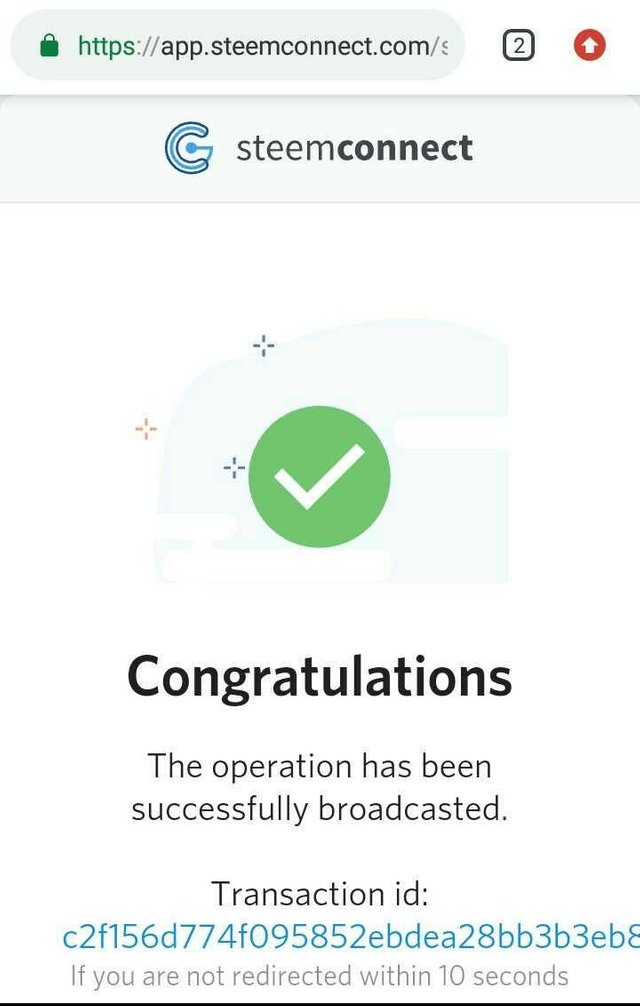 You will receive "Transaction Successful" message.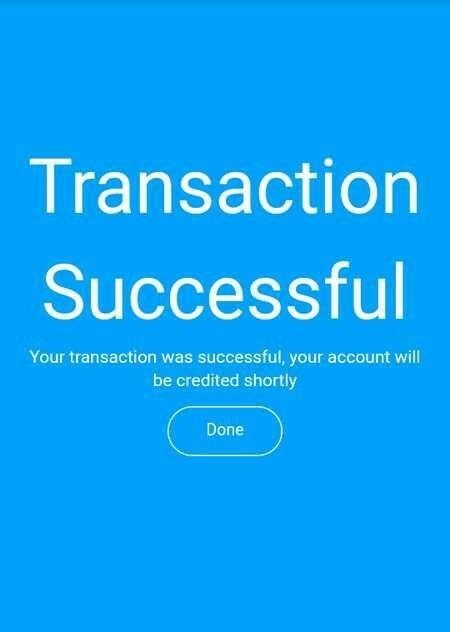 In less than a minute, my account was credited accordingly.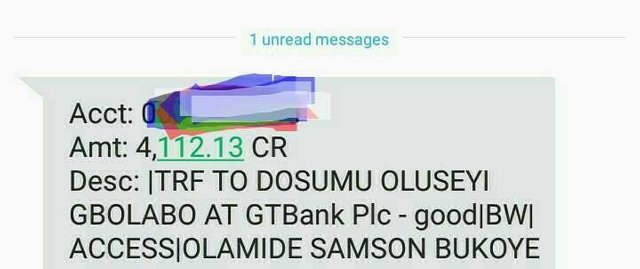 With these steps, you can sell your coin in less than 5 minutes. Now, let us move on to other features.
When you want to sell your coins, you can decide to get the equivalent credited to your bank account as shown above or you can buy Airtime and Data to your MTN, 9mobile, Airtel or Glo lines directly.
How to Buy Coins
To buy coins on Olamax, you need to Sign Up – input your Full Name, Email Address, Password and Confirm your password again. Your account is ready but one more step to go to be a recognized buyer.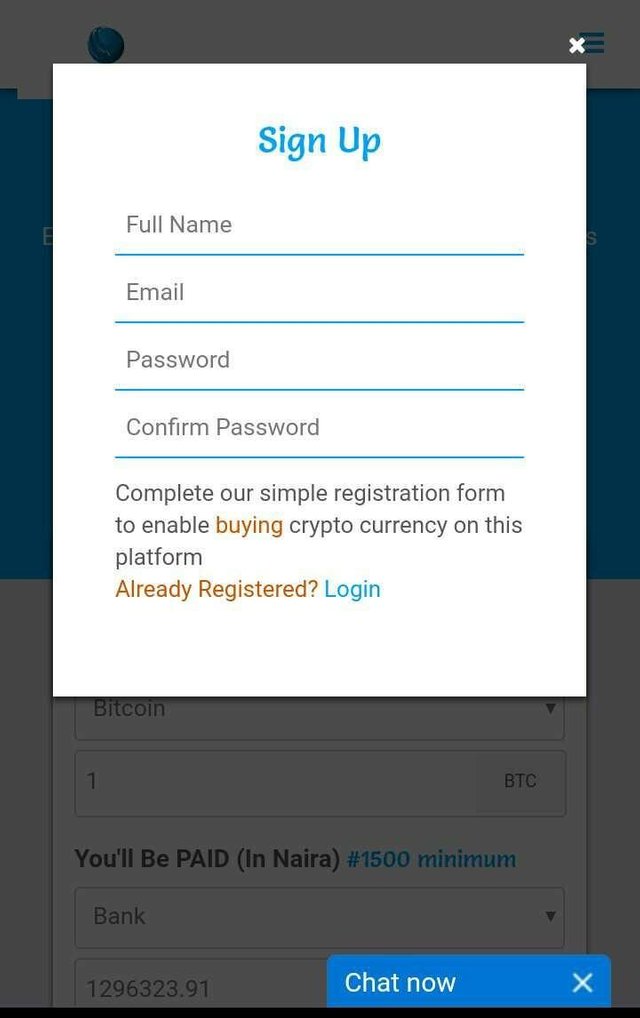 You need to complete your KYC registration to be able to buy on the platform. KYC means Know Your Customer – it is a government approved document that bears your details. You can use your National ID Card, International Passport, Permanent Voters card or Driver's license. You need to take and upload pictures of the front view, back view of the document and an image of you holding the document then click "Finish".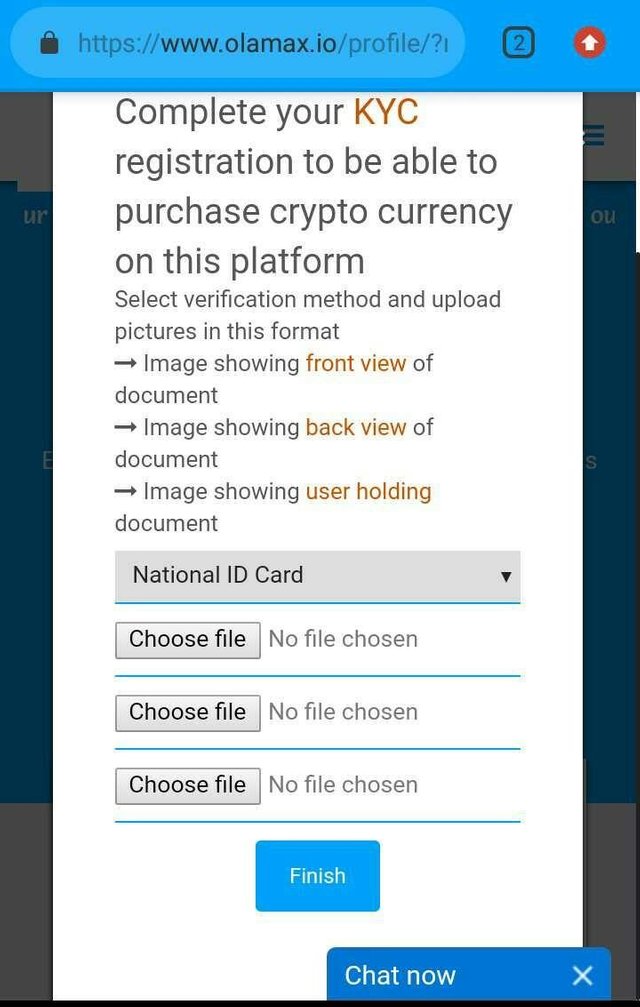 The admins will go through your upload and confirm the originality. Once you are certified to be genuine, you can go ahead to buy coins on the platform.
NOTE: You cannot buy crypto currency on the platform without properly completing your KYC registration. Also, you don't need to login to sell. Enter as a guest and make your transactions. Promo is still going on for every transactions you make.
---
Finally, Olamax provides a hassle-free, fast and convenient way to exchange your coins for fiat. They have provided a secured platform through the KYC registration for buyers, this will stop the invasion of scammers coming there to act like traders as seen on most Telegram exchange groups. The minimum amount to withdraw to your account is N1500 (One thousand five hundred naira), this will keep the platform on check and balance. There will be no chance for bank issues/charges due to low amount of withdrawal. I will also advice @olamax to add more coins to the platform, this will allow diversity.
There are so many people that believe in hodling coins but unforeseen situations may come up and you have to sell your coins/tokens. It will be best if I can choose which one to sell not limited to only the 4 coins listed on the platform. I believe with time, you will add more. I recommend Olamax Exchanger to anyone that wants to buy or sell coins. They are fast and customer friendly. When I first had issues with the exchanger, @olamax himself responded to my enquiries and helped put me through. This is an added advantage.