MYID is the best project that will rock the crypto world in 2021
Hello every one today we will talk about a project that will rock the crypto world in 2021, The name of the Project is My Identity Coin ( MYID Coin) it is money back up by Assets. My Identity Coin is built on Ethereum network for now but they have a plan to migrate it to their own blockchain network in the long run due to the functionality and use limitations of the ethereum blockchain.
Ask we know to this very day that there's a lot of crypto projects that flying any where and every where in the crypto space but some of them, or most of them are scam because they even hardly listed in exchangers because most exchangers right now is very strict in implementing on the projects that want to be listed on their platforms.
In the case of My Identity Coin it is already listed on five exchangers and any one can buy MYID Coin in there ICO that is live right now. This are the exchangers where you can buy MYID Coin, Vindax, Uniswap, ChainX, Tokpie, Indoex and you can also buy MIYD Coin to their site here: https://okglobalcoinsg.com/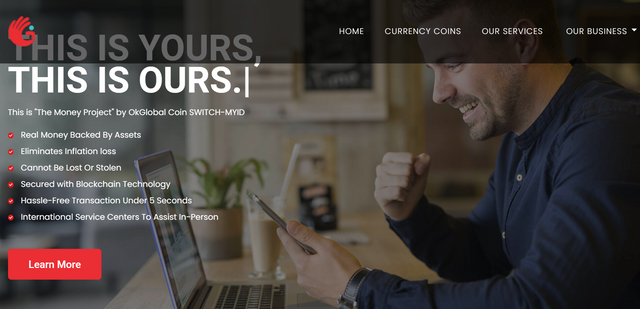 Actually they have three deferent coins one is Okglobal Security Coin compliant securities coin only for accredited and qualified investors. Capped risk investment. (OKGSG a TRC21). Second is My Identity Coin (MYID) is a utility coins used for tagging/wrapping of blockchain information with unique owner identifying code, tagging blockchains with MYID coin coding is to reduce and ultimately eliminate threat of loss, theft or unfair confiscation. The third one is Switch Stable Coin , Stable coin 1:1 backed and redeemable on their international service centers or various exchanges and it is coming soon. Those are the best coins that you don't wanna miss because this year 2021 is a crypto bull run so, If you get on the best project in the beginning you have a big change to make much profit because in the ICO you can buy coins in cheapest price, so guys don't be late go and full your bag with MYID COIN for sure you don't wait for years to make much money because My Identity Coin will surely get ride on Bitcoin and Ethereum bull run this year 2021.
To know more about MYID Coin project you can watch their video here
Why you should buy MYID Coin? will that's the common questions ask by any people that investing on cryptocurrency especially on the ICO project that is starting their journey on the crypto space, the first thing you gonna look is the team and its activity because ask we know any scam projects today are unknow they cannot stand on the project that they created the only thing they want is the peoples money that invested on it and run away that's what they called exit scam. In MYID Coin project they Team are very active on it and they are already interviewed on big financial institution like NASDAQ an aired on Fox Business News and Bloomberg International. And you can visit also there OkGlobal Coin SWITCH-MYID International Service Centers located in Singapore. MYID Coin is the only blockchain project in the world with a physical storefront that saves people money within minutes. To know more about MYID Coin you can visit there website here: https://okglobalcoinsg.com/
W also know that MYID Coin is already listed on five deferent crypto exchangers that makes this project more sense of legitimacy and why you should buy MYID Coin because this will give you much profit in a few months from now, after there ICO's and IEO's. When MYID Coin will be listed in more exchangers for sure price will become higher, it myth go to 20 to 30 times higher that the ICO price, so guys don't waste this opportunity to be a part of this revolution, this is the best time to buy MIYD Coin and hold it for this 2021 cryptocurrency bull run. To know more about MYID Coin Project you can visit there site here: https://okglobalcoinsg.com/
You can also watch there video here
This is a good timing for us to invest in a project that is legit, have a strong team working on it, team that is very active in promoting and aim's to make there project successful and not only that they already stablish there high credibility in many ways. That is why as an investors, crypto enthusiast, trader and crypto lover , I personally recommend this project to every one, even if you are new here in crypto because I believed on this project that one day it will soar high and will make it on the top 10 in crypto market cap. So what are you waiting for lets buy and full our bag now with MYID Coin and make much money in the bull run. To know more about MYID Coin project you can visit their site here: https://okglobalcoinsg.com/
#OkGlobal #MyIdentityCoin #blockchain #cryptocurrency #technology #bitcoin #money #crypto #ethereum #cryptocurrencies #fintech #ICO #innitialcoinoffering @MyIdentityCoin
You can also visit their Bitcointalk ANN : https://bitcointalk.org/index.php?topic=5299156.0
My Identity Coin information
Coin Symbol: MYID
Contract Address : 0xbee571a0a8599ada125e1a33e56287c3c594a5e2
Max Total Supply: 100,000,000,000 MYID
Begins December 27th, 2020!1eth = 500,000 MYID Coins ONLY DURING ICO!
The ICO end date is February 25, 2021, 9 am Singapore time or when the hard cap of 50,000 ethereum is met
INITIAL EXCHANGE OFFERINGS for MY IDENTITY Coins will now be available on Uniswap, Indoex, Chainx, Vindax and TOKPIE and you can always buy directly from our ICO at www.okglobalcoinsg.com!!
MYID Coin price 1ETH = 500,000 MYID
You can also visit their social media accounts
Facebook : https://web.facebook.com/myidentitycoin/
Twitter : https://twitter.com/MyIdentityCoin
Instagram : https://www.instagram.com/myidentitycoin/
You tube: https://www.youtube.com/channel/UCPl3NZu_t3VoJdjnAGmRHNw/featured
Telegram : https://t.me/myidentitycoin
Discord : https://discord.com/invite/78qsbwV
Reddit: https://www.reddit.com/r/MyIdentityCoin/
Medium : https://myidentitycoin.medium.com/
Bitcointalk ANN : https://bitcointalk.org/index.php?topic=5299156.0
---
---