War wrecks - watercolor on paper and realization steps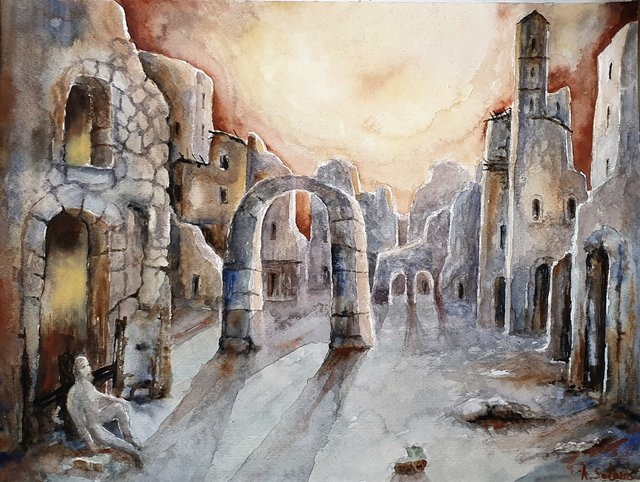 War wrecks


2  0  2 0 
watercolor on paper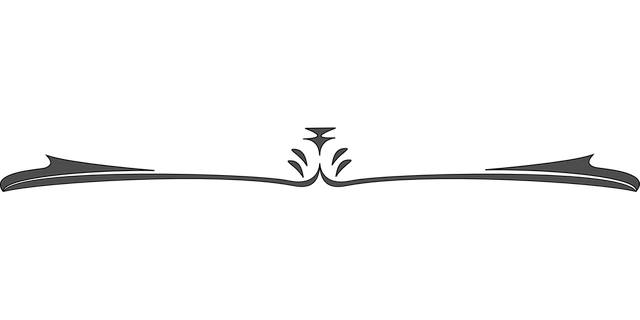 War wrecks
Hello to all dear friends and welcome back to my blog.
The day before yesterday I went to the cinema and saw a film with an extraordinary direction:
src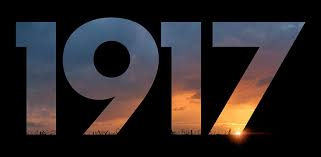 by: Sam Mendes.
I really enjoyed Roger Deakins' photography and long moving shots, but above all the settings and scenography of the film set.
I was deeply impressed by the scenes shot inside a French medieval town completely destroyed by bombing.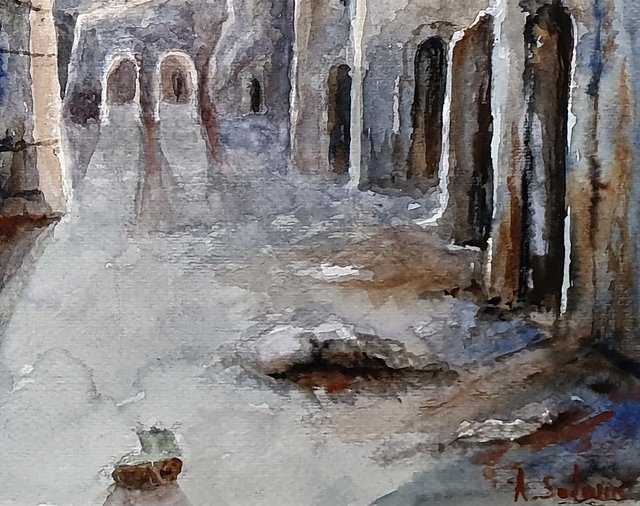 A hallucinating place with a play of lights and ghostly shadows that emphasized the remains of the destroyed architecture.
I was transported to catastrophic scenes where houses had become long-shadowed monsters.
They had lost all sign of the human being's presence.
So I felt the need to make a watercolor of those scenes by sticking from my memories and my feelings.
Here are the various steps of the realization.
A hug.
Armando.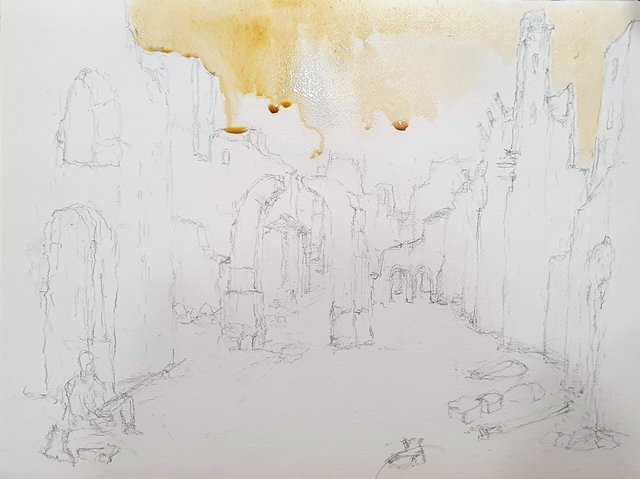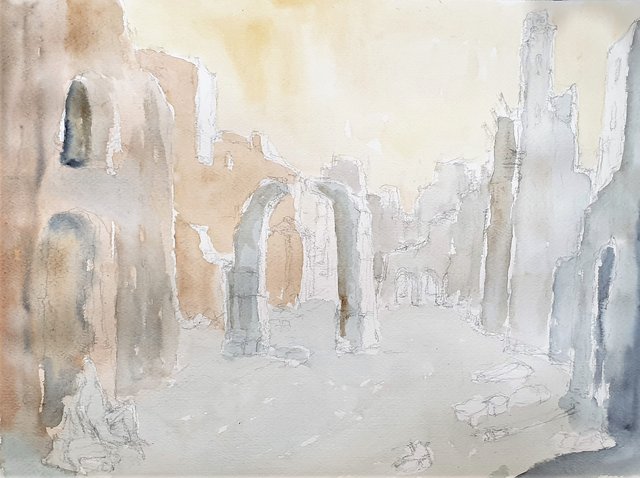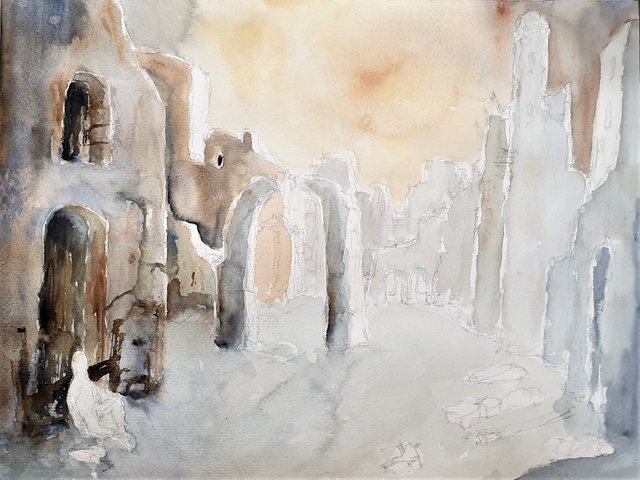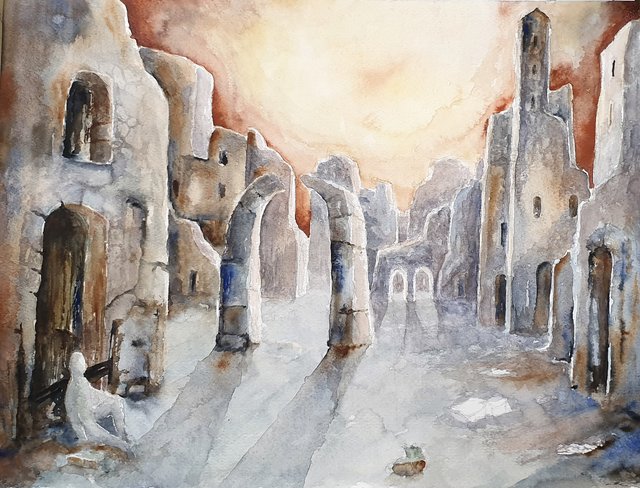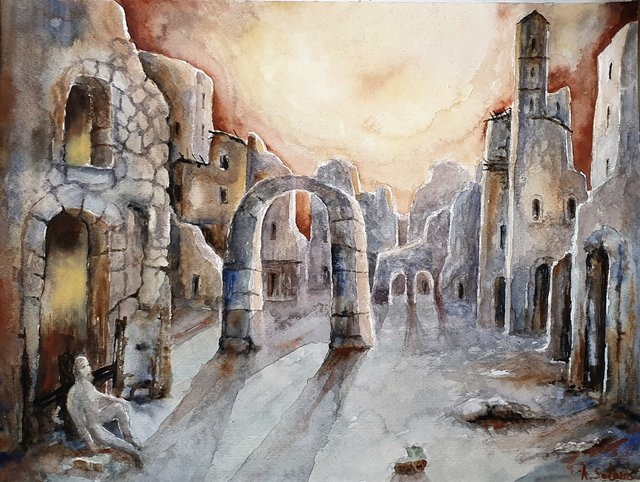 STEEM ON!!!

Relitti di guerra
Ciao a tutti cari amici e ben tornati sul mio blog.
L'altro ieri sono andato al cinema ed ho visto un film dalla regia straordinaria: "1917" di Sam Mendes.
Ho apprezzato molto la fotografia di Roger Deakins e le lunghe riprese in movimento, ma soprattutto le ambientazioni e le scenografie del set cinematografico.
Sono rimasto profondamente colpito dalle scene girate all'interno di un paese medievale francese completamente distrutto dai bombardamenti.
Un posto allucinante con un gioco di luci e ombre spettrali che enfatizzavano i resti delle architetture distrutte.
Sono stato trasportato in scene catastrofiche dove le case erano diventate mostri dalle ombre lunghe.
Avevano perso ogni segno della presenza dell'essere umano.
Così ho sentito il bisogno di realizzare un acquarello di quelle scene attiggendo dai miei ricordi e dalle mie sensazioni.
Di seguito riporto i vari passaggi della realizzazione.
Un abbraccio.
Armando.
STEEM ON!!!

my Facebook page: https://www.facebook.com/armando.sodano
https://www.ntopaz.com/
go for a ride, for art lovers.


Art teacher
Curator of cultural activities
Artistic director and President of the Cultural Association "I Colori della Vita"
https://www.icoloridellavita.life/
and "Fuori Controllo" Festival
https://www.facebook.com/fuoricontrollofestival/