Storm - watercolor on paper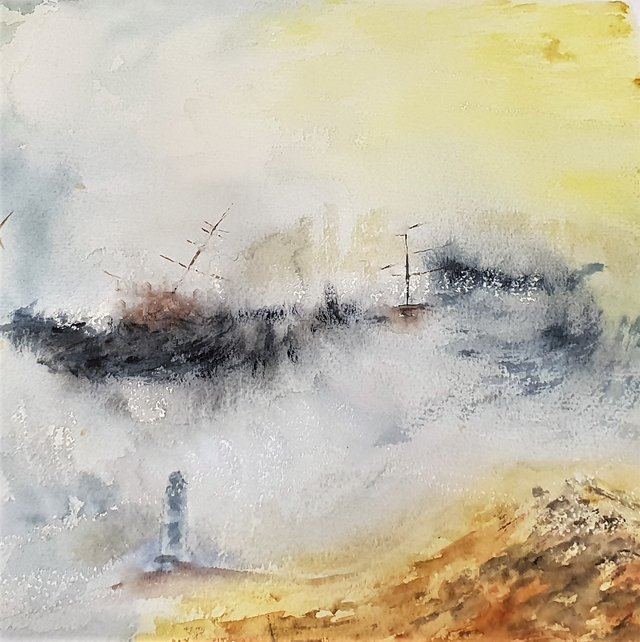 Storm


2  0  2 0 
watercolor on paper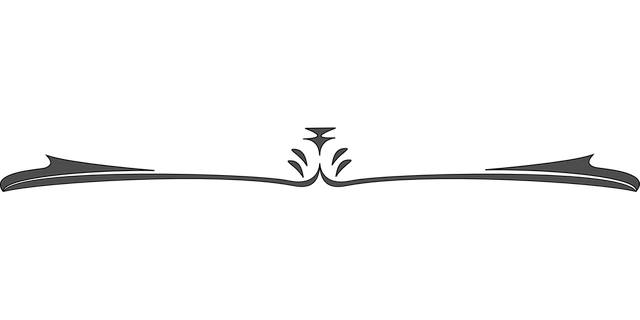 Storm
Hello to all dear friends and welcome back to my blog.
Today I share with you my latest watercolor painting depicting a marine storm.
It is always difficult to paint with the watercolor technique of storms with foam and splashes, I already explained it in my previous post.
Watercolors do not have white, therefore foam, splashes and anything white remain the color of the sheet of paper: white.
It paints in the negative, leaving the colors clear until the end.
The greatest master painter of storms is undoubtedly Joseph Mallord William Turner
Turner was tied to a ship's mast during a storm in order to capture the essence and perception of the force of the wind and rain.
An excellent painter that I follow and study since I was a child, and every day surprises me with new sensations.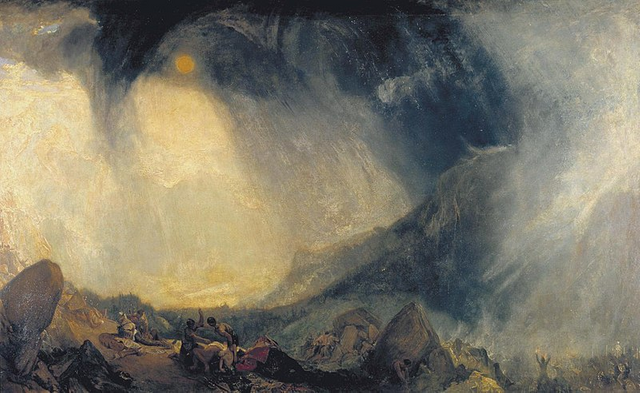 Hannibal and his Men crossing the Alps - 1810-12 - oil on canvas
I want to dedicate some works of marine subjects painted by this wonderful artist to Turner's memory.
I leave you with the photographs of some paintings of the greatest English painter who have been my inspirers in my pictorial research on the sea.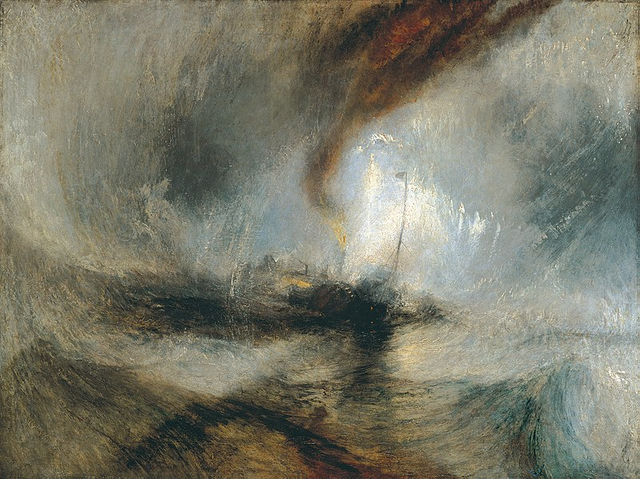 Snow Storm: Steam-Boat off a Harbour's Mouth - 1842 - oil on canvas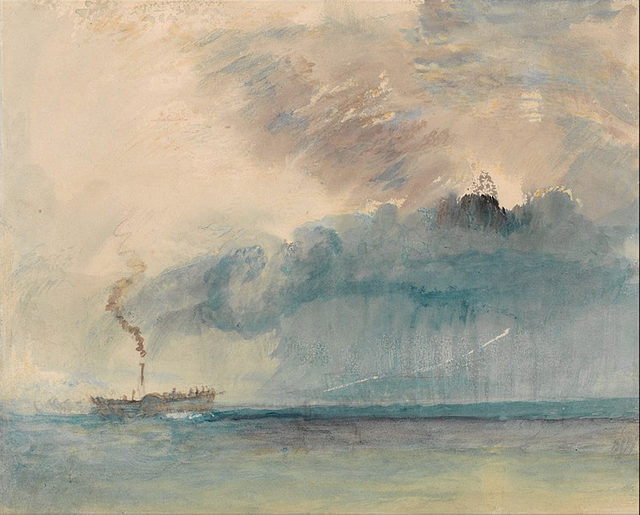 a paddle-streamer in a storm - 1841-watercolor and graphite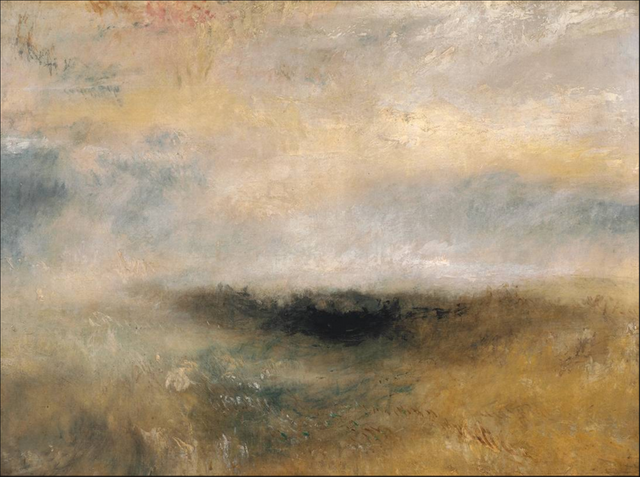 Seascape with storm coming on - 1840 - oil on canvas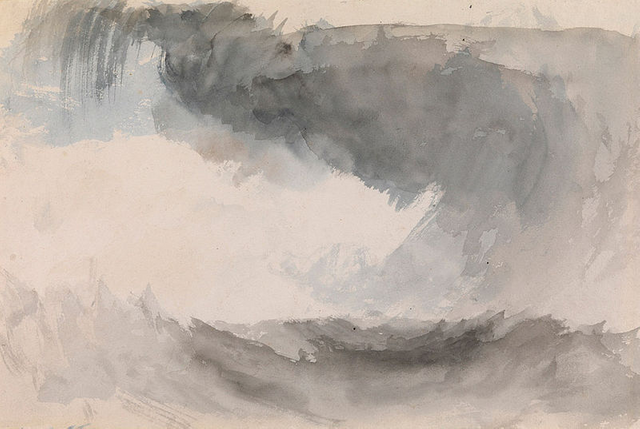 Storm at Sea - unknow date - watercolor)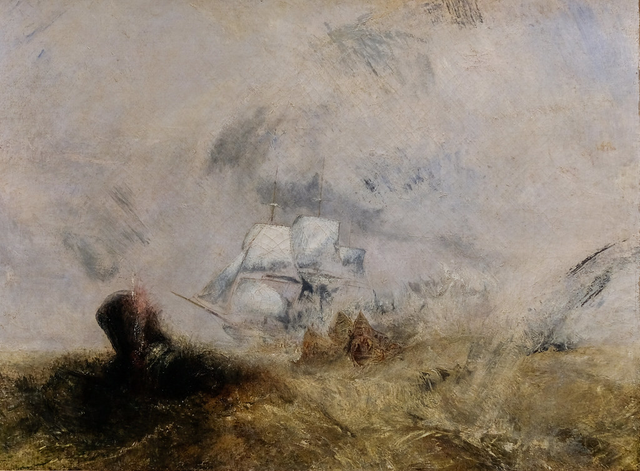 Whalers - 1845-oil on canvas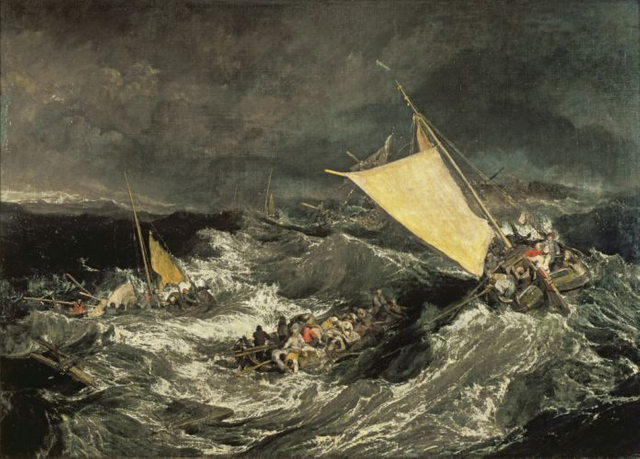 The Shipwreck, 1805 - oil on canvas
A hug.
Armando.
STEEM ON!!!

Tempesta
Ciao a tutti cari amici e ben tornati sul mio blog.
Oggi condivido con voi il mio ultimo dipinto ad acquarello che raffigura una tempesta marina.
E' sempre difficile dipingere con la tecnica dell'acquarello delle tempeste con schiuma e spruzzi, l'ho già spiegato in un mio post precedente.
Gli acquarelli non hanno il bianco, quindi la schiuma, gli spruzzi e qualsiasi cosa di colore bianco restano del colore della foglio di carta: bianchi.
Si dipinge in negativo, lasciando i colori chiari fino alla fine.
Il più grande Maestro pittore di tempeste è senza alcun dubbio Joseph Mallord William Turner.
Turner si fece legare ad un albero della nave, durante una tempesta, per poter cogliere l'essenza e la percezione della forza del vento e della pioggia.
Un pittore eccelso che seguo e studio da quando ero bambino, ed ogni giorno mi sorprende con nuove sensazioni.
Voglio dedicare alla memoria di Turner alcune opere di soggetti marini dipinte da questo meraviglioso artista.
Vi lascio con le fotografie di alcuni quadri del massimo pittore inglese che sono stati miei ispiratori nella mia ricerca pittorica sul mare.
Un abbraccio.
Armando.
STEEM ON!!!

my Facebook page: https://www.facebook.com/armando.sodano


Art teacher
Curator of cultural activities
Artistic director and President of the Cultural Association "I Colori della Vita"
https://www.icoloridellavita.life/
and "Fuori Controllo" Festival
https://www.facebook.com/fuoricontrollofestival/