Ode to joy - watercolor on paper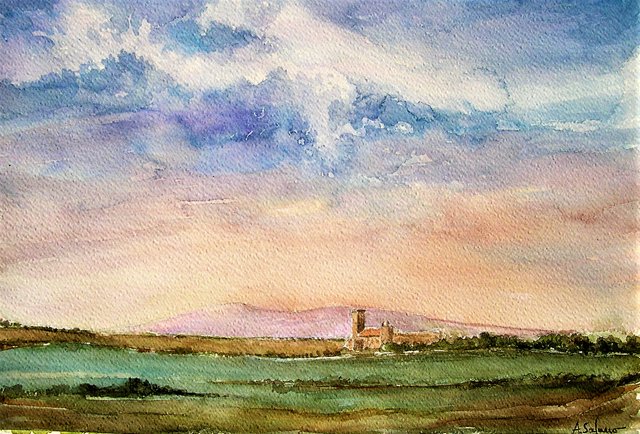 Ode to joy


2  0  2 0 
watercolor on paper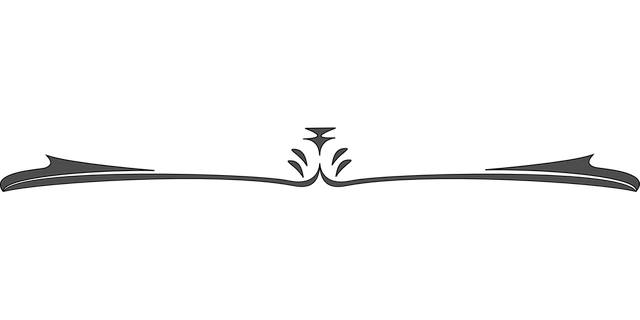 Ode to joy
Hello to all dear friends and welcome back to my blog.
If we want to convey our state of mind we can rely on different ways of communicating, with words, with gestures or with the arts.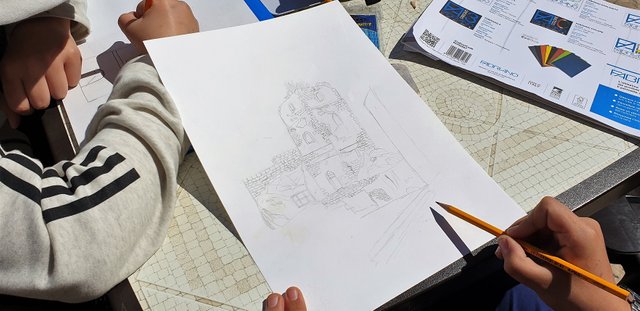 my photo
To express my feelings I often use painting.
It is great to think that we can communicate all our feelings or ideas, through a communication method based on the creation of images and we can move or reflect on certain topics.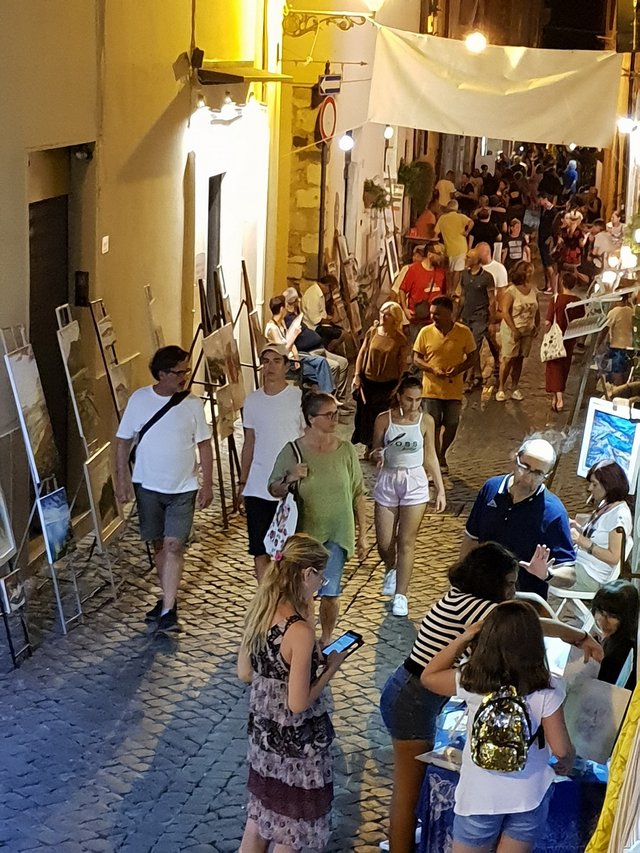 my photo (Fuori Controllo Art Festival)
All you need is a brush, papers and colors to express a mood, as in this watercolor painting.
In this work of mine I wanted to communicate the joy of a wonderful day, which I spent immersed in the Roman countryside.

I was very impressed by the clear and bright sky with a few clouds that seemed to be painted by an expert painter.
A sense of spatiality and freedom that I tried to convey in this watercolor, where I represented the remains of a castle in the distance.

I was fascinated by the colors of the countryside that merged with the colors of a distant lake, becoming a set of green and blue lights.
A real song of joy from Nature.
I hope you enjoyed my watercolor.
A hug.
Armando.
STEEM ON!!!

Inno alla gioia
Ciao a tutti cari amici e ben tornati sul mio blog.
Se vogliamo trasmettere un nostro stato d'animo ci possiamo affidare a diversi modi di comunicare, con le parole, con gesti o con le arti.
Per esprimere le mie sensazioni spesso mi servo della pittura.
E' bellissimo pensare che possiamo comunicare tutte le nostre sensazioni o idee, attraverso una modalità comunicativa basata sulla creazione di immagini e possiamo emozionare o far riflettere su determinati argomenti.
Basta soltanto un pennello, della carte e dei colori per poter esprimere uno stato d'animo, come in questo dipinto ad acquarello.
In questo mio lavoro ho voluto comunicare la gioia di una giornata meravigliosa, che ho trascorso immerso nella campagna romana.
Sono rimasto molto colpito dal cielo chiaro e luminoso con poche nuvole che sembravano dipinte da un pittore esperto.
Un senso di spazialità e di libertà che ho cercato di trasmettere in questo acquarello, dove ho rappresentato i resti di un castello in lontananza.
Sono rimasto affascinato dai colori della campagna che si fondevano con i colori un lago lontano, diventando un insieme di luci verde e azzurro.
Un vero e proprio canto di gioia della Natura.
Spero che il mio acquarello vi sia piaciuto.
Un abbraccio.
Armando.
STEEM ON!!!

my Facebook page: https://www.facebook.com/armando.sodano
https://www.ntopaz.com/
go for a ride, for art lovers.


Art teacher
Curator of cultural activities
Artistic director and President of the Cultural Association "I Colori della Vita"
https://www.icoloridellavita.life/
and "Fuori Controllo" Festival
https://www.facebook.com/fuoricontrollofestival/