Climate disasters - red chalk (sanguine) on paper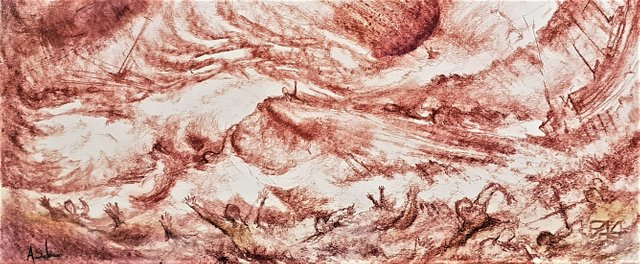 Climate disasters


2  0  2 0 
sanguine -red chalk on paper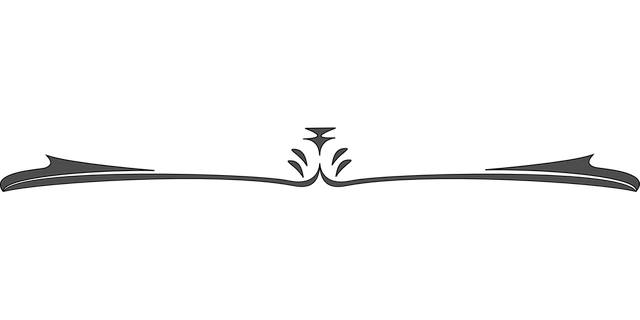 Climate disasters
Hello to all dear friends and welcome back to my blog.
Today I share with you a drawing made with red chalk also called sanguine, a very strong red pigment that I used for the occasion.
This technique was one of the greatest expressions for sketches by Renaissance artists.
Leonardo Da Vinci used it often for his sketches.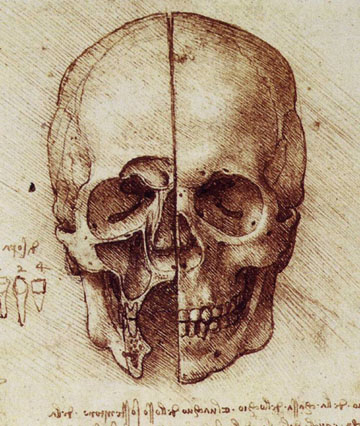 src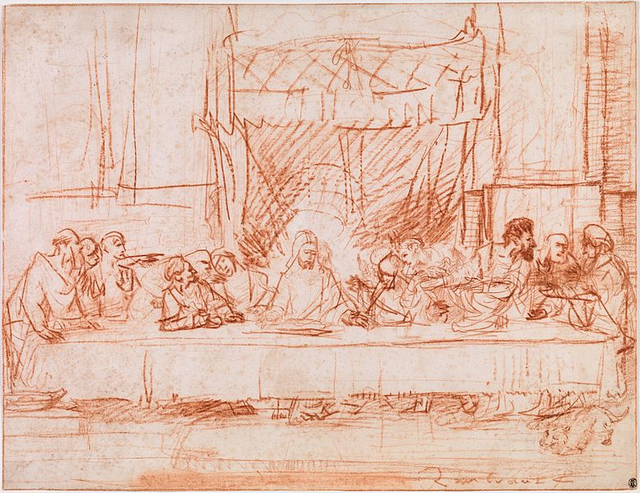 src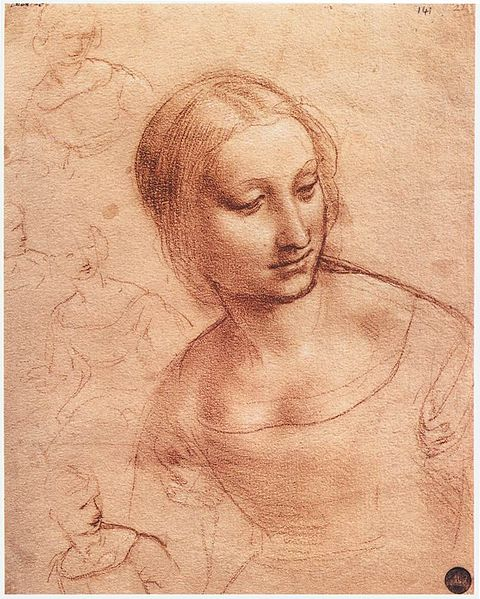 src
The sanguinecan also be brown or orange or ocher yellow.
A very fast and non-erasable technique, which I used to prepare a drawing that represents my interpretation of a humanitarian catastrophe: the tsunami.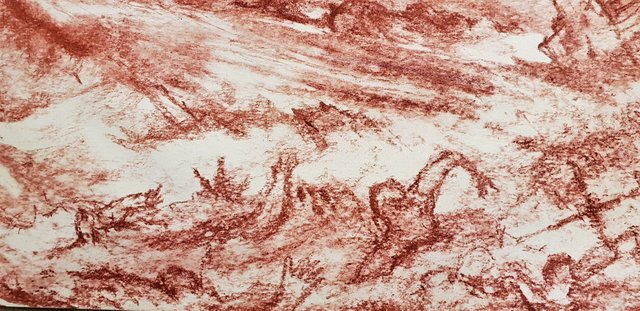 detail
In the world there is only talk of the coronavirus and of the thousand deaths caused, but if we reflect well the scenario that lies ahead is dramatic.
Millions of people living along the coast are at risk of perishing from the tsunamis and increasingly frequent floods.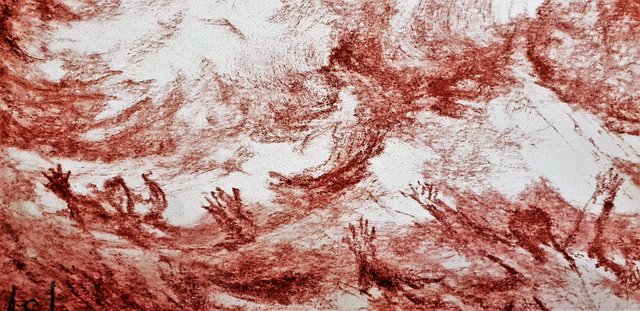 detail
In these days Europe has had catastrophic events such as the storm Ciara that has blocked the United Kingdom, Germany, France and has arrived in northern Italy for two days.
Winds at 180 km per hour, torrential rains and floods.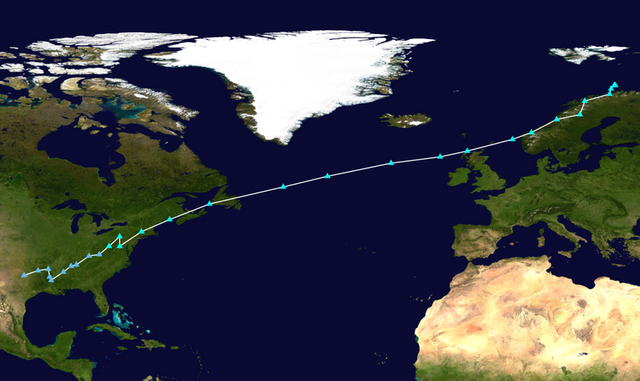 Ciara Track
Increasingly violent weather events that we, humans, cannot control.
Climate change is now more devastating than a laboratory virus.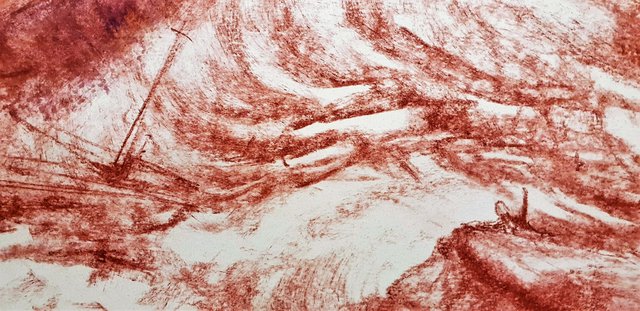 detail
Maybe they are distracting us from much more dramatic issues.
I leave you with the steps of my drawing.
A hug.
Armando.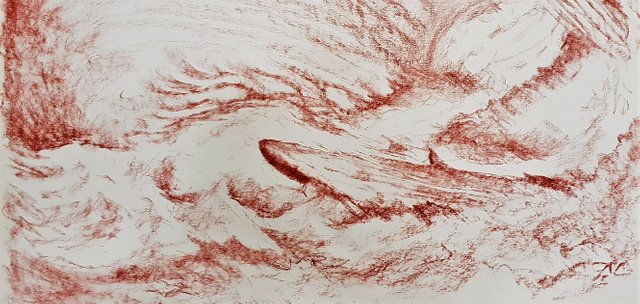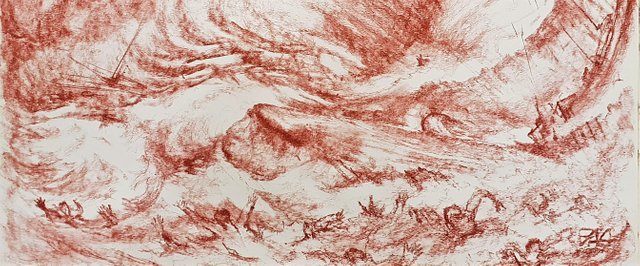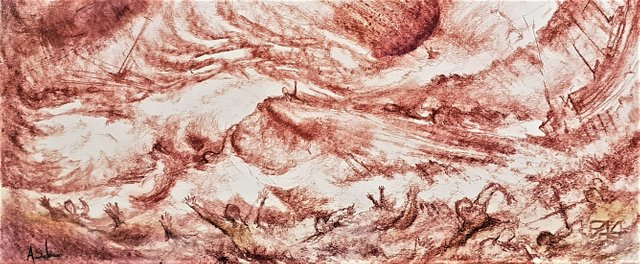 STEEM ON!!!

Disastri climatici
Ciao a tutti cari amici e ben tornati sul mio blog.
Oggi condivido con voi un disegno eseguito con il gessetto rosso chiamato anche la sanguigna, un pigmento rosso molto forte che ho usato per l'occasione.
Questa tecnica è stata una delle massime espressioni per gli schizzi degli artisti del Rinascimento.
Leonardo Da Vinci l'ha usata spesso per i suoi schizzi.
La sanguigna può anche essere di colore bruno o arancione o giallo ocra.
Una tecnica molto veloce e non cancellabile, che ho usato per preparare un disegno che rappresenta una mia interpretazione di una catastrofe umanitaria: il maremoto.
Nel mondo si parla soltanto del coronavirus e dei mille morti causate, ma se riflettiamo bene lo scenario che si prospetta è drammatico.
Milioni di persone che vivono lungo le coste rischiano di perire a causa degli tsunami e inondazioni sempre più frequenti.
In questi giorni l'Europa ha avuto eventi catastrofici come la tempesta Ciara che ha bloccato Regno Unito, Germania, Francia e da due giorni è arrivata in Italia del nord.
Venti a 180 km l'ora, piogge torrenziali e alluvioni.
Eventi atmosferici sempre più violenti e che noi, esseri umani, non possiamo controllare.
I cambiamenti climatici ormai sono un fenomeno devastante più di un virus da laboratorio.
Forse ci stanno distraendo da questioni molto più drammatiche.
Vi lascio con i passaggi del mio disegno.
Un abbraccio.
Armando.
STEEM ON!!!

my Facebook page: https://www.facebook.com/armando.sodano


Art teacher
Curator of cultural activities
Artistic director and President of the Cultural Association "I Colori della Vita"
https://www.icoloridellavita.life/
and "Fuori Controllo" Festival
https://www.facebook.com/fuoricontrollofestival/