This week I started my new Steem Job as an OCD Curator after being kindly invited by @acidyo who is the brains and heart behind the project. I thought I would spend my first week just lurking in the curation channels to see what kind of posts would get curated and picked for the daily compilation post, but impatient as I am I decided to jump in on day 2.
Now it's Sunday evening, a good moment for me to write about about OCD, its curation efforts, how it relates to OCDB - and which posts I was able to curate successfully this week.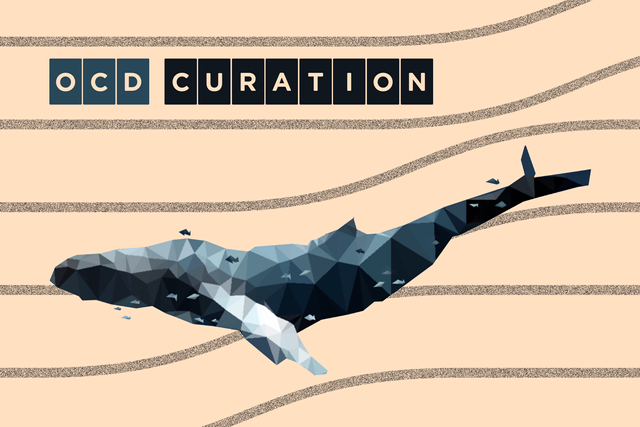 What is OCD?
---
In short: OCD stands for 'Operation Curation Delegation' and presents itself as a Curation Guild for undervalued, quality posts by newcomers. This means at OCD there are 1) Curators, who look for 2) Quality posts, that are 3) Undervalued (a guideline is the post is rewarded less than 5$ at time of curating) and preferably written by someone who has not yet/not often been curated by @ocd.
After someone shares a link to a post that follows these guidelines, other curators check the post as well and if they like it 'support' the curation. If enough curators like a post at the end of the day it will be published in the Daily OCD Curation Compilation post on the @ocd account, and followed by an @ocd upvote. Since @blocktrades has been so generous to support the @ocd efforts they will follow the upvote a while later... And that's when the average Steemian starts to smile, because suddenly your well-written post also has the rewards that reflect the time you have put in!
Read a bit about OCD's backstory.
OCD versus OCDB
---
While OCD is the original curation project, some might notice @ocdb first. Ever seen a big payout on a post and found out that the biggest vote came from @ocdb? Let me explain. OCDB is the OCD 'Bot', an alternative for commercial bidbots, and one that is mean to distribute STEEM to 'good Steemians'. OCDB is non-profit (yes, that means OCD/B makes no profit from running this service), and delivers high returns to its users. "The main reason why @ocdb exists is to help distribution of stake to quality authors."
Here's how OCDB works:
If you've ever been curated or otherwise selected by @ocd, you will be put on the Good Whales Whitelist, which you can see over here: thegoodwhales.io (site might be too heavy to load for mobile users)
If you indeed are on this whitelist you're considered a 'quality writer' or 'good Steemian' and are allowed to use the OCDB service: with a 10% ROI on your bid some really awesome Steemians have started using the service on their post so their Steem Power grows just a bit quicker than before.
If you were able to confirm that you are on the whitelist you can send the link of a less than 3 days old post in a wallet memo to @ocdb, and they upvote you with a certain percentage that is dependent on the amount of STEEM/SBD you send. The amount you can 'bid' varies depending on several variables, so check the wallet of OCDB first to see which amounts go through and which bids returned.
All of the curation rewards and bids gets sent back to the delegators - so even if you don't like bidding, you can still delegate and get a daily return :-)
If you want to see some Steemians' considerations regarding the use of OCDB please read one of the following posts:
Posts I curated this week
---
Now to the fun part: the posts I was able to curate this week! Some of these posts didn't even have a 1$ reward when I curated them, and now the payouts are quite decent :-) I thank @ocd and @acidyo for creating this opportunity to spread some of the reward pool towards under-rewarded posts towards newer users - for everyone else: enjoy reading!
---
@helgalubevi keeps her eyes open during her travels. Because the kids who sell these lovely souvenirs next to tourist attractions... What are their stories? In a very touching way she shows us portraits of young children who get sad when you don't buy their products, sometimes smile when you tell them they are beautiful, and sometimes, like when in Jordan... Seem to have such dark backgrounds at such a young age that nothing makes them smile anymore. Impressive read!
Read: The country where kids never smile
---
A mother and son working together on marketing her fashion boutique in Munich, Germany. @mcnestler describes which social media strategies he used to promote his mother's business - some great tips and a lovely history of a fashion boutique that already exists for 30 years! "Since she is a unique woman with a lot ideas, I was sure that creating content for the channels would be the least problem." - Sounds like a great son to have :-)
Read: Supporting my mother to market her fashion boutique - with first great results
---
"Not all mysteries are what they seem" - the closing words of a well-written and researched post by @xvickx. Where most people who ever thought about the making of the Egyptian Pyramids are still wondering how the Ancient Egyptians were able to carve these perfect pieces of stone to build them with, in this article a lot of evidence in both text and videos is offered that suggest an alternative idea. And the best part is: this alternative idea probably makes way more sense than most other ideas out there so far. A must-read!
Read: Egypt's Ancient Pyramids: Massive Stones or Massive Lies?
---
Do you know how you live somewhere but have seen less than the average tourist who comes to your city? This mum (@wendolinia) decided to take her teenagers to some San Francisco places they had never been to - so they became a little bit more 'local'! Read this post if you want to get some insider tips of this magnificent place.
Read: A Day in San Francisco with Teens
---
If you like what OCD is doing and want to support the project:
If you still have questions about OCD/OCDB ask them in the comments and I will try to answer them!