Hello!
I hurt some of my fingers, thus typing is really uncomfortable, so I have not been posting :-/ I wanted to post about my father's birthday, the other day, before my fingers got hurt. You would be surprised with his birthday cake, but it has to wait, as that would require some typing :)
For now, I have a cheesecake recipe to share!
Cheesecake is best served anytime, don't you think? Does not matter for wedding, birthday, picnic, dinner, lunch, or just because. Summer, Winter, Spring, Fall, anytime you want a slice, it's always appropriate to serve :)
The great thing about this cheesecake, you don't have to worry to fail, as it is a no-bake kind of cheesecake :)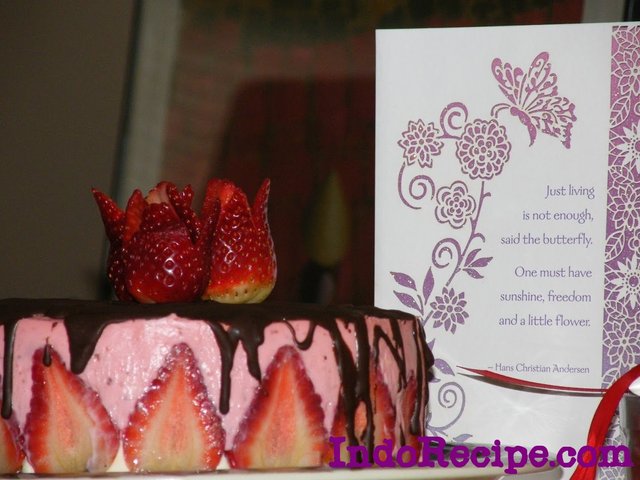 Base
15 Christie's chocolate wafers
1 tbsp sugar
2 tbsp butter, melted
fresh strawberries, halved
Cheesecake
1/2 c heavy/whipping cream
2 Knox regular gelatin
3 block of Kraft cream cheese
3/4 c sour cream
1 c sugar
2 tsp vanilla essence
1 tbsp lemon juice, bottled or freshly squeezed
3 tbsp strawberry jam
a couple drops of red food coloring (optional)
Chocolate Topping
1 c chocolate chips (or 100 g milk chocolate bar)
at least 2 tbsp butter
Method:
For The Base: Crust cookies finely, either with rolling pin or an electric food processor. Mix cookies with melted butter and sugar thoroughly, then press mixture on an 8 inch spring form pan, sides up. This will be the base of the cheesecake. Bake the base for 5 mis on preheated 350 F oven. Once baked, take out and cool to room temperature. Once base is cooled, line sides with halved strawberries, just like the following picture.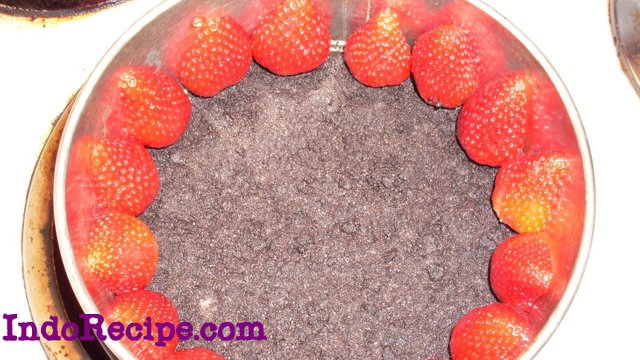 For The Cheesecake: Pour whipping cream into a saucepan and add in gelatin powder. Let mixture stand for 5 minutes then turn on the stove. Heat mixture for 2 minutes, take off from heat and let stand for 5 minutes. Meanwhile, cream cream cheese with electric mixer for 2 minutes, then beat in gelatin mixture, followed with sugar, vanilla, and lemon juice, until well combined and smooth. Pour about 2 1/2 c cream cheese mixture on to cookie-base, spreading it nicely. Mix the leftover cream cheese mixture with strawberry jam (and food coloring if using), then spread this mixture on the pan as well. Chill cheesecake in the fridge for at least 4 hour, to firm up.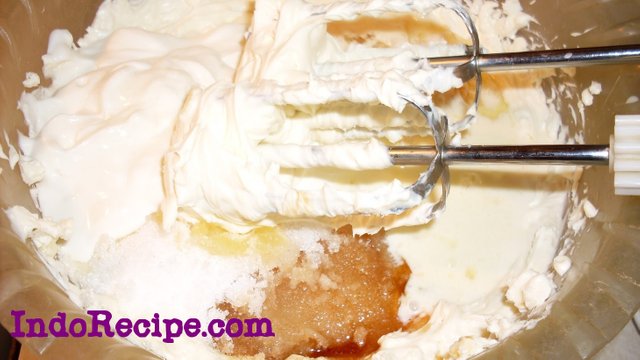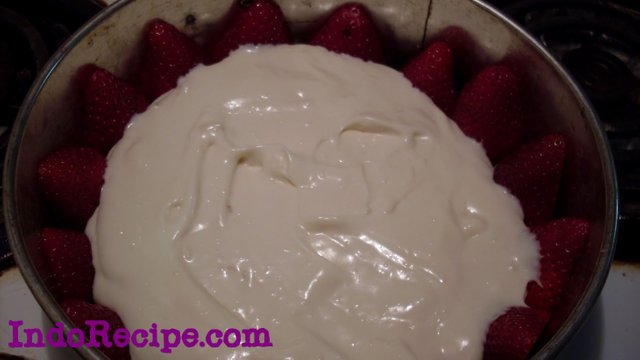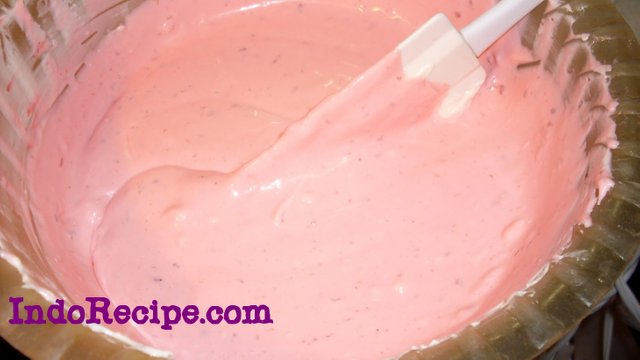 For The Topping: You can use microwave or double boiler. Basically you will mix the chocolate and butter, and melt them. Pour or drizzle the melted chocolate on cheesecake, slice and serve :D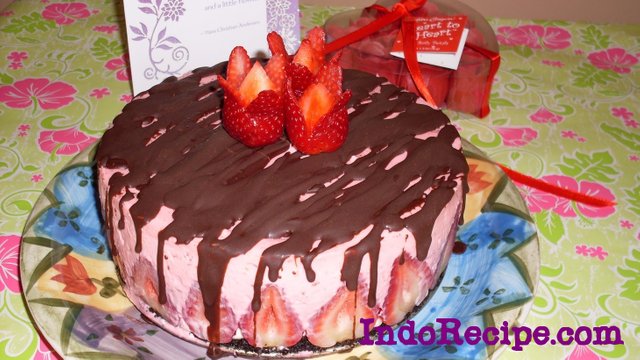 ---
Once I am back fully, I will resume my daily theme, so that it would be easier for you to find them :D Thank you!
All photos and recipes on my Steemit account are mine. You can also find them posted on the following links!
Find me on Facebook: https://www.facebook.com/indorecipedotcom/
Find me on YouTube: https://www.youtube.com/user/becakpilot/
Find me on Instructables: https://www.instructables.com/member/klinong/