Corn Fritters (Bakwan)
Hi!
Do you like fritters? Greasy, fried, snacks? Ha-ha :D I like fritters so much, they remind me of my Uni days :D Near our dorm was a fritter vendor, and she offered various kinds. Some are like Japanese tempura, of fried spinach, fried sweet potato and whatnot, but her best were fried tofu and tempeh. Served hot with a piece or two of red bird eye chilies, or their special dipping sauce, so good! Light on the pockets for Uni students, yet can be served not just for snacks, but also dinner and breakfast too ha-ha :D
Back in high school though, there was a fritter vendor at the school canteen and they always had Bakwan, a vegetable fritter of mostly cabbage and bean sprouts, but with a shrimp in the center.
My fritter always has differ ingredients. I hardly use measurements, so naturally, on my IndoRecipe site, I have Bakwan varieties ha-ha :D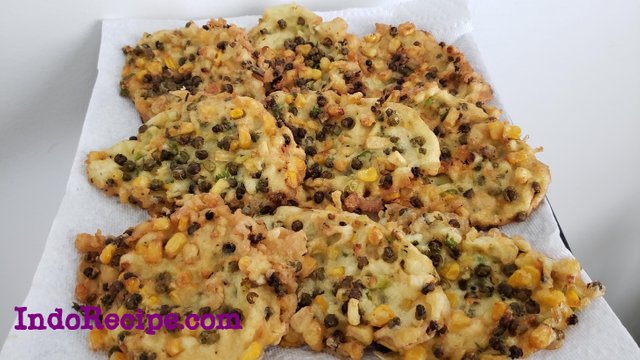 1/4 - 1/3 c all purpose flour
3 tbsp rice flour
1 tsp each onion and garlic powder
2 tsp Vegeta powder seasoning
a generous pinch of turmeric powder
a small pinch of ground coriander
2 whole eggs
enough water
1/2 small tin of corn
1/2 can of sweet peas
2 green onion, thinly sliced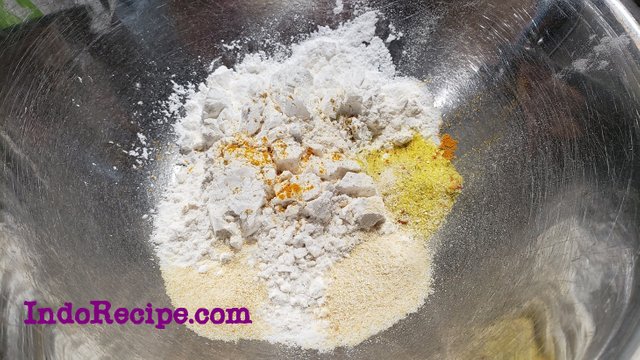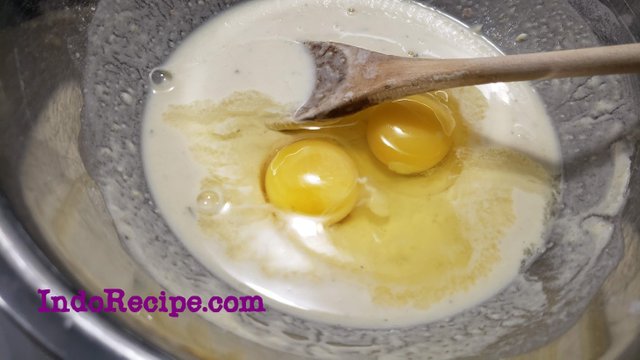 Heat enough vegetable oil on medium heat
Mix dry ingredients, pour in enough water, you do not want it to be too thin but also not too thick
Stir in eggs and vegetables
Pour batter into hot oil by 1/4 c each
Fry until golden brown, turning once
Drain on paper towel
Serve warm!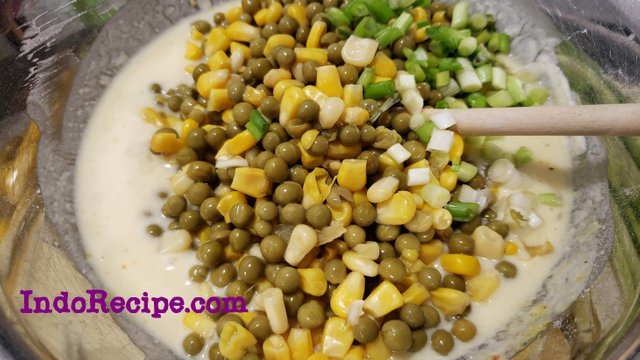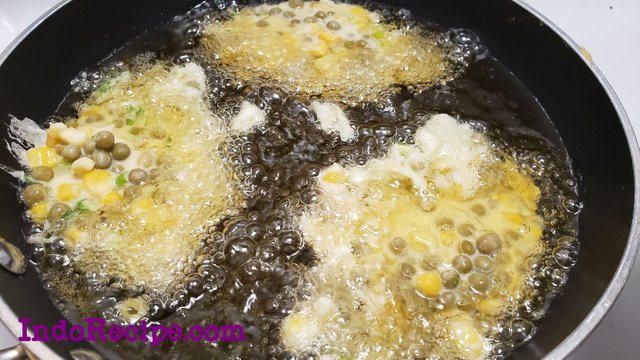 ---
Once I am back fully, I will resume my daily theme, so that it would be easier for you to find them :D Thank you!
All photos and recipes on my Steemit account are mine. You can also find them posted on the following links!
Find me on Facebook: https://www.facebook.com/indorecipedotcom/
Find me on YouTube: https://www.youtube.com/user/becakpilot/
Find me on Instructables: https://www.instructables.com/member/klinong/