Greetings fellow Steemians. As always, I hope you are doing great. Today I present you a post I have worked on for a while. I hope you enjoy.
---
When we observe today's society it is very easy to notice how it's deteriorating in an alarming fast way. Values have been lost almost entirely, people don't care about the person sitting next to them, and no one wants to help (or so it seems). Apparently we are so busy struggling to survive and we ignore the fact that with this behavior the only possible outcome is our world's ruin day after day. Chaos is all over our TV when we turn it on. And normally, when we see someone doing great things to help other people, animals or even ecosystems, we get impressed and happy because someone is helping, among all the chaos and bad things.
We see how countries are investing huge amounts of money on chemical, nuclear, and massive destruction weapons. People full of anger murdering innocents. People hurting others just because they only think in their own well-being without caring about the damage they cause.
---
Apparently we live in a race towards our own self-destruction.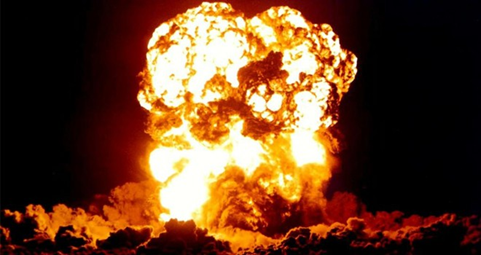 Source
---
I know that everyone is aware of what I'm saying and might be wondering: what can an ordinary person do to fight against all this? And that's exactly the problem; it can't be just one person, ALL OF US need to contribute.
Personally, I still believe in people, I believe inside everyone there is a burning desire for helping and doing amazing things. We know there are thousands of people hurting others, but there are also thousands thinking about how they can prevent those types of situations, and I also know that YOU are among that group of people who want to help.
---
Now, how about if we don't only think about it but actually do something?
Source
---
What we need to do is channel our inner strength into good things until we see a positive change, at least in our close circle of family and friends. Let's start by helping the person next to us, like I always say: inside each one of us there is a different talent, let's take that gift we have and become "Massive CONSTRUCTION weapons". You can't say you don't know how to do it; use that talent inside you and become a "nuclear" person, so we can all impact the world in a positive way.
Just like the destructive effects an atomic bomb unleashes at the moments of its explosion; our actions should have an impact at that same scale, but in a productive way for society. If we organize ourselves and look for people who think like us, we can be able to make projects to promote good initiatives and talk to young people, because that generation is our future. Let's turn into a living example that this world can be better.
---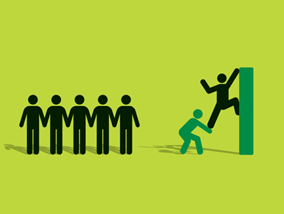 Source
---
I can't tell you what project you should be starting or supporting, my intention is to awaken what's inside of you and push you forward to find a way and take actions so we can become the other side of the coin (the good side).
Recently I read on a sign "Words convince, but actions motivate" (I really don't know who said it). So let's start with this, helping people no matter how small the help is and also learning to express ourselves honestly, therefore the positive "radioactivity" inside of us will start to affect the environment we live in (just like the effects of nuclear weapons), letting people see our good side.
So we will be the ones making a difference, we will be people who influence, impact and motivate others. Martin Luther King, Nelson Mandela and Gandhi were atomic, nuclear and radioactive people who made a positive impact on society.
---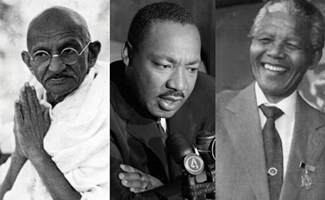 Source
Gandhi, Martin Luther King and Nelson Mandela
---
It wasn't easy but with actions, with the right words and promoting the correct thoughts they changed laws, moved people and even transformed countries. It is possible; if they could do it at that time, us with the modern technology can do it too, in a fast and more dynamic way.
Let's think about how we want to help and begin to develop our own project, so next time when the news are talking about global impact it's not because a nuclear bomb, but because of us being massive construction weapons and transforming people's minds. Remember, it doesn't matter how small your action is, what's important is to start working to change the sentence "thinking about doing" to just DO IT.
---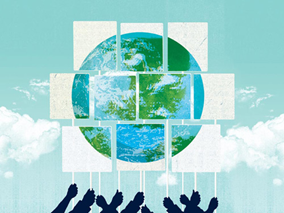 Source
---
"The people who were trying to make this world worse are not taking the day off. Why should I?" - Bob Marley