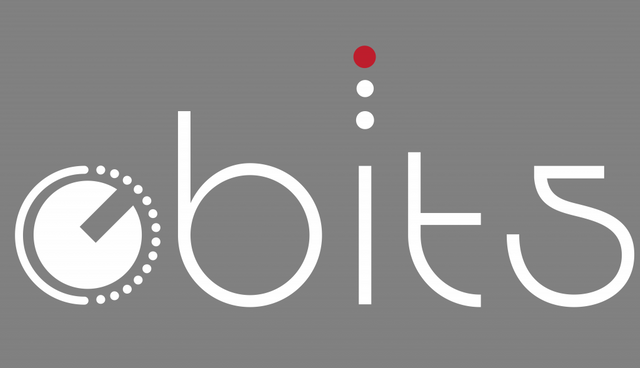 It is with great pleasure we are able to announce the ERC20 version of OBITS created and with it the necessary gateway allowing seemless withdrawal to Ethereum ecosystem and the exchanges listing ERC20 tokens, as well as the deposit of the ERC20 OBITS version back into the BItShares ecosystem as a BitShares native asset.
Totally 14.497.286 OBITS is available, and any ERC20 OBITS existing is backed 1:1 by the native OBITS on BitShares network.
Description of OBITS you may find here in very short version: https://bitsharescan.com/asset/OBITS
Already three exchanges have confirmed the listing of OBITS ERC20, one named https://tokenjar.io/OBITS has already a market pair up and running and is a fully decentralized one. Description of this one further down.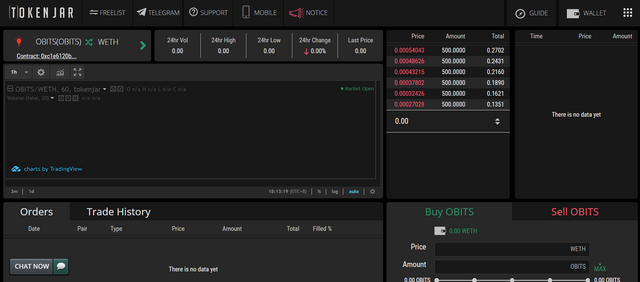 TokenJar is a robust decentralized exchange for Ethereum and ERC-20 tokens. Based on 0x protocol, TokenJar dedicated to provide superior trading experience for users all over the world.
With TokenJar:
No necessity to create an account and do complicated KYC— The only thing you should prepare to start trading is METAMASK.
No need to deposit/withdraw your tokens—All trades occur directly between the wallets of buyers and sellers.You maintain control of your tokens at all times.
No possibility of theft—TokenJar never holds any of users' assets and all transactions occur through the 0x smart contract, minimizing all critical security risks.
No barriers for trading—You can add any ERC-20 token you want to exchange through 'FREELIST' function, meeting your needs of trading timely. Furthermore,
TokenJar doesn't charge any trading fees. All you have to pay is gas cost.
https://twitter.com/TokenJar_io
TokenJar Pte. Ltd.
Singapore
The second exchange to list ERC20 OBITS is the Singapore based exchange named https://www.bitsg.com/en_US/ and is confirmed to list on Friday January 3rd, 2020.
BitSG is the leading blockchain service provider in Singapore since 2017, assistance more than 300 projects start up and raise funds. BitSG.com as new blockchain assets exchange was invested by Node Capital, we are aim to list the most valuable projects and contribute true value to every customers.
BitSG exchange website:
https://www.BitSG.com
BitSG registration link:
https://www.BitSG.com/register
The third exchange to list ERC20 OBITS is the Estonia based exchange named https://www.chaoex.com and was confirmed listed early December 2019.
The fourth exchange to list OBITS was ForkDelta
ForkDelta is a fully decentralized Ethereum Token Exchange with the most ERC20 listings of any exchange.
ForkDelta is an open source fork of EtherDelta that still uses the same smart contract but different frontend interface. Essentially the backend is exactly the same (and not just a duplicate, it is literally the same smart contract) while the outside is slightly different.
Deposit instructions for any currencies operating via gateways please find it all in following link: https://openledger.freshdesk.com/support/solutions/articles/33000228424
Here is a few screenshots of the withdrawal and deposit pop up windows: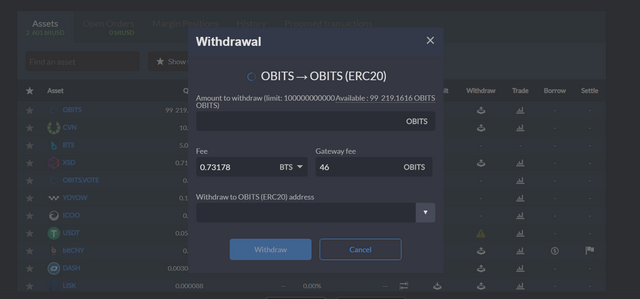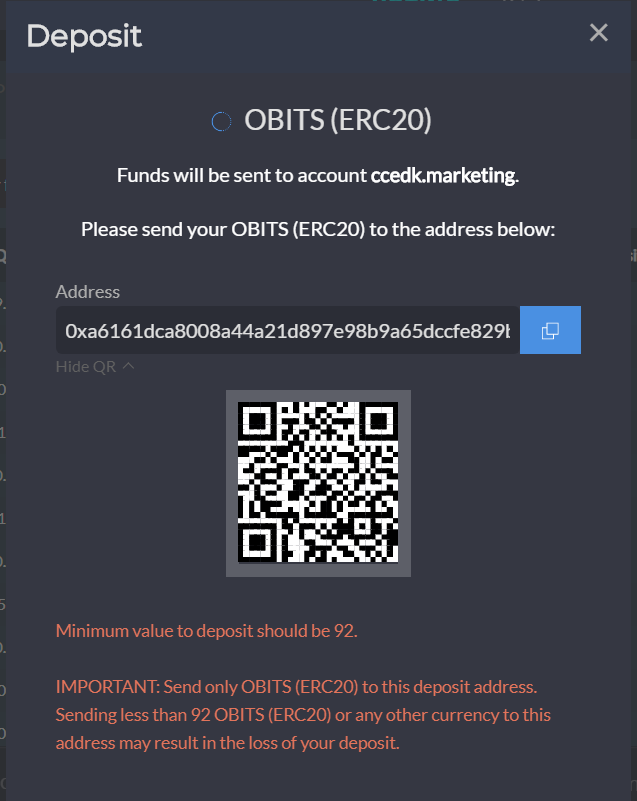 Why create ERC20 OBITS?
If you take a look at the webpage https://vimple.openledger.io we have introduced OBITS as a unique option to access the software services and products of VPLedger DLT framework for financial operations, and it is obtained using crypto currencies exclusively on Openledger DEX and via their own coin OBITS.
Creating an ERC20 version of OBITS it will allow us to reach the huge potential of users building dApps on Ethererum and invite them to come test their projects on VPLedger if compliance and scalability for whatever the reasons may have become an issue for future success! VPLedger is a blokckchain built for enterprise adoption and OBITS is accepted 1:1 with the internal SaaS token named Vimples.
Anyone is already now able to test the services offered on VPLedger via its testnet https://testnet.vpledger.com, accessing via its console, and only after registration.
OBITS can this way be used to buy subscriptions and top-ups that include Vimples (VPL), the global internal currency of the unique new DLT framework for financial operations. For more information about VPLedger, please visit the website https://vpledger.com
OBITS was initially defined to be the token of the OpenLedger Decentralized Conglomerate, with the goal essentially to run as core currency on its own blockchain, VPLedger is as close as we can come to this point and is built to support decentralized conglomerates needing compliance by default and the ability to scale, and we offer the OBITS holders an access to this framework 1:1 with internal token Vimples.
We further offer the obits holders various other options, as mentioned above with a newly established ERC20 OBITS gateway, an introduction to exchanges where ERC20 OBITS becomes an alternative way to access VPLedger, and coming up the introduction to a rewards programme allowing OBITS holders to stake their OBITS for a specific time in order to use them later on to access VPLedger. On top of it all we start burning any OBITS used to access VPLedger from January 1st, 2020.
OBITS, the alternative way to access VPLedger, and the intermediary token for all crypto to access VPLedger as well.
Yours sincerely
The OpenLedger and VPLedger Team