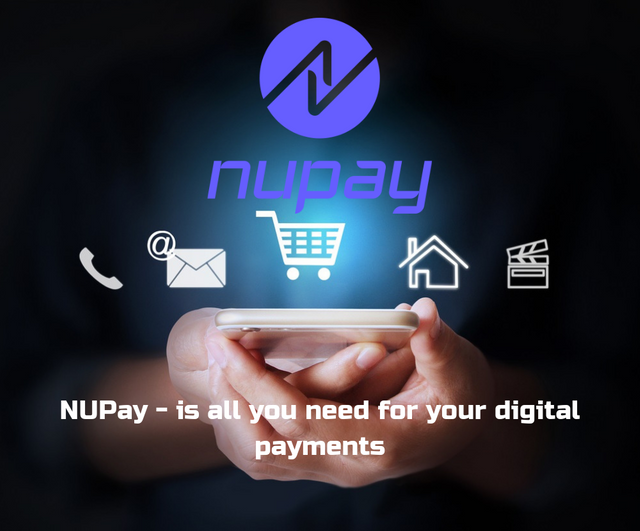 Hi guys! I have great news for you today about NUPay project, but first of all let's take a look on one very important feature of NUPay system what was not mentioned in my previous article. I want to talk about TPCT membership ranking system. All of you guys heard what is cashback?! Cashback is a special reward program which is used by banks and credit card issuers to stimulate more and more people use their products, nowadays it is most effective strategy for client attraction, main idea is that you pay your purchases with card and get back a procent of your spent money. TPCT membership working similar, your can earn up to 2% of your spent funds, it is a really great idea from the team of NUPay to launch such service, it will increase TPCT token value. More people will get TPCT membership - more value of token will be. There will be a minimum requirement to take part in membership program, you need to hold minimun of 5000 or more TPCT on your account and you'll get blue rank of membership and 0.5% of TPCT accumulation.



There are 4 ranks of membership: Blue, Silver, Gold and VIP that gives your a top 2 % accumulation. All members will be awarded instantly through the NUPay smart contract and get reward on their wallets right after successful purchase.
All fees are reduced, because all payments which you made with your NUPay account are going right to the merchant and bypass the third party(banks, another payment services etc.)
Now let's talk about token sale, referring to roadmap of the project, TPCT Private sale and IEO will taking place in Q2 and Public Sale in Q3.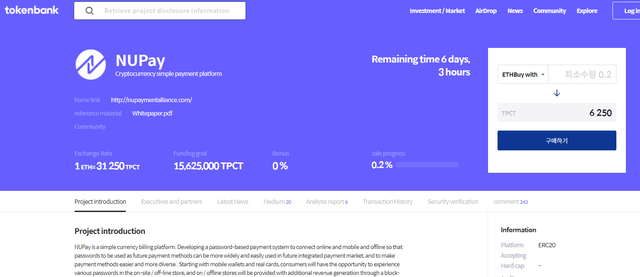 At that moment NUPay token sale is ongoing on tokenbank, it will remain in 6 days, there are no bonus at this round. NUPay has already several successful sales on tokenbank and nexybit, this is the second round of tokenbank sale.
But the great news i was mentioned in beginning is that soon will be a global sale on a wellknown exchange, according to the rumors it will be IDAX guys, but ofcourse we need to wait an official announcement regarding this from team of the project! NoTice: one more time guys, it is only rumors, but strong rumors;)
My personal opinion is that NUPay will be a powerful payment instrument all over the world, project looks very good and two previous rounds of token sale prove it, IDAX can be a powerful accelerator for NUPay and of course all IDAX IEOs are listed on it shortly, IDAX is top 20 exchange according CMC right now!



Also NUPay has a strong partnership with well known exchange CPDAX. NUPay has a very good future listing background.
Team of the project is pretty big and professional, there is a lot of specialist from all necessary industries: blockchain, marketing, finance, operation manager and in the head of the project is CEO David Seung.



Will see guys, im bullish on NUPAy project, all metrics are looking good, great market conditions, wonderful list of exchanges, all of that is making project to be next big thing, but remember always to do due dilligence and do your own research, good luck, stay tuned!
NUPay website: https://www.nupaymentalliance.com/
TPCT website: https://www.tpct.io/
Medium: https://medium.com/nupay.
Whitepaper: http://tpct.io/filedownload_white.php?lang=en
Twitter: https://twitter.com/NUPayTeam
Facebook: https://www.facebook.com/NUPayKorea/
Tg EN: https://t.me/NUPay_English_Comm
Tg KR: https://t.me/NUPay_Korean_Community
Author of the article:
Bitcointalk username: magicrypto
Bitcointalk link: https://bitcointalk.org/index.php?action=profile;u=1700273
Telegram: @majesticcrypto1
Thank you!