UNHUMAN MILITARY: HANDS IN IT. A GIF FROM ARTBREEDER TO THE ARTEXPLOSION # 75. OPEN THEME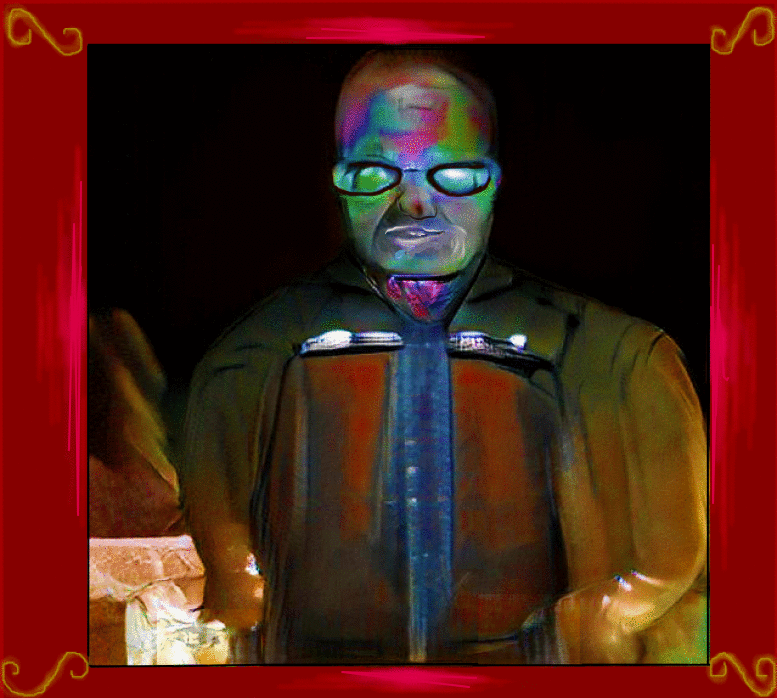 Hello, eSTEEMed friends, lovers of art and freedom and peace.
Due to the constant blackouts here in the area of Venezuela where I live, our modem to connect to the Internet was damaged. That's why I don't frequent the platform much. However, here I am once, sharing my art in this wonderful...

ART EXPLOSION 75: Theme OPEN THEME
I begin by thanking again @juliakponsford for conceiving and curating this interesting contest as Art Explosion, whose bases are here. In my opinion this is the most important of the Visual Arts contests in the whole Steemit platform in terms of the power to convene participants, most of whom participate with high quality work and which has very generous prizes.
The challenge of this, the week 75, is what this is an OPEN THEME, and being such a SUGERENT content lends itself to participate with anything, given a view of the diversity of the STEEM world.
The drums of war are playing again these days so among the various images I have been creating with the free software http://artbreeder.com, in whose page I registered following the recommendation of the great friend @juliakponsford, I chose a figure that I found interesting as a starting point to do something with which to participate in the contest. It was a figure suggested to me by a military man.

UNHUMAN MILITARY: HANDS IN IT. - Step by step.
As I said, I'm not a professional illustrator but an improvised amateur. So I won't give a great explanation, technically speaking, on how I got to the result that I share with you today. I will only briefly describe the steps through which I arrived at the final finish of my GIF artwork:
I did this little exercise of artistic exploration using this resources:
1.- Exploring with the free software http://artbreeder.com appeared an image that suggests me to a ruthless soldier, which is a redundancy: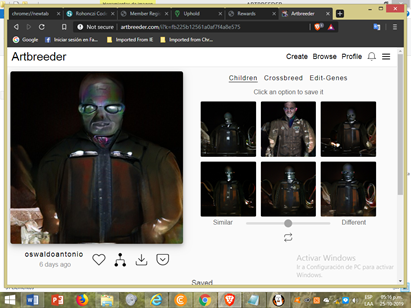 2.-Then I was working the image with the free software http://firealpaca.com/ editing it and making a sequence of images to create an hipertechnological military being: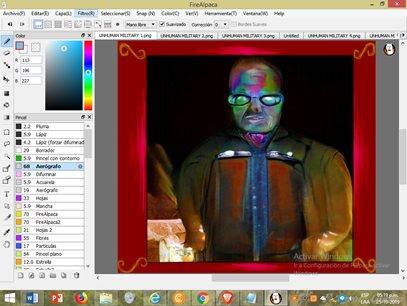 3.-Then I took from the page of
stock.adobe.com part of the image of a mechanical arm.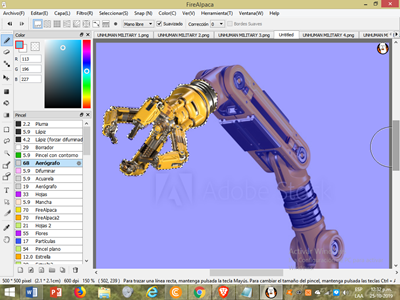 4.-After creating a series of images intervened with FireAlpaca, I took them to http://firealpaca.com/douga/ to convert them into a GIF that I could share in the www.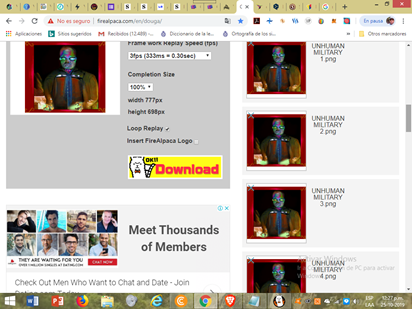 The final result, which I show at the beginning of this post, tries to denounce how war has become a matter of machines and cold technological resources, increasingly inhuman, if ever a war was human.


100%
Texts and images - except where specified - are my own intellectual property.

100%

Textos e imágenes -salvo que se indique- son de mi propiedad intelectual.

♥ It would be a great pleasure for me if you visited my blog ♥
♥ á í ♥

@yomismosoy

☯ ☯
¡ !
!