Sunday again, and already past noon :screaming emoji: Why does weekend always go by so quickly? It's black magic, I'm convinced????
XD;;;
Anyway, hi everyone! I hope you are all having a great weekend :) It's beautiful weather here in Melbourne, Australia, and I will try to enjoy some of it, for sure, but boy this weekend was a busy one for me! But that's okay, cuz it means I got a lot of things done :D Always good to get things done, you know what I mean? :D
Today I bring to you my newest attempt at watercolour...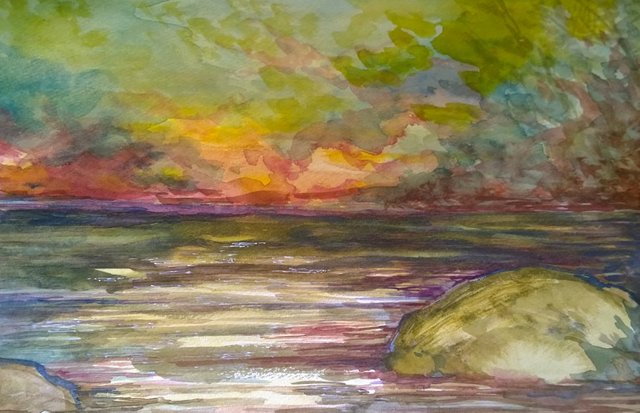 You know, friends...... I am a very, very, very lucky spider.... Why so lucky? Well, @shibasaki, my jiichan has recently sent me a box of goodies from Japan and it is the best gift !!! Thank you so much, ojiichan * ___ *
He sent me so many wonderful stuff, snacks and sweets that I have not had in a long time! Toys that I love * ___* ! And more awesome than anything else, ARTING EQUIPMENTS !!!!!
I received 2 watercolour Holbein brushes (size 8 and 20) and a Holbein watercolour set of paint (24) and a Holbein aluminium palette, box of pentel pen, and a Watson watercolour sketchbook !!!!! I almost died out of joy XD
Best grandpa in the world \o/ Thank you so much, @shibasaki !!!!!!!
So, obviously, I had to do my best to honour jiichan's investment in my arting endeavours so I set myself to make a watercolour piccar this weekend. But first, I went to set my palette the way @shibasaki had told me to do. If you also want to join my journey in learning watercolour, I recommend that you check out this post here since it really sets out the palette arrangement well.
Here is how it is supposed to look like: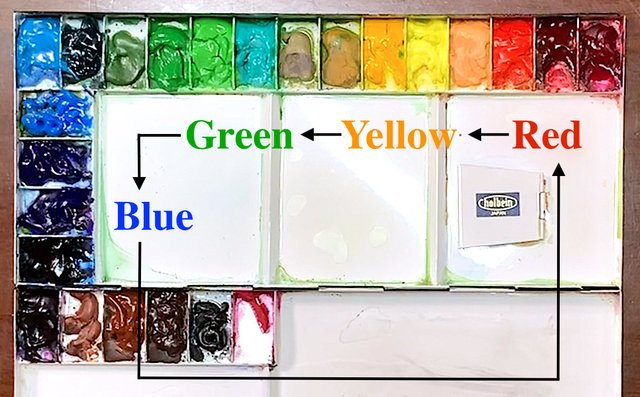 Video tutorial here:

So, so, I did as @shibasaki instructed me and set up my palette faithfully and then I made the piccar that you saw above, and here is the video...
And then my phone died, and here is where it got to: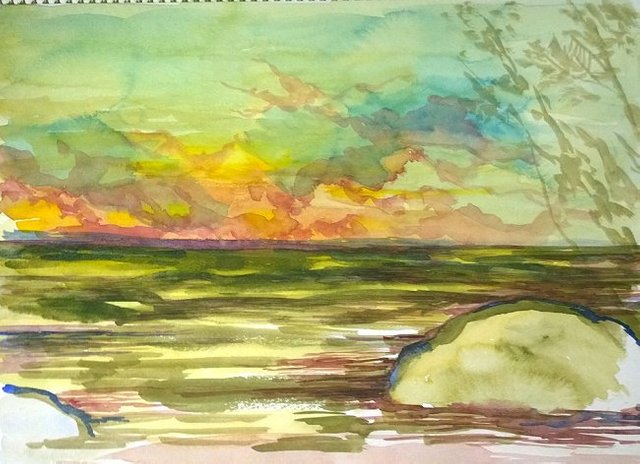 Then I was discouraged a little so I asked @shibasaki what to do and he gave me very clear instructions on where to focus the shadows and where to keep the light areas are: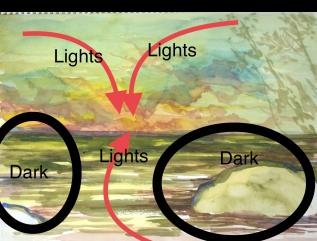 I followed his teaching and it became like this: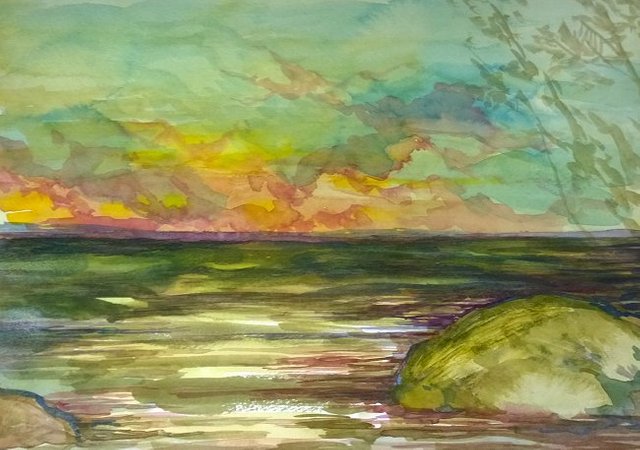 And then I added more layers and applied some highlights on the water surface with the white gel pen, and DONE!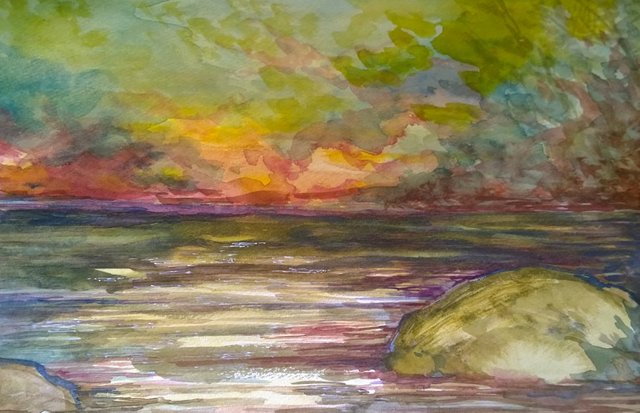 I still have a lot to learn, colour balance, blending technique, and knowing where NOT to apply paints, tonality, values, etc. etc. etc. But I can say that I feel I have a guiding sensei and that I'm having fun as I explore watercolours :)
I hope I'll be able to do something close to jiichan's works in the future, but it WILL take time and .... that's just how art is... it is a journey :D If you're ever wanting to jump into watercolours, please join me now \o/ Together, we can encourage each other and improve :D
Communities Shout Out !
Hey, so, talking about togetherness and all that, there's this thing that @theycallmedan is doing to delegate 20k of steempowers to deserving communities and if you have not voted, please get your voices in so that Steemit is further enriched by the right communities doing awesome things :D
You can vote HERE
Myself, I've voted for @steemitbloggers (#powerhousecreatives) but there are good options that you can check out and support :D
If I had multiple votes, I'd definitely also cast some love towards @homesteaderscoop and @freewritehouse, but there are many, many others. Be involved, Steemian! Check them out, and cast your vote! \o/
PS. If, like me, you're putting your weight for @steemitbloggers, you should also look at this post by the awesome @zord189 where you might be able to get a kick ass steemit signature to use :D
Alright, that's it from me for now, friends o/
Finally: Don't forget to check out my Art Contest, too ! The theme is "Childhood Memories" :D :D :D and the prize pool is at 8 STEEMS ! Contest ending 3 March 2019, so there is still a full week to join in :D !!!!

Artists' Highlights with C2
On another note, please check out this article that I wrote for the @c-squared's Artists' Highlights a few days ago :) Please check it out! I am featuring TWO artists at a time, and the third two are: @elenasteem and @patschwork :D
Log
Issue 1: @Arrr and @thilah
Issue 2: @EdgarUVM and @Zsolt.Vidak
Issue 3: @chrisdyer and @sanderjansenart
Issue 4: @elenasteem and @patschwork
copyright @veryspider. all rights reserved.
(that means DO NOT USE unless you got my say so in writing!)

To all of you artists out here at Steemit! Hello~ If you ever are lost and lonesome, please join Steem Artists at our discord chat: https://discord.gg/ENN8KCb

We network with fellow artists here on Steemit and we help each other succeed :) Come and say hi~ ^ __ ^





curator for curie, c-squared (and c-cubed), and nTopaz