ArtVenture Contest: "Charcoal Seascape"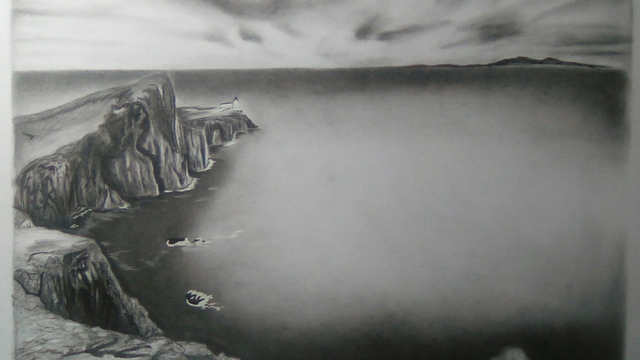 Hello My friends!
Welcome to my blog.

These days I read a post from @stef1 about a traditional art contest, I like these contests a lot because I can contribute my work and compare myself with other artists, besides that, I can admire the work of other artists.
The theme of the contest is to illustrate a "Seascape" I liked a lot because it is a stage and I am not very good at doing these things, I have always found it very difficult to do these things and therefore I greatly admire the work of @stef1 that makes this art type very easy.
So I decided to take a chance and participate in this contest, which apart from being inspiring, complements my drawing practices with charcoal. The truth was looking for the web and there are very few scenarios made with charcoal and much less with the technique that I like, which is realism so I wanted to contribute my grain of sand to the Internet to have more scenarios with charcoal ;). Let's go there!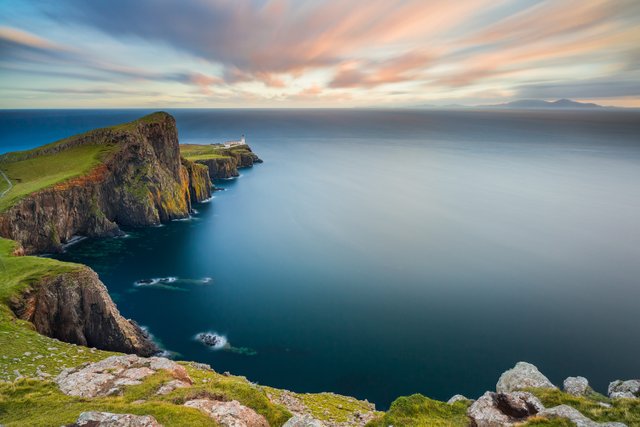 Image Source
---
I decided to start from this image, I have not had many opportunities to make scenarios so in my mind there is no agility to create one from scratch, so I decided to illustrate in charcoal an existing image.
I like this subject because it consists of drawing textures and I really love drawing textures more than anything else.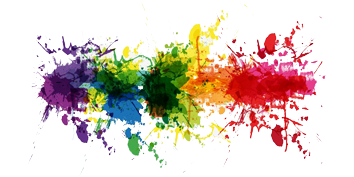 My tools:
Mechanical pencil / HB Leads.
Charcoal Pencil Soft.
Charcoal Powder.
Brush.
White Paster Pencil.
Opaline A4 180G.
---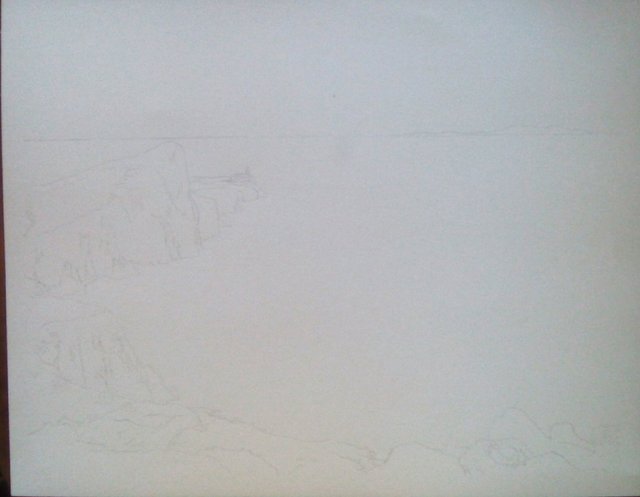 ---
I like this subject because it consists of drawing textures and I really love drawing textures more than anything else.

I use the HB graphite to do it, this with the purpose of not leaving marks when I am illustrating it but being completely charcoal it can be done with any type of pencil since the charcoal is overexposed to this type of graphite.
---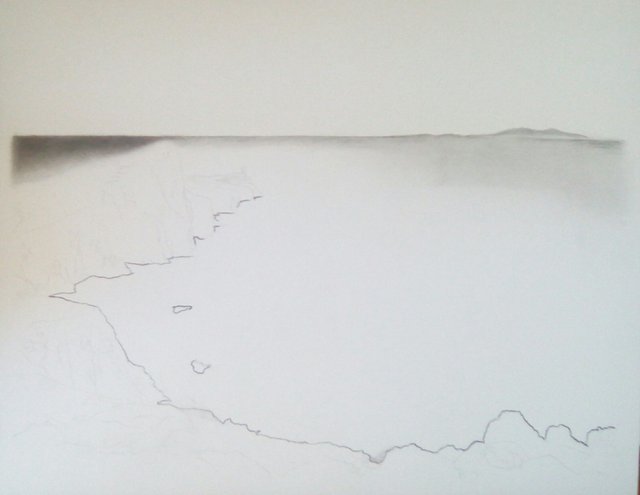 I started skirting all the rocks and the c with the charcoal pencil, this to have an idea of ​​the dark areas where I will later degrade.
---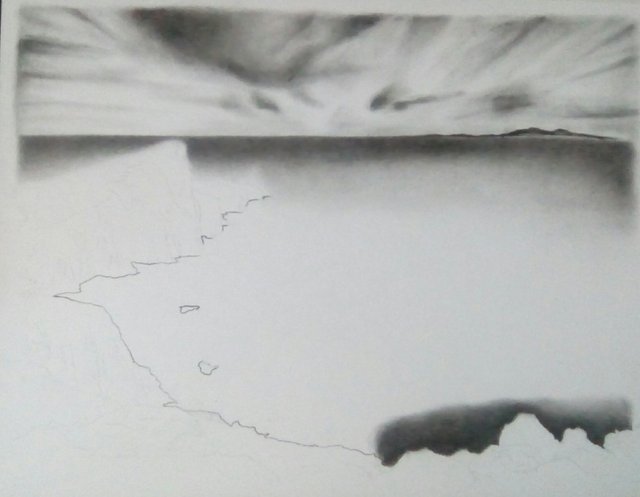 I illustrate the sky and the horizon using charcoal powder and a soft round brush, to give effect to the clouds, they did not remain exactly the same but if I managed to make that distancing effect that is important.
---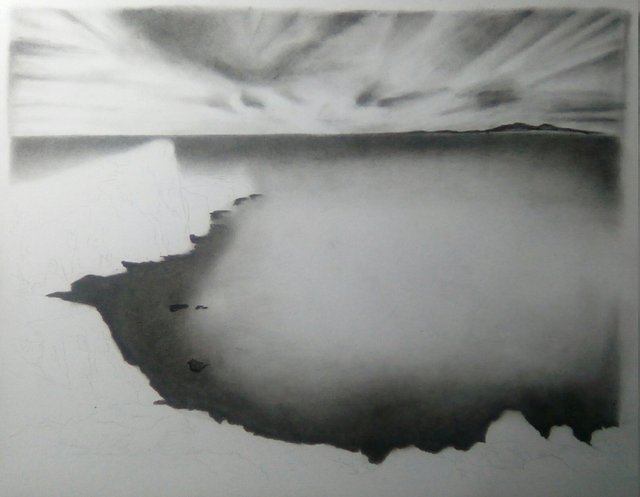 Here I illustrate the water, it is calm water so there is not much difference in the gradients only in the areas where there are rocks. Using the brush and the powder I did the gradient.
---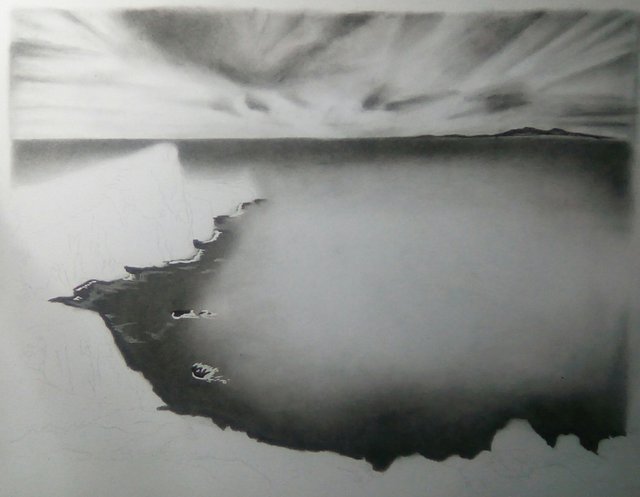 You may not notice the difference in this photo, but using the white pastel pencil, draw the waves that break on the coast and on the protruding rocks, as well as some small white markings to simulate the clarity of the water on the shore.
---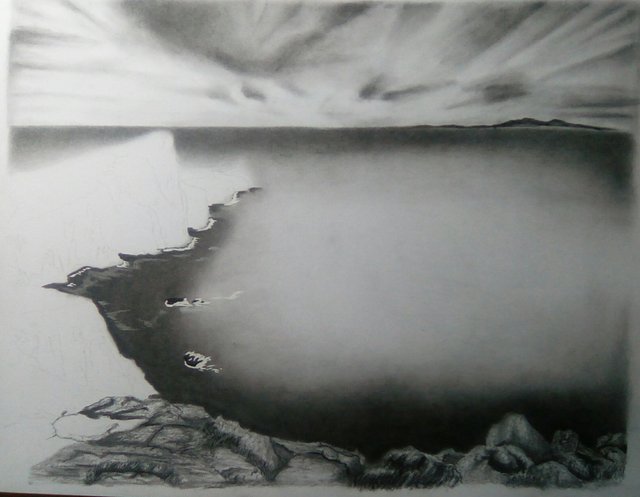 This is my favorite part, began to illustrate the rocky area, this part are textures are made by drawing very small marks to simulate the rough effect of the stones, also using a pen without ink I made marks on the paper to make that effect.
---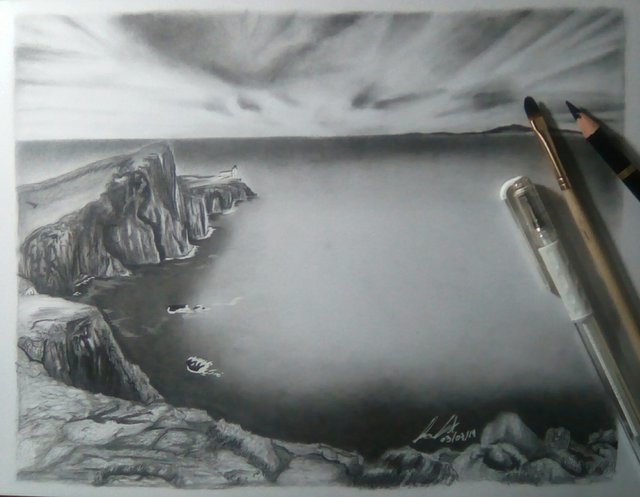 with a white gel marker, I highlight the waves a little more, with patience and detailing the rocks well to make the big stones!
And this is my representation of a seascape made with charcoal!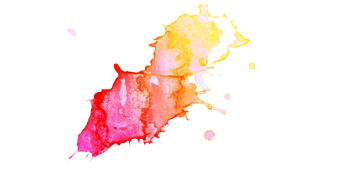 I would have liked to give life with colors but the truth is that I am not very good at illustrating colors, I will show you something I did a while ago but do not make fun.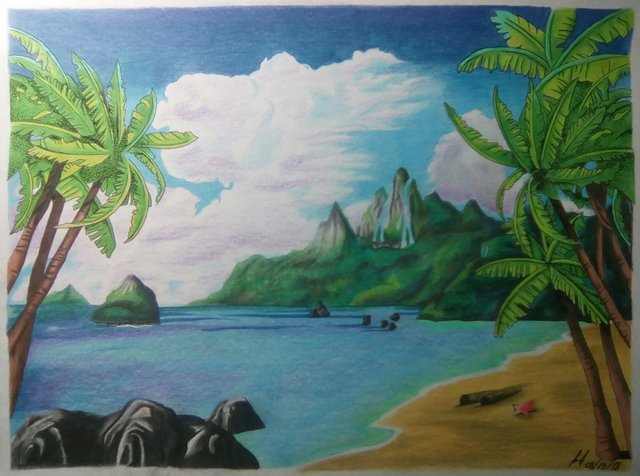 "This was my first attempt illustrating with colored pencils, I liked it but it could have been better."
So I prefer to continue with what I like, which is realism with charcoal.
This was all, I hope you enjoyed my entry for this contest, and without further thank everyone for visiting my post and @stef1 for the contest. (I do not know how many times I've tagged @stef1, I hope it does not bother you).
Until the next time!!