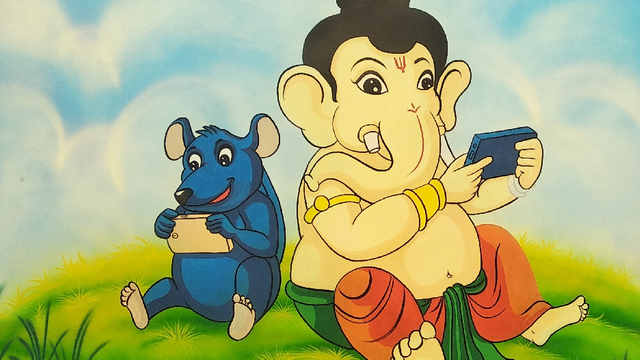 Dear brothers and sisters of my beautiful and an awesome @ntopaz community dedicated to the Artists good evening, I am Julia from India, it's a pleasure for me to share some beautiful art with you and today I brings you a very beautiful wall painting of my own city and the credit of this wonderful painting goes to the several artists of my own city who joined this beautiful contest and painted this wonderful and a very beautiful painting on the wall of our city's park, and everyone is just enjoying the beautiful artwork and we all the Artists are feeling very joy, honour and happiness too as the government is running a contest for everyone to participate and paint your own city and the campaign name is Let's Paint Your City.
Here in this painting artists used the oil painting and the pic is of little incarnation of Lord Ganesha who is the God of all God's and the younger son of Lord Shiva and Goddess Parvati no, Lord Ganesh married with the Laxmi hi the Goddess of Money and power, friends in this materialistic world we all wants the blessings of Goddess Laxmi and when she will start blessings you can be a super rich person and yes you can relate the money with the power, so you can say that the blessings of Goddess Laxmi is very special and important for everyone, so if you want to pleased Goddess Laxmi you should try to start the worship of Her husband Lord Ganesha too, here in this wall-painting you can see that Lord Ganesh and His mouse is busy on High-Tec device of 10th generation and it's a very beautiful moment for us to draw the most lovely painting of Little Ganesha who is always the favourite of every child, who is also the most famous for His love and blessings to all the people and specially to the childrens. So dear friends we are trying our best to give it perfect look and the painting is full of grace and innocence, and you will find the wall painting very beautiful and heart warming.
So we all the Artists decided to paint our own city and I will share with you all as soon as we paint any new wall painting and we are trying to paint railway station, parks and several public places where we can share our art and respect to our city.
So dear friends I want to request you all to start this wonderful event in your country city town or village and just contribute what you can do and add your best in this section to make your city beautiful and wonderful so it's looks like a fairy land where fairies come to the park and dance for a day and just imagine those fairies in the incarnation of little kids the girl child and boy child as these are the most beautiful creation I ever met in this world. So my friends never forget to share your views and contribution you made to your beautiful society, village town or city as we unitedly can change the world in better way.
So friends stay tuned for more exciting experiences.
With love and respect.
@juliawilliams