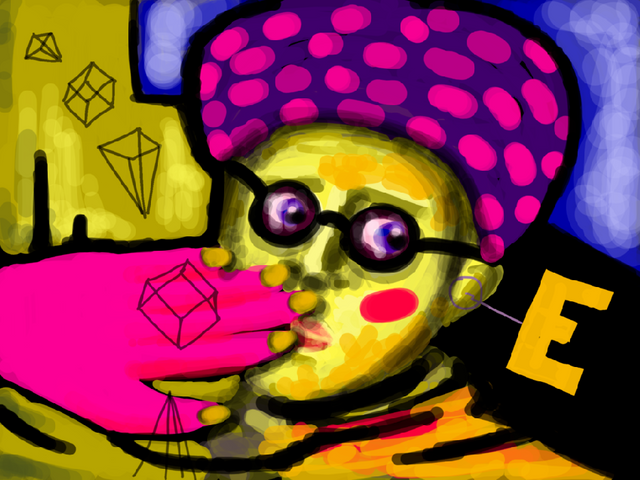 [ITA] L'immagine e il contenuto sono proprietà dell'autore e realizzata su Dada [ENG] Image and content are property of the author made on Dada

[ITA] Cari steemies,
poco fa ho fatto questo disegno su Dada, parte di un flusso iniziato 8 mesi fa.
Uomo con turbante
che gli avvolge il capo. Forse indossa degli occhiali o sono occhi scavati in viso. Lo sguardo sospettoso e una mano che si avvicina alla bocca per farlo restare zitto. Riesce a sentire una grande
E
che risuona nel suo orecchio come un ECO, mentre figure geometriche vuote scivolano accanto a lui.
[ENG] Dear steemies,
just now I did this drawing on Dada, part of a stream that started 8 months ago.
Man with turban
that wraps around his head. Maybe he's wearing glasses or eyes dug into his face. The suspicious look and a hand approaching his mouth to keep him quiet. He can feel a great
E
which resonates in his ear like an ECO, as empty geometric figures glide past him.
. . .
[ITA] Descrivere un disegno è sempre molto personale nonostante l'evidenza di ciò che c'è e vi si svolge all'interno. Credo ci sarebbero infinite versioni dell'Uomo con turbante.
Se vi va di lasciarmi tra i commenti la vostra personale descrizione, sarei molto contenta di leggerla!
[ENG] Describing a drawing is always very personal despite the evidence of what is and is taking place inside it. I think there would be endless versions of the Man with turban.
If you would like to leave your personal description in the comments, I would be very happy to read it!
[ITA] Cliccando qui potete vedere l'intera conversazione.
[ENG] By clicking here you can see the whole conversation.
A big hug! Se you soon!
Isa