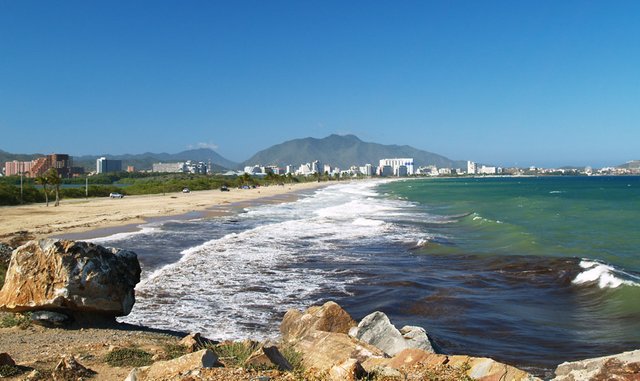 Al norte de Venezuela queda la Isla de Margarita, es un lindo destino en el que se pueden encontrar una gran variedad de playas. Las hay para todos los gustos: con fuerte oleaje o completamente calmas, con aguas frías o calientes, profundas o llanas.
Cualquier amante del mar encontrará en Margarita un paraíso.
Esta playa, la Caracola, queda en el área urbana de Porlamar. Por su gran extensión se puso de moda entre las personas que les gusta realizar caminatas por la playa.
La foto la tomé hace algunos años en uno de los tantos viajes que he hecho a la Isla de Margarita.
La cámara utilizada es Olympus E500.
To the north of Venezuela is Margarita Island, is a beautiful destination where you can find a variety of beaches. There are beaches for all tastes: with strong waves or completely calm, with cold or hot waters, deep or flat.
Any lover of the sea will find in Margarita a paradise.
This beach, the Caracola, is in the urban area of Porlamar. Due to its great extension, it became fashionable among people who like to walk along the beach.
I took the photo a few years ago in one of the many trips I have made to Margarita Island.
The camera used is Olympus E500.