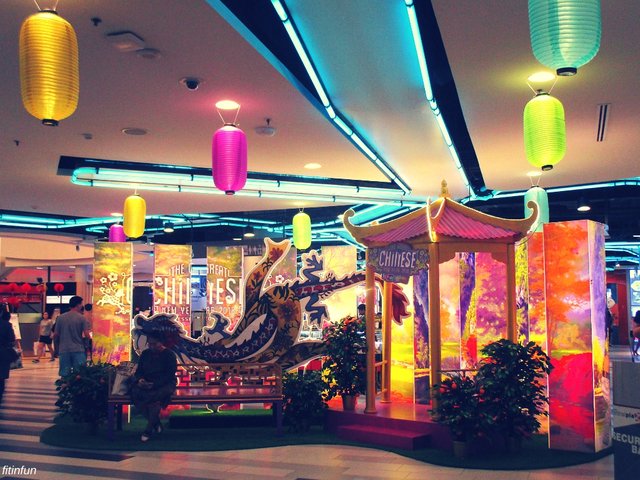 As you walked into Central Plaza Mall in Bangkok Thailand from the MRT Station below, this kiosk was blocking the path for about a month during Chinese New Year season.
Most of the time something was going on. Sometimes singers and bands were here, other times dragons. Professional photographers would take your photo or groups of people would gather and take their own.
I was here often that month changing money, updated my banking, and using the Western Union. This is the first time I saw the kiosk empty so I could get my own shot. It wasn't until I developed my photos that I noticed the single lady on the bench. I wonder if she saw me take 20 shots of her, and I do not think she did.
Why was she sitting all alone like this? Why did I not see her? I am perplexed.
And the strange dark light is not at all what I was seeing. The area was brightly lit, and I was frustrated with this darkness coming to the camera.
I'm happy with the color though, and the leading lines going into the mall. And who can resist the losenge lanterns above the scene?
I showed this to my Thai friend who speaks English when it was still in the camera. When I asked her why it would be set up like this at the entrance, she said, "For fun! For memories! So no one misses their chance!"
She said the same thing would be at the other entrances too, but I just had not had a reason to get to them. Ah! Such a miss for me.
It's all about Bangkok for me this week, as I will be there again for STEEMFest next week. I'm beginning to smile more broadly, just to know I will see it again.
I used a Canon ELPH160 point and shoot camera for this photo.
This post is my third of three entries for the @ntopaz Art of Light Contest. You can enter your light photos too. The contest runs until October 31, so you have a few days left to post.