Mexican love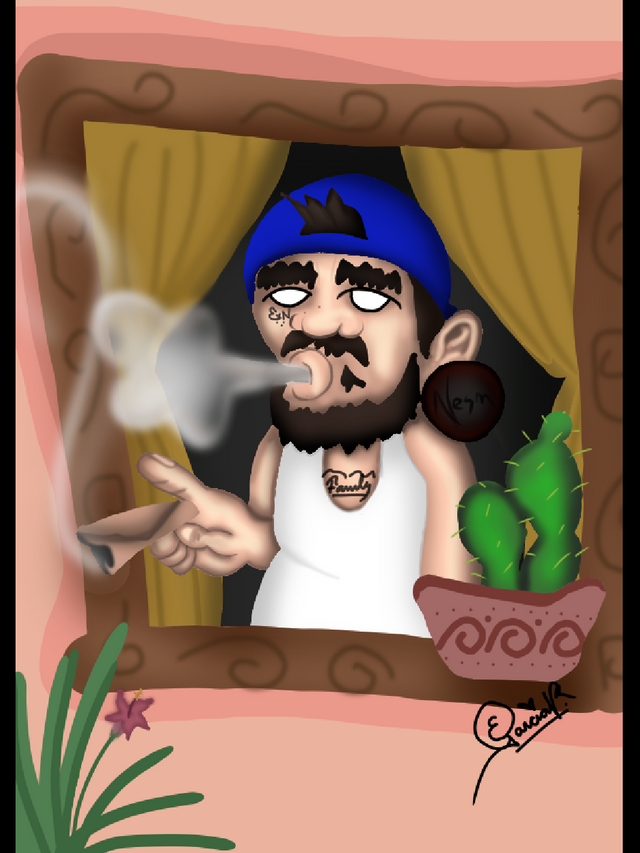 (English Version)
Hello dear friends! ♥
My husband likes it when I draw it in its different facets, and sometimes when he sees an image he likes he imagines it with his face. He always saves them or captures the screen and then gives them to me so that he can do a good drawing or illustration.
On this occasion I worked my illustration based on an image created by the graffiti designer and artist Köpak (instagram: @ kopak_characterz). I have made a modified version, adapting it to my style and of course with my husband's face.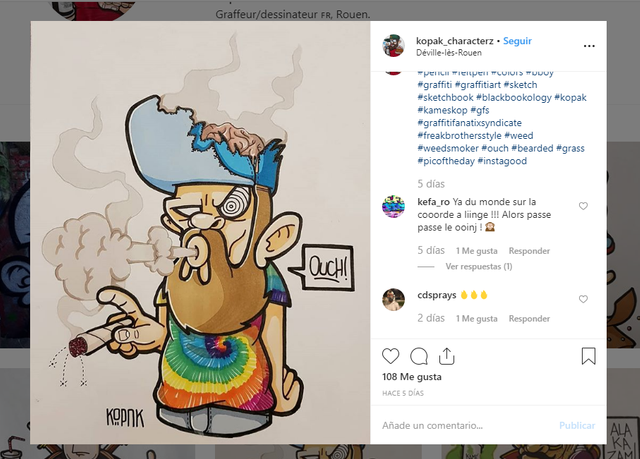 Creating the background of my illustration has been crazy. I started wanting to design a sunset, this became the background of the illustration and then I don't know how it happened to be a Mexican scene.
When my husband sees her, he says: 'You made me a Mexican werita.' We laughed a lot at that time. The image has achieved its mission, we enjoy it and it has brought us a smile.
Below I will give you a brief explanation of how I created 'Amor a la Mexicana'. The program I have used is Medibang Paint for Android.

1.- As I told you before I had the background done, so I proceeded to assemble the image of Köpak to have it as a reference and start to draw all the contour lines.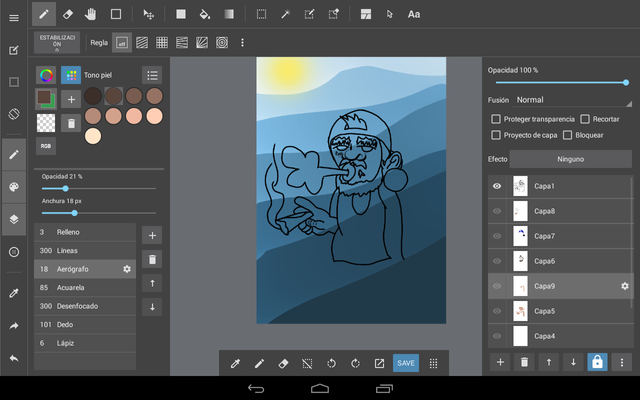 2.- Then I painted the base of the colors and added lights and shadows. It should be noted that I have colored each part in a different layer, so that the other colors do not obstruct me. I have hidden the layer of the contours, I did not want them to be seen in the final result.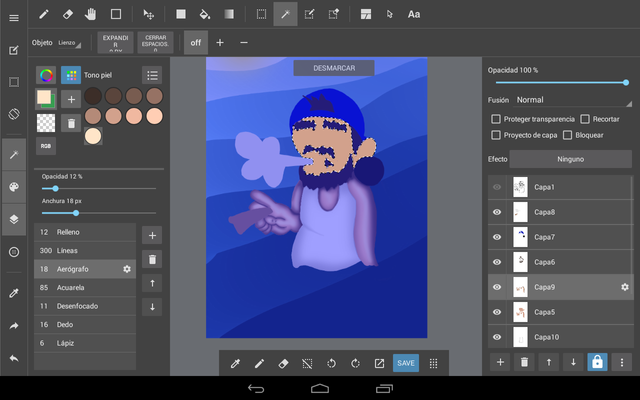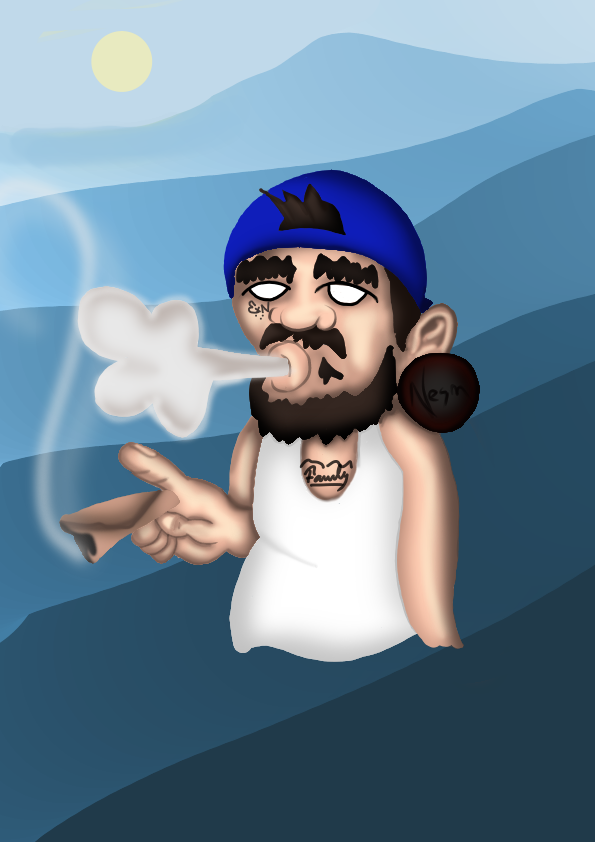 3.- I had everything ready, but when I saw that my husband was floating in the air, I began to worry because I didn't know how to integrate it with the bottom.
It is here when I got somewhat creative, I had to find a way to place it as if I was covered by something from the waist down. Bingo! You will be looking out a window.
I removed the blue background, painted the window frame, gave the darkness inside the house, made a pretty cactus (my husband and I like to grow them at home), and a small plant for the outside of the scene and voila!.

(Versión en Español)
¡Hola amigos! ♥
A mi esposo le gusta cuando lo dibujo en sus distintas facetas, y en ocasiones cuando ve una imagen que le gusta se la imagina con su rostro. Siempre las guarda o le hace captura a la pantalla y luego me las da para que le haga bien sea un dibujo o ilustración.
En esta ocasión he trabajado mi ilustración basándome en una imagen creada por el diseñador y artista del graffiti Köpak (instagram: @ kopak_characterz) . He hecho una versión modificada, adaptándolo a mi estilo y por su puesto con el rostro de mi esposo.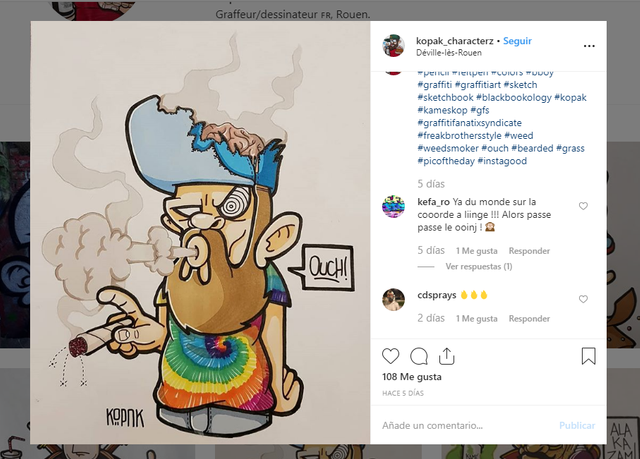 Crear el fondo de mi ilustración ha sido una locura. Comencé queriendo diseñar un atardecer, esto se convirtió en el fondo de la ilustración y luego no sé como pasó a ser una escena mexicana. Mi esposo al verla me dice: "Me hiciste mexicano werita". Nos reímos mucho en ese momento. La imagen ha logrado su cometido, la disfrutamos y nos ha sacado una sonrisa.
A continuación les daré una breve explicación de como he creado "Amor a la mexicana". El programa que he utilizado es Medibang Paint para Android.

1.- Como les comenté antes ya tenía el fondo hecho, por lo que procedí a montar la imagen de Köpak para tenerla de referencia e inicie a trazar todas las líneas de contorno.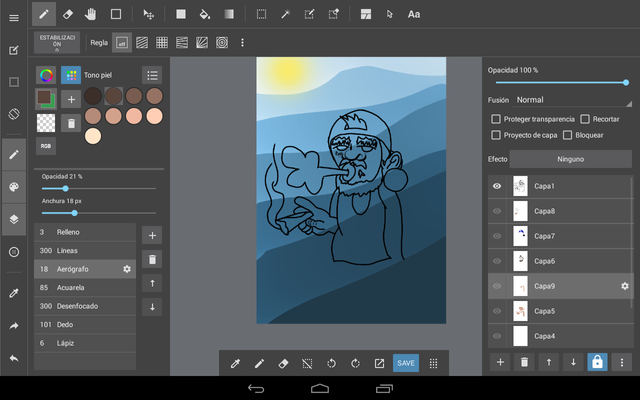 2.- Luego pinté la base de los colores y le agregué luces y sombras. Cabe destacar que he coloreado cada parte en una capa distinta, así no me entorpecen los demás colores. He ocultado la capa de los contornos, no quería que se vieran en el resultado final.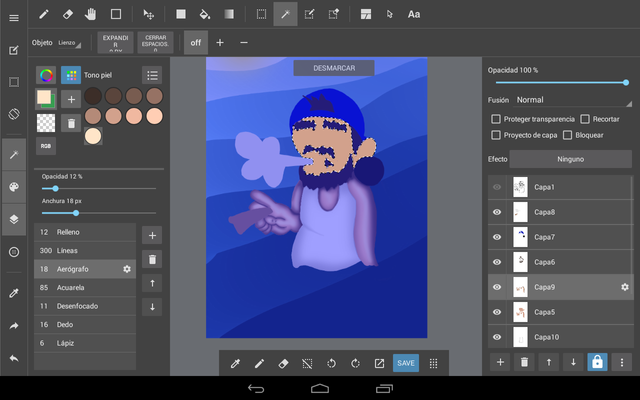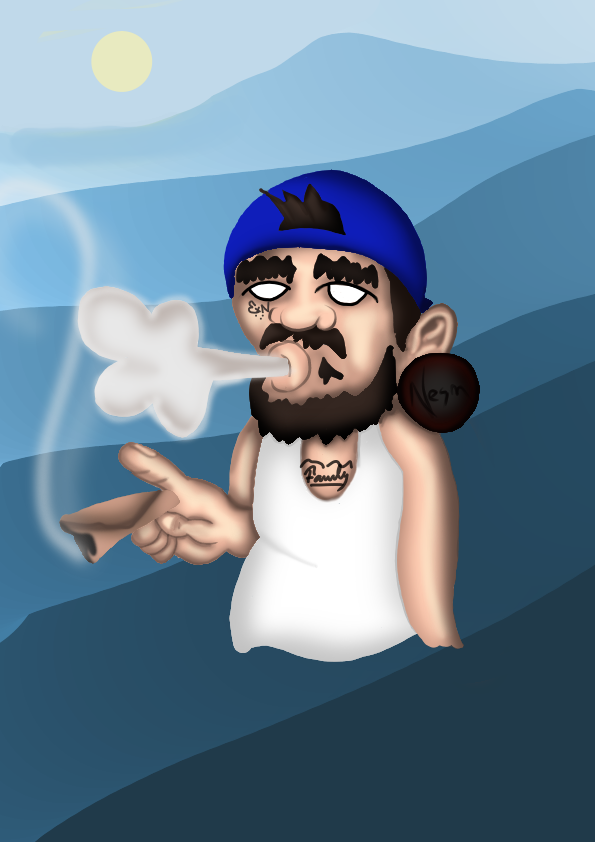 3.- Ya tenía todo listo, pero al ver que mi esposo estaba flotando en el aire, comencé a preocuparme porque no sabía como integrarlo con el fondo.
Es aquí cuando me puse un tanto creativa, había que buscar la manera colocarlo como si estuviera tapado por algo de la cintura para abajo. ¡Bingo!, estará mirando por una ventana.
Eliminé el fondo azul, pinté el marco de la ventana, le di la oscuridad al interior de la casa, hice un lindo cactus (a mi esposo y a mí nos gusta cultivarlos en casa), y una pequeña planta para el exterior de la escena y ¡Listo!.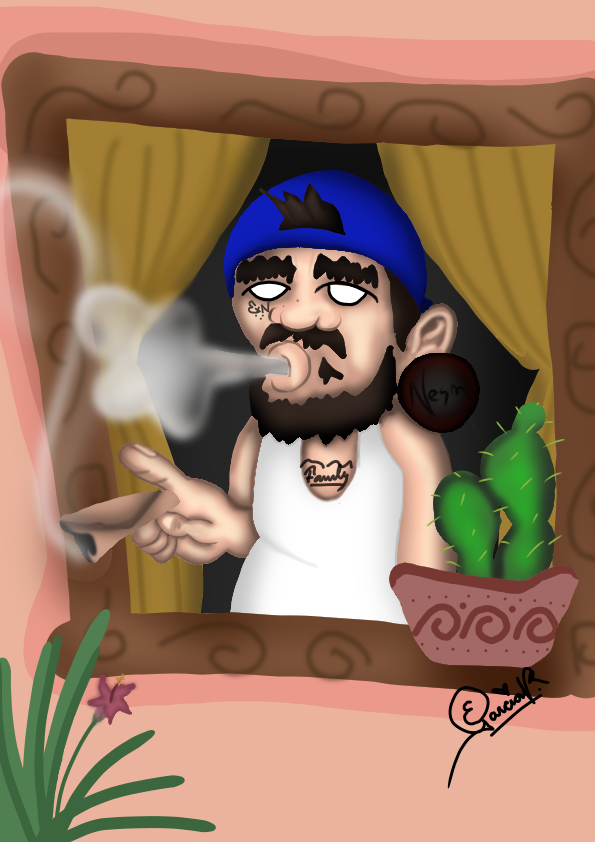 ¡Gracias por tomarte el tiempo de leer, comentar y votar!
Espero hayan disfrutado la publicación
Att: Estefania Garcia ♥

Separador de mi autoría.