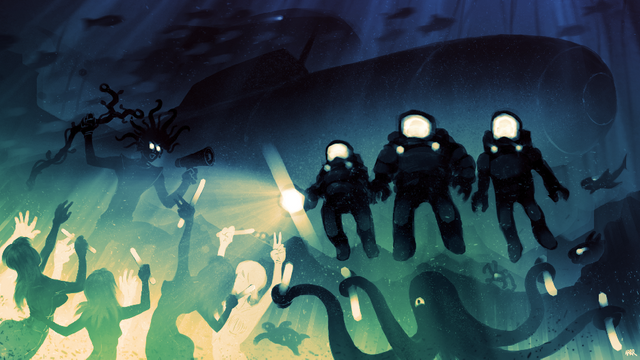 Larger image
Avast mates, long time no see!!
Happy new year friends! May this year 2019 be a good year and bring us a lot of happiness, health, love and of course money ;D
But back to our long-awaited story...
Deep in the ocean, not far from the Mariana Trench, Captain Sad Heaven's submarine was pouring in search of the unusual. And it so happened that he noticed an interesting glow and heard an intriguing underwater rhythm. Having sent there his faithful assistants, he discovered an unprecedented and unheard of action. Underwater techno-shaman CIP mixed the coolest party with mermaids and octopus, and some other underwater inhabitants. And they had nothing left as soon as they joined them.
Arrr.
Music by Paul Infrasonic aka Sad Heaven. He made this beautiful track for video. You can support him here:
https://steemit.com/@sadheaven
https://www.patreon.com/sadheaven