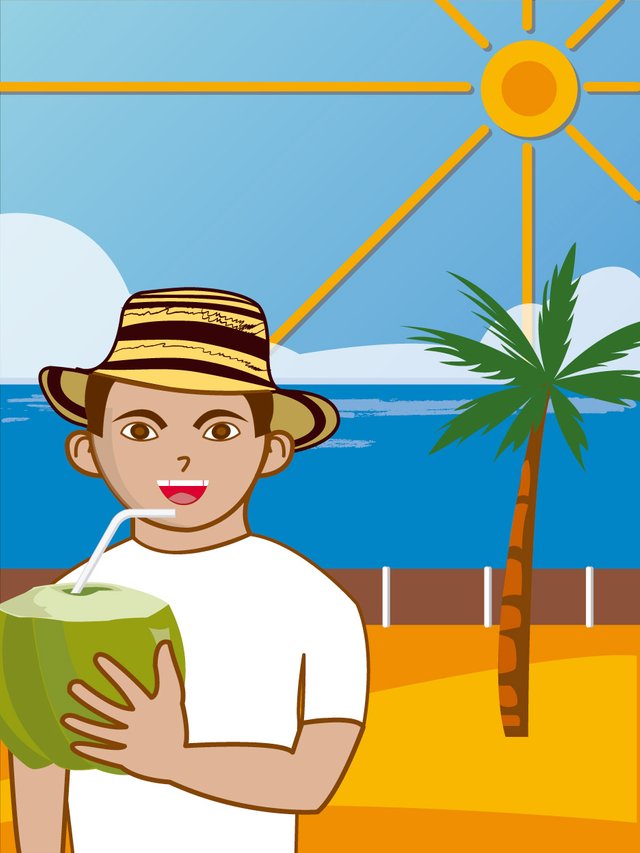 ---
Puerto La Cruz queda a orillas del mar Caribe, a pesar de recibir corrientes de aire del norte, es una ciudad calurosa; para hacer diligencias, visitar tiendas, comprar alimentos, etc., es preferible salir temprano por la mañana para evitar el calor que se acentúa a partir de las 10 am. Los habitantes acostumbramos vestir con ropa fresca apropiada para el clima tropical.
Puerto La Cruz is on the shores of the Caribbean Sea, despite receiving drafts from the north, it is a hot city; to do errands, visit shops, buy food, etc., it is preferable to leave early in the morning to avoid the heat that is accentuated after 10 am. The inhabitants usually wear fresh clothes appropriate for the heat.


El presente post ha sido publicado usando la plataforma de nTOPAZ para participar en el concurso Stock Illustration WEATHER, la ilustración la diseñé con el software Adobe Illustrator.
Si deseas participar de los concursos de Ntopaz únete al Discord en Español para que obtengas la asesoría necesaria ya que las curaciones solo son realizadas a los post publicados en su plataforma (www.ntopaz.com).
Te invito a entrar a mi blog para que te nutras de mis publicaciones.

Apoya el contenido 100% original, no al plagio