Finally I'm getting around to publishing a NSFW post! I've always wanted to do it, but it had to be within a context. The chance offered itself on the banks of the Klamath, as we were enjoying the river during one of our rest-stops.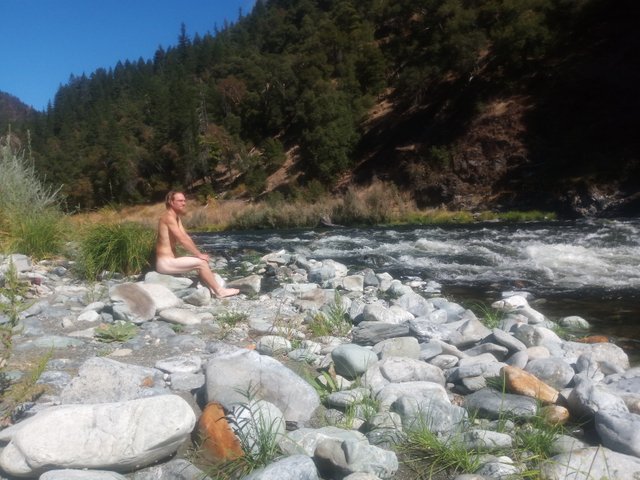 A Reason for Being Nude
Being hot and sweaty from riding in the California sunshine, dipping in the river is the most obviously refreshing activity. And not having any wet shorts to worry about afterwards is also quite nice. So why not take off all our clothes? It's not like anyone is around anyway... They could be, but they simply aren't.
Sitting around and drying on the rocks takes about as long as it takes to smoke a joint, so these two activities also go hand-in-hand. At the same time, reveling in the sunshine, breathing in the pure mountain air, and enjoying the wonderful nature surrounding us completed these blissful ten minutes... which would end up in a post that some may consider Not Safe For Work. And that has nothing to do with renegade camping, or with smoking cannabis (or even the tobacco I like to mix it with), but merely with not wearing any clothes. But so be it.
There have been other opportunities for such a post as well, usually when I go photo-bombing my friend's perfect picture of our camp, right after dipping in the creek. When he was joking about the obligatory naked German at the campsite, I told him how right he was: Germans love to be naked. Especially at campsites!
Naked Germans on All Sides
Going back to the Nazis, doing physical activities in the outdoors, to celebrate strong healthy bodies, was fully embedded into their ideology. On the other end of the spectrum, the communists of East Germany also favored nudism, as it is quite hard to see your economic class once your clothes are off. But even in modern day (post West) Germany, nudist associations (Vereine) abound, where pedantic individuals of this meticulous culture like to sit down and organize the fine details of ... being naked.
Still, I could not simply post this pic as part of my usual travel stories. I don't want to offend anyone, including possible employers of my followers. Although, if I was in their shoes it would bother me a bit more that my employees are reading blogs OF ANY KIND instead of being productive. On the other hand, it may be a productivity-enducing factor to le them look up whatever they like... But this is just my own two cents about NSFW.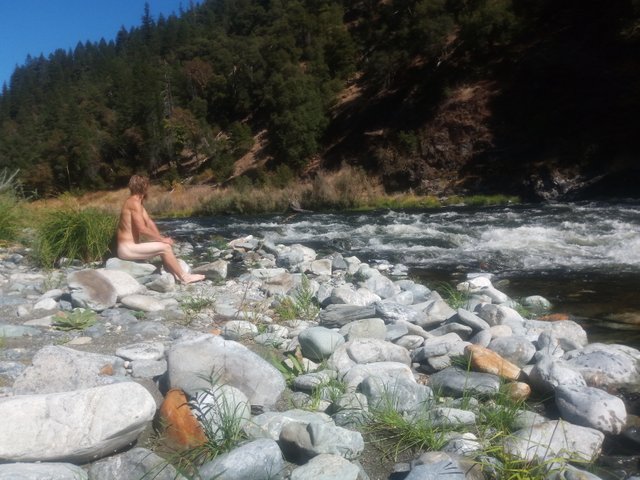 So I'll just leave by admitting the truth: that no matter how many pieces of clothing I put on, secretly I'll always be naked under them.
If you'd like to read my bike trip in its entirety, check out the rest of my posts in the Cascadia to Aztlan series:
Please check out these great communities I'm contributing to: 

#ecotrain | What is EcoTrain | Discord Community

#cyclefeed | Introducing CycleFeed | Discord Community

Join us on Discord