In this new lesson for @MissCassy, from @themistress, I am giving instructions on how to give a blow job! Of course a video would have been the best option, but living out here in the country, the last time I tried to do a video I ran into technical difficulties. I don't want to deal with that headache again, so this lesson will be done using photos and trying some gifs.
Take a good hard look (haha!) at the cock in front of your face, and remember what you want to do with it ... you want to worship it. I like to sometimes start at the base of the cock with my head sideways, working my way up the shaft to the head.
Sometimes I do this by licking it in long strokes, kind of like a frozen popsicle, sometimes I will flick my tongue back and forth.
Then sometimes I'll take a moment to just put a whole lot of spit in my mouth, purse my lips and then run my lips along the shaft, expelling spit as I go. Do this for a while and get the shaft nice and coated with your saliva.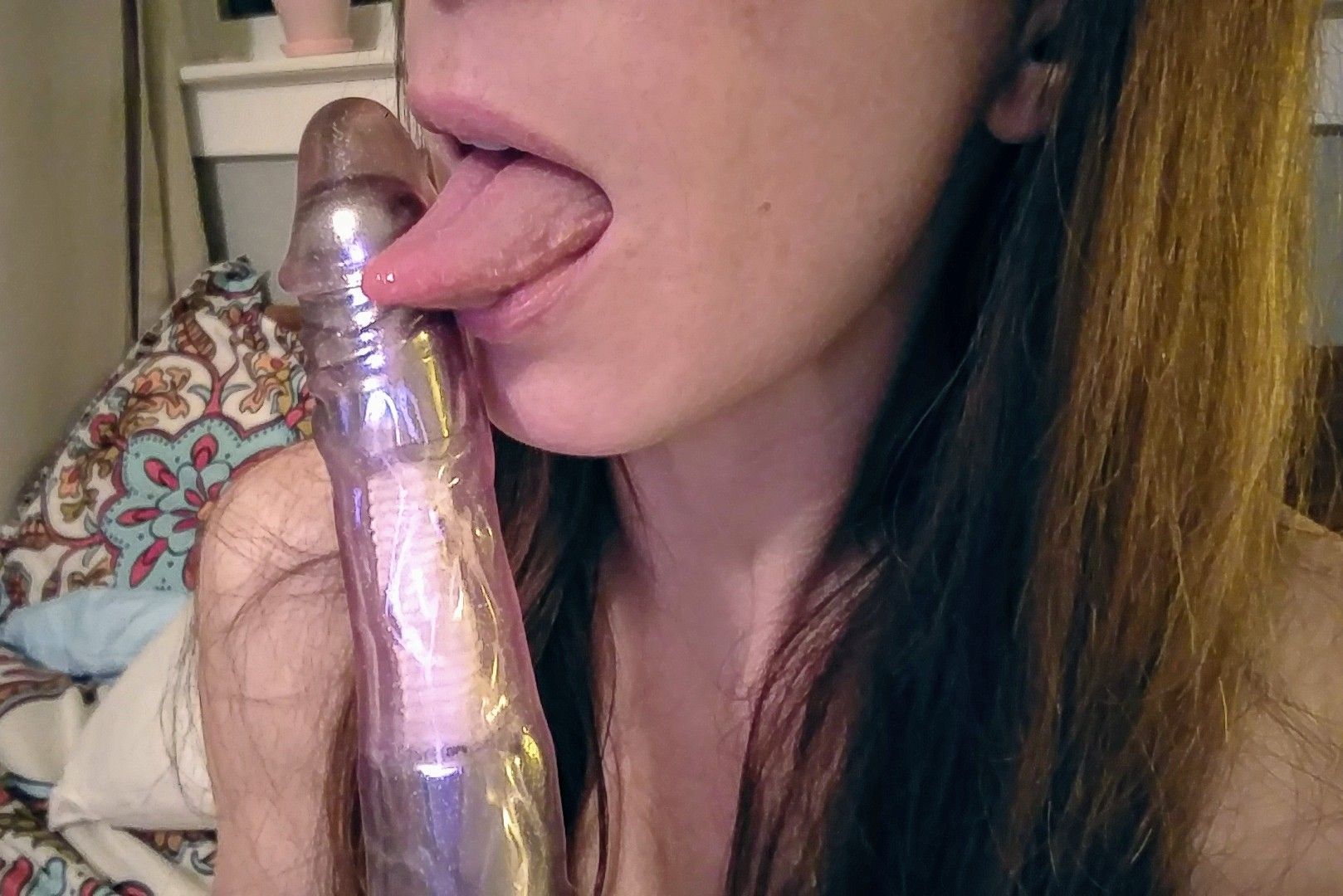 By now, there's probably been some pre-cum that has dripped out of the head of the cock that you're working on. Take a moment to rub that around the head, with the tip of one of your fingers, or maybe gently with your pursed lips. Remember to maintain eye contact!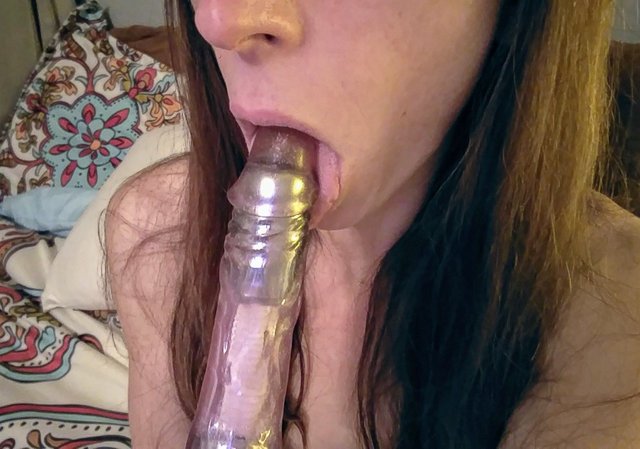 The head of the penis is also called the glans, and where that meets the shaft is called the corona. It kind of looks like the edge of a mushroom head, for lack of a better comparison. This is a sweet little place to flick with the tip of your tongue, or to trace along. This is also a fun little thing to swirl your tongue around, after you've actually taken the head of the penis into your mouth. On the underside of the penis, near the head, is this other neat little place called the frenulum. There are a lot of nerves here, from what I can remember, and this is something that you definitely can focus on with light touches.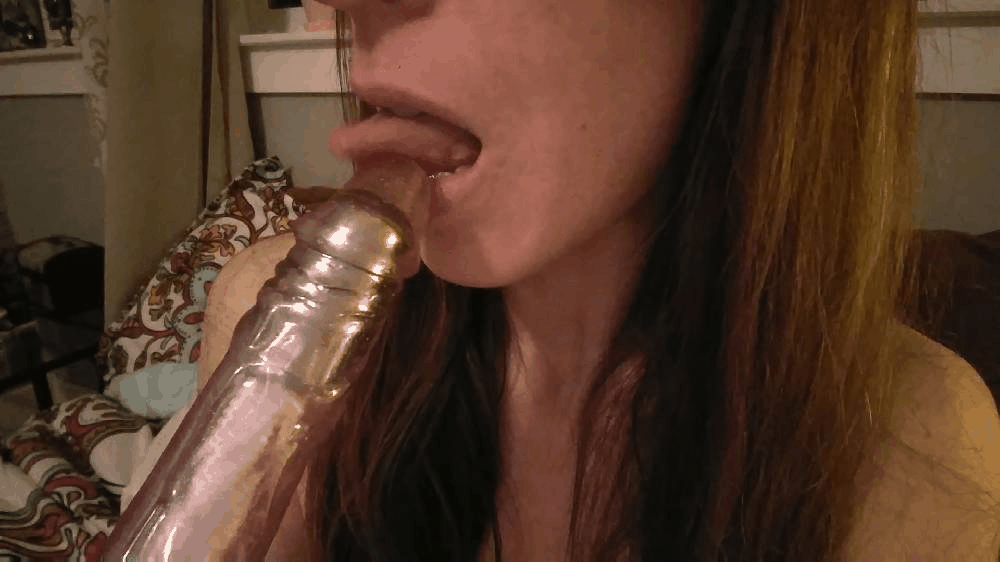 So this wonderful cock that you're worshipping is now ready to actually get put into your mouth! You will want to be sure to cover your teeth, especially your top ones. Make sure to lick your lips, or put on ChapStick or Vaseline, and slide the cock in gently. If you need to take a few reps in and out with just that simple motion, no sucking or no moving of your tongue, you can do that to build up a little bit of spit. Be sure to keep your tongue pressed against the underside of that dick. You want to try to maintain a tight seal with your mouth, but still allow saliva to move freely. There is no such thing as too sloppy at this point; the wetter the better!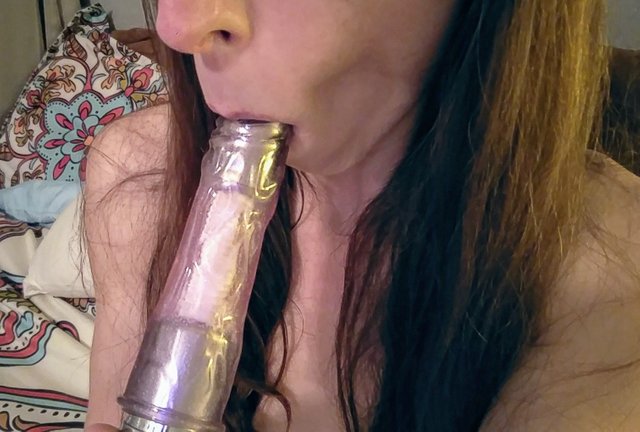 Suck in as you move your head down and the cock moves farther into your mouth. Release and loosen as you're pulling back. You can wrap your dominant hand around the base of the cock, like you're giving it a good handshake. Bring your lips down to meet your hand. Pretend that your mouth and your fist are glued together, and move up and down the cock, in tandem.
If I have access to a cock within the next 24 to 36 hours, I'll do my best to get you a video @misscassy!
---
Now here's a bunch of text that isn't applicable to your video, but I still want you to keep in mind. It probably wouldn't hurt to have everybody else read through this too!
Giving a good blowjob requires three basic things. Plenty of spit, lots of attention, and sometimes patience. Spit is pretty obvious, it makes moving around a lot easier, and much more enjoyable for the person on the receiving end. Attention is important so that you can get a feel for what the receiver is feeling, how much they're enjoying it, or how much they might not be enjoying it. Attention also requires you to pay attention to where your teeth are, where your tongue is, how your section is doing, things like that. Patience... That's just kind of one of those things that you learn as you go. Some people will blow within 2 minutes of being in your mouth, and some people won't!. I had a partner who didn't want to ever come in my mouth, he specifically wanted blowjobs to build up to actual intercourse. Of course, that's fine!
Communication is also important. I can't believe I left that out! You need to be sure that you're comfortable enough to ask if you have questions, and your partner needs to be comfortable enough to speak up in a gentle way. How do I describe it? When you're giving a blowjob, you can sometimes get carried away, or if the person who has their cock in your mouth is in control, they can sometimes get a little rough. Either way, the both of you have to be comfortable expressing any sort of discomfort, definitely. On the flip side, if you're enjoying it, you need to let them know. Don't just sit there with a dick in your mouth and be quiet. You really need to let the person know that you're enjoying it. That can come through soft noises, it can come through lots of spit and noisy slurping or sucking sounds, or even a little bit of humming in the back of your throat, cuz they can feel that. You can also use non-verbal cues, like eye contact, smiling out of the corner of your mouth, shaking your butt depending on which position you're using, or getting so turned on while you're doing it that you start playing with yourself. Again it depends on the situation that you're in!
---