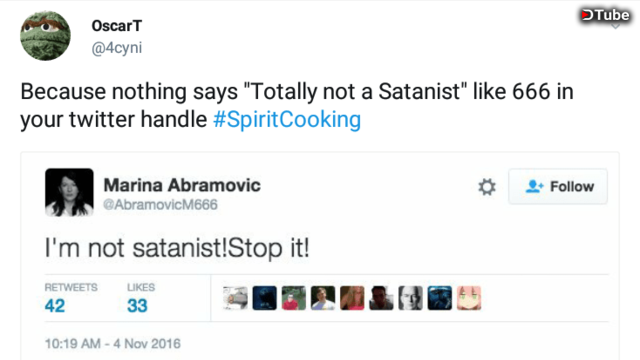 ---
YES HELLISHLY SATANIC
Marina Abramovic has become the high priestess of the satanic art world! Her art is subversive and oppressive anti-art! Her modus operandi incorporates occult symbology and ritual at every opportunity. She performs psychological techniques and hypnosis to place viewers and participants into a trance-like state. The goal is to perpetuate lies under the guise of illusion. It is all done blatantly in 'plain sight' as required by the rules of 'satanic magick.' The purpose is to deceive while at the same time eliciting consent from the willing participants.
​
Who Is Marina Abramovic?
​Marina Abramovic is a Serb of supposed Orthodox religious background and was educated in Belgrade, Serbia. As you can see from the pictures below her parents were communists who served in the military but had a tempestuous marriage devoid of love. She grew up with communist/socialist/marxist ideology permeating her unhappy home environment and influencing her thinking extensively. I suspect but cannot prove that her parents were Jews masquerading behind christian orthodoxy, concealing who they really were. Historically documented, secular Jews will publicly convert to anything in order to escape persecution or death and conceal their true identity and resume covert activities against society .
In addition to this it is clear from Abramovics' own accounts of childhood that she was emotionally and psychologically 'traumatised' by her 'distant' mother. This explains a lot about what we see today re: Abramovic's robotic, and persistent obsession with 'self,' and willingness to risk whatever it takes to command respect. I suspect, that she like many in the culture field is a crypto Jew. Note also that she was influenced by Joseph Beuys' humanistic activism and his blurring of art / life realities which has accelerated ideas spawning 3 generations of 'pseudo art!'
Note: No artist will be successful (fame, status, wealth etc.) in this world unless they sell out and follow the satanic agenda which controls art, culture and indeed the whole world system! I mean 'nobody!'
Communism and the 5 pointed red star are synonymous with occult 'Talmudic Judaism' and the 'so called' 5 pointed 'Star of David' which in fact has nothing to do with King David but is in fact the same as the satanic 5 pointed star used in Witchcraft rituals. There is 'no' distinction between them. They are one and the same!! It is imperative for the reader to understand this, otherwise, Abramovic's art doesn't make sense. Her 'performance' art is meant to obfuscate the 'emptiness' at the heart of it (her emptiness.) The goal is to make it 'appear' profound when in fact it is 'empty' and an insult to intelligence. Her art is totally riddled with hidden (to the uninitiated) 'spiritual' terms, slogans and symbols and presented as 'satanic ritual' to the deluded and unsuspecting. She says she incorporates the 'star' in her work in order to exorcise its power over her life but i believe this is a convenient 'lie.'
Her art is not art but actually concealed ritual worship of Satan in public view ... absolutely diabolical! Art is being totally denigrated and made filthy and ugly! This self proclaimed witch is not an artist; she is a magician performing occult ceremonies to audiences and getting wealthy while doing it. 'Money for nothing ...'
I suspect but cannot prove that Marina Abramovic is also a mind controlled slave and dupe to the elite who control this world from the shadows. She is simply promoting their occult agenda unwittingly or not, in order to subvert the morality of the masses! Abramovic was emotionally starved as a child and craves attention and promotes 'performance art' in order to command and 'control' that attention and adulation in spontaneous and macabre, theatre type spectacles, which other art forms can't replicate!
Abramovic has made herself the subject of her (art) but the office of her practice is one of conjurer, sorceress and illusionist in order to deceive the ignorant masses. This was and is the very same goal of communism which first deceives then controls and finally destroys its victims. All done under the guise of so called, progressive 'art.'
Communism/Judaism/Satanism have always promoted 'man' as 'god' and the end result of this ideology is always terrifying!!
SPIRIT COOKING HELLS KITCHEN PEOPLE NETWORK DIAGRAM
https://goo.gl/NKpUhK
---
▶️ DTube
▶️ IPFS