NOWCOIN GAME: "WHALE OLIMPICS"
Hello everyone, here we are to bring a new series of competitions to valued members of the NowCoin community. Let's join the Whale Olimpics, and play with us!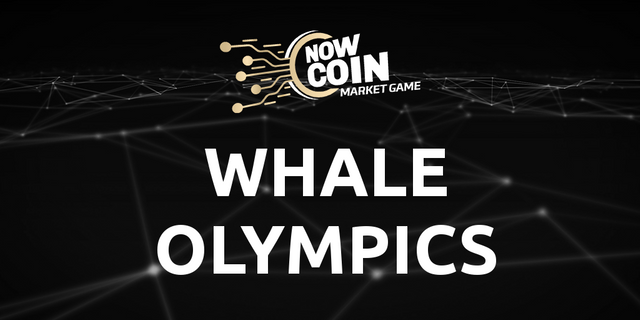 The Whale Olimpics will be the first premium game of the NowCoin Game. This means that only accounts maintaining a balance of at least 1000 NowCoin will be able to participate in the series of competitions.
The Whale Olimpics will begin on October 1st, and will go on for eight weeks. There will be different competitions every week, where the players will be able to collect a total of 1000 NowCoin bounty in each round.
The eligible players will have to register for the games by sending a small amount of NowCoin to the nowcoin-reward-pool account. This will be declared upon the announcement of each round.
The games will include somebrand new types of competitions and also bounties that the community has played before.
The bounties collected during the weekly competitions will be summed up, and at the end of the Whale Olimpics, an extra 1000 NowCoin will be paid as a reward: the winner will receive a bounty of 500 NowCoin, the second 300 NowCoin and the third 200 NowCoin.
Stay tuned folks, we will announce the first round during the coming week. Let the Whale olimpics begin!
Have fun :)
Web: https://nowcoingame.com
Game: https://live.nowcoingame.com
Telegram Group: https://t.me/NowCoinCommunity
Telegram Channel: https://t.me/nowcoingame
Twitter: https://twitter.com/NowcoinGame
Discord: https://discord.gg/y6rWcvh
Facebook: https://www.facebook.com/nowcoingame