NOWCOIN - CRYPTOCURRENCY AS A MULTIPROJECT TOKEN
It has been almost 6 months now since the first idea on the building of the NowCoin ecosystem was published. The coin is already getting traction, and since the official start of May 1st, the capitalization of our ecosystem was created and grew reasonably. The seeds have been planted carefully, and we are so happy to watch our friendly and supportive community growing day-by-day.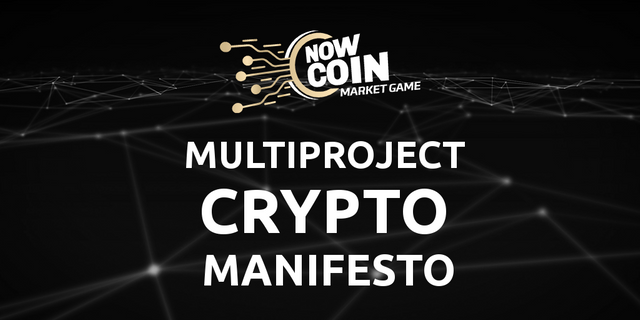 As we discussed in our genesis vision document, NowCoin is aiming to become an organic and project-independent cryptocurrency. This is somewhat different from the mainstream, as currently individual tokens are created for each and every global blockchain project.
As for being an organic cryptocurrency, we discussed many times already that we believe in adoption through building of both holders and endpoints. This is the core purpose and project of NowCoin, to create a liquid ecosystem, where properly capitalized holders actively engage with merchants providing goods and services. The NowCoin Market Game is currently focusing on the creation of the holders. In the meantime we are actively seeking cooperation with e-commerce and e-gaming platforms for cooperation and implementation of NowCoin.
This is what I wish to explain in a bit more detail in this article: NowCoin being a real multiproject token.
I seriously doubt that the world will utilize thousands of cryptotokens wrapped around individual projects. I seriously doubt furthermore that the majority of these separate tokens will have real and liquid exchange turnover resulting in stable pricing. Only the biggest projects will be able to bring real adoption for their tokens along with highly liquid daily exchange presence.
Let's not focus now on the big and famous cryptoprojects. Do not even focus on the projects following them.
Let's focus now on small projects, which:
will be viable and working,
will use tokens as a core asset (transfer of value) within their project but,
will never be big enough to have hundreds or even thousands of people daily trading their tokens and thus giving value to their tokens.
These are the projects which honestly do not need an own token. There has to be a layer, where the synergies can be joined, and the weight of fragmentation can be left behind.
We wish to start positioning NowCoin not just a cryptocurrency, but also as a multiproject token. NowCoin is already a working cryptocurrency. It is still in its infancy, but it already has exchange presence, trading history, and holders. This is already way more than the starting point of small individual project (ICO) tokens, and we are still a very very young community.
The NowCoin ecosystem is ready to provide added value to any starting project that wishes to implement cryptocurrency as its core asset.
What is NowCoin offering:
NowCoin already exists, has holders and history
NowCoin has an expanding community, in other words it can offer crossmarketing and almost immediate adoption
NowCoin is actively traded on the exchange, not just as a distant promise of a running ICO
NowCoin has a Founder's Pool which can be joined by founders of partnering projects
In exchange of the above, NowCoin is asking nothing in return. It is our core vision to create value through adoption, and I believe that finding a role as a multiproject cryptocurrency might bring us closer to our vision.
Dr. Zoltan Toth
Founder of NowCoin Project
Agree or Disagree? Let us know! Join the discussion!
Web: https://nowcoingame.com
Game: https://live.nowcoingame.com
Telegram Group: https://t.me/NowCoinCommunity
Telegram Channel: https://t.me/nowcoingame
Twitter: https://twitter.com/NowcoinGame
Discord: https://discord.gg/y6rWcvh
Facebook: https://www.facebook.com/nowcoingame