NOWCOIN BOUNTY: "THE SHORTEST STRAW"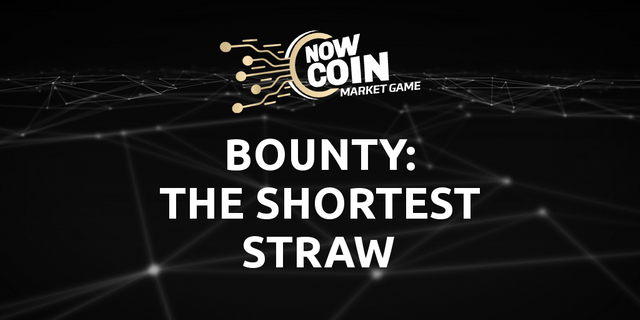 The Winner: the account having more than 100 NowCoins, and maintaining the lowest unique whole number balance upon the snapshot time. Decimals are not taken into consideration, only the whole numbers.
The Bounty: 100% of the winning account's snapshot balance will be credited as a special reward.
Snapshot Time: 00:00 UTC on 2018/08/23
Let's see the details:
The playing blockchain addresses will be those maintaining a balance exceeding 100 NowCoins. The lowest possible playing balance is 101.
Only whole numbers are playing, accordingly for example the balances of 159.0635, 159.2634 etc shall be deemed as equal.
The winner will be the lowest UNIQUE WHOLE NUMBER balance. Here is an example snapshot:
101.0000
101.2354
101.8465
 — — — 
102.1645
102.2341
102.3745
 — — — 
103.1234
103.4567
 — — — 
104.0374 ← THIS ACCOUNT IS THE WINNER
 — — — 
105.2543
105.7645
The winning balance will be calculated upon the Snapshot Time and the winner will be declared on the basis of the Snapshot. The Snapshot will include irreversible (confirmed) balances. Only one account will win the Bounty. The winner will receive 100% of its winning balance upon the Snapshot.
The game will be fun, whereby you will be able to both make friends and enemies!
Possible strategies:
1. The Lonely Wolf: You may simply follow the account balances on http://live.nowcoingame.com or on any block explorer, and continuously align your balance according to the actual status.
2. The Politician: You may forge alliance with fellow NowCoin holders, trying to arrange only one wallet to a certain target balance, and then agree on splitting the bounty. Let's see how many talented politicians we have around, the Rise of the Clans may begin.
3. The Sniper: You can be a sniper, shooting 1 NowCoin to balances that threaten your winning position. Groups or clans indicated in 2 above may utilize snipers to defend their winning target position.
4. The Sniper Troll: You can make snipers shooting on your account by taking up balances they are targeting, and thus you can collect the NowCoin shots from snipers :)
5. Rambo: You may hide in the shadows, evaluating balances, shooting out a place for yourself and then defending it until the Snapshot.
And so on…
Enjoy the Bounty!
Follow Us For More Games and Bounties
Web: https://nowcoingame.com
Game: https://live.nowcoingame.com
Telegram Group: https://t.me/NowCoinCommunity
Telegram Channel: https://t.me/nowcoingame
Twitter: https://twitter.com/NowcoinGame
Discord: https://discord.gg/y6rWcvh
Facebook: https://www.facebook.com/nowcoingame
YouTube: https://www.youtube.com/channel/UCOOIwtzNi5JLobTZR3bQVtw