NEW PROJECTS IN THE NOWCOIN ECOSYSTEM
We are happy to share with you that in September we started to work on two projects which will both assist the adoption and use of NowCoin, and strenghten and grow the NowCoin Ecosystem.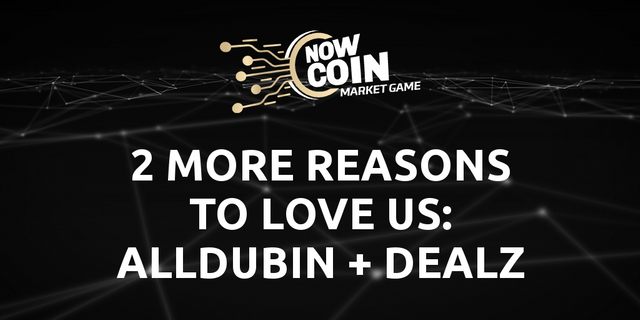 Alldubin Cooperation
Alldubin is a freshly launched luxury outlet website where you will be able to reach thousands of products made by designer brands with reasonable discount. Alldubin will create a "NowCoin Club" on their website where a wide selection of the products will be available for purchase also with NowCoin. This will enable NowCoin holders to use their coins and reach a good range of products. We agreed with Alldubin that the "NowCoin Club" section of their website will be operational by no later than 1st December 2018.
DEALZ — an online contracting platform
DEALZ will be a fantastic new project, which will enable global citizens to quickly formulate their everyday legal relations with the utilization of well-designed contract templates, and to record the legal instruments on the BitShares blockchain. DEALZ will be a uniqe and powerful platform, and will show the way of how to approach everyday legal agreements in the age of blockchain. DEALZ tokens will be available for purchase for NowCoin, bringing additional liquidity and demand to the NowCoin ecosystem. The preliminary project description and the White Paper is under construction, and will be published by no later than 1st of November 2018.
Should you have any questions or comments, feel free to contact us on any of our channels:
Web: https://nowcoingame.com
Game: https://live.nowcoingame.com
Telegram Group: https://t.me/NowCoinCommunity
Telegram Channel: https://t.me/nowcoingame
Twitter: https://twitter.com/NowcoinGame
Discord: https://discord.gg/y6rWcvh
Facebook: https://www.facebook.com/nowcoingame