Playing the Game of Crypto: Introducing NowCoin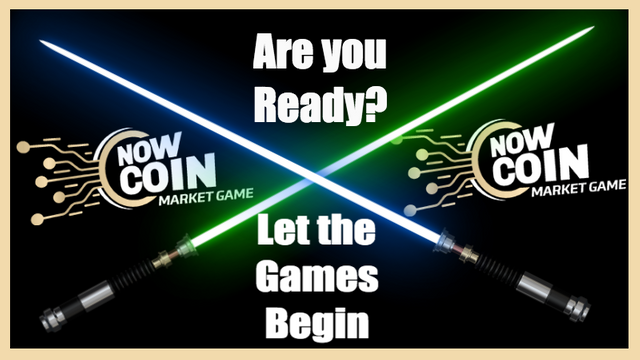 Let me ask you a Question...
How do you pick what tokens to support in a multitude of cryptos that promise this, that and fantasy miracles?
You pick one thinks about you!
Once that is concerned with creating an ecosystem that works both for the community and merchants.
Without one, the other doesn't really work.
So what if someone came up with an asset that encouraged an active community to interact regularly by creating a game, that makes the person want to compete and collect as many of the tokens as possible?
It makes them keep checking back and the market game becomes competitive with some fun strategies and tactics coming into play.
A community that is not passive like many of the other cryptos out there, but interested and have a vested interest in the core statistics and information.
And when there enough people involved, then the merchants will be banging down the door to be a part of that active community.
And then matching the needs of a community and the merchants will be the name of the game.
Well, there is such an asset...

Introducing NowCoin
And right at this moment, it is in its infancy and that is always the best time to get in because this one really has the potential to soar…
The actual game (well games really) are transparent and carried out on the blockchain and each have a set of rules that are easy to understand and you don't have to jump through hoops to join in.
Personally, I think they are doing a really good job so far, and there are plenty of games and tasks (bounties) offered where you can win or earn NowCoin.
Just take a wee peek here:
https://medium.com/@nowcoingame

More About NowCoin
It is tradable only on Bitshares Decentralized Exchange
You get it like this:

(The best Bitshares exchange IMHO is EASYDEX - it's easy to understand and is ultra user-friendly)
You are encouraged to hold on to your NowCoin, as if you have over 100, you get basic rewards every second week, more if you are one of the top 1000 holders.
There are some great incentives to join in, like at the moment join you join the Telegram group and buy 10 NowCoin, you will get another 10 free (limited to first 1000)
https://t.me/joinchat/Hz4iyBD4GUuJ514-AYqTXg

More Ways to Get NowCoin
Here are some more ways you can get free NowCoin:
https://steemit.com/nowcoin/@nowcoin/how-to-get-free-nowcoin
You can follow them on Steemit too, for all the latest news, games and bounties
All hail Zoltan <3
You will see what I mean when you join…
See Website: https://nowcoingame.com/
View the Whitepaper: https://nowcoingame.com/NowCoin-White-Paper.pdf
Join NowCoin's Discord Community: https://discord.gg/WKeN6MJ
Join NowCoin's Telegram Community: https://t.me/joinchat/Hz4iyBD4GUuJ514-AYqTXg