It's happened-something I've been planning to do for a very long time is finally here. Let me tell you a quick story about my mom before I tell you the surprise!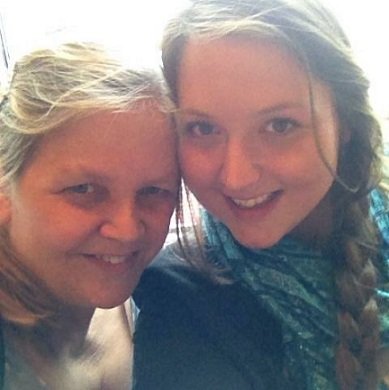 Here is a picture of the magical woman I'm about to tell you about!
This woman is the most amazing and selfless woman I have ever encountered in my life. She raised my three siblings and I as a single mother working four jobs to support us. You would think that any human who worked four jobs would be pretty occupied with just that and not have any time for other things (to no fault of her own, but because raising a family takes a lot). Not her, no! While she worked all those jobs, she still showed up to every single one of my high school volleyball games, never missed a show choir competition, helped me apply to colleges, drove me to on-campus visits, moved me into my undergrad and everything in between. She took nothing for herself and constantly gave to her four children everything she possibly could. She never had the chance to go to college herself, but always taught her children the importance of education. My three siblings and I have all graduated with a Bachelor's degree from a 4 year University, 2 of us have completed Master's degrees and 1 of us has attended law school. She is an incredibly empowering person to grow up with and has taught me the importance of pushing myself as far as I can possibly go. I never wanted for anything growing up and looking back as an adult on how difficult that must have been made me want to do something for her.
My mom's parents are both from Norway. Her Dad, my Morfar (Norwegian for mother's father), passed away a few years back and her Mom (my Mormor) is almost 90 years old. So many of my grandparent's brothers' and sisters' still live in Norway (some who have never been to the US) who my mom has never met. The Norwegian culture has always been incredibly important in our family. I still remember my mom telling me stories about the one and only time she visited Norway when she was about 12 years old. She told me a story about her and some Norwegian children that lived near her Mormor and Morfar's (my great grandma and grandpa) house in Norway. She continued to tell me this vivid image about how all she remembers is being constantly barefoot running through the farm, through the trees into the streams hidden within-all of them laughing and screaming as 12 year olds do. She was so free and limitless. In this particular story, she remembered stepping on a big piece of sharp glass and the blood streaming into the water. She made it back to her parents with the help of the other kids and when her Mom saw it, she told her not to be outside without her shoes anymore.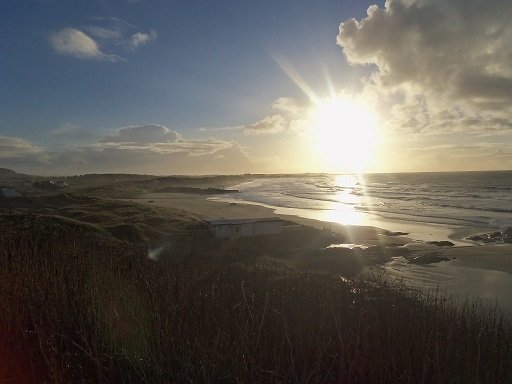 Norwegian coast-Also, the first time I ever went to the ocean at age 21!
This story has stuck with me my entire life. She told this to me maybe once or twice and I think she would be surprised that I even remember it, but for some reason it stuck with me. I wonder if she thinks of her youth as a ghost. Something almost scary because of how far her life has drifted from those Norwegian streams and farms. I wonder if she listened to her mom and never ran barefoot again, even when they came back home to the US. Or maybe she would take her shoes with her and when no one was looking, take them off and fall into herself again. Maybe I'm so obsessed with this story because I can't help but see her shoes as a symbol-like the minute her mom told her not to go out without shoes anymore was the last day of her childhood. Or maybe I read too much into things…you can thank my English degree for that. Analyze, analyze, analyze.
So, here I am analyzing my mom's entire life and deciding I want her to feel like that limitless and boundless child again. I've bought us tickets to Norway! I told her we were going to do a trip to Canada in November for a week. Why is Canada the cover up, you ask? I went to Canada last November for vacation and loved it so much that I was constantly talking about it to her. We picked the dates and she took them off of work (which was a feat in itself because she is the type of person who NEVER takes her vacation or time off, even if she's broken a bone…). She will be flying to me and from there we are "road tripping" up to Canada. Little does she know that we are actually hopping right back on a plane and heading to Norway for her first time in 47 years. I am so excited to see her face and am hoping that she doesn't hate me for making her cry in public. Just under 5 months until she's back with family at the farm and the forest and hidden streams of Norway-maybe I'll buy her some new shoes for the trip! :O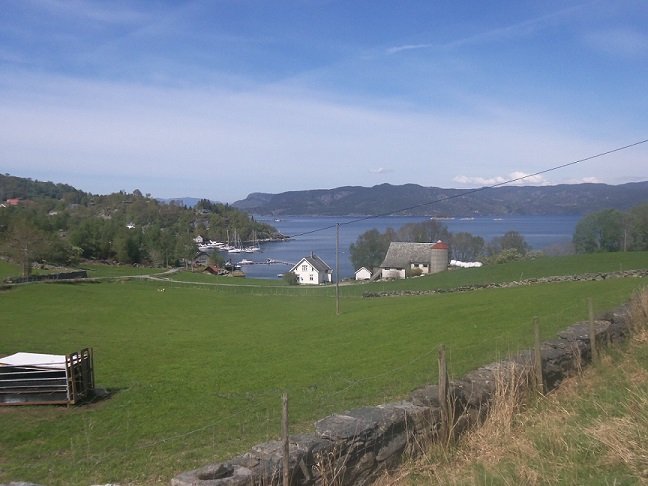 Just a small piece of the beauty of the island some of our Norwegian family lives on. They own a farm there.
Got any suggestions on how to surprise her at the airport with the news?
Cheers to surprises for the best humans!-Steem on, Steemians!