lately a lot of people are interested in masternode, and I found a platform that was easy to use you can visit : https://nodex.app/ you can Manage The masternodes With comfort, Set up the masternode in a single click using our platform Full automation of masternodes configuration without your intervention, this nice guys.
What offer this platform :
Easy setup in 3 minutes Setting up a masternode is easier than ever
Full automation of the process Your own masternode server will be deployed in just few clicks
High security mode Your coins remain in your wallet while the masternode brings you profit on our servers
Technical support Available 24/7
All statistics gathered in one place Monitor ROI & rewards in your profile
Failproof system Once deployed, you can be sure that your masternodes will be alright

From all of them, also offered a token NODEXCOIN
Nodex Coin is a coin with masternodes designed as a means of payment for internal transactions on the Nodex cryptocurrency exchange.
For example, NDX coins can be exchanged for more than a hundred of other cryptocurrencies on the Nodex exchange. If bidders have these altcoins, they can also save money. Bidders with NDX on their balance can use them to pay a reduced fee when committing purchase transactions instead of standard fares on https://nodex.trade/
This coin can be used not only as a means of investing monetary assets, but also as a method for ensuring more comfortable environment for trading activities with cryptocurrencies at the Nodex exchange. The project will be constantly improved, and it is very likely that a new version of the platform will appear in the future, featuring decentralized management for carrying out instant transactions on the cryptocurrency exchange.
Detail Nodex coin
Name: Nodex Coin
Symbol: NDX
MN Collateral: 1 000 NDX
Block Reward: 20 NDX
Block Reward: 50% PoW / 50% MN
PoW Algo: Xevan
Block time: 120 Seconds
Halving: 12 Months
Max Supply: 10.5M NDX
Premine: 3%
as a consideration you can see the table below excess of nodex in future: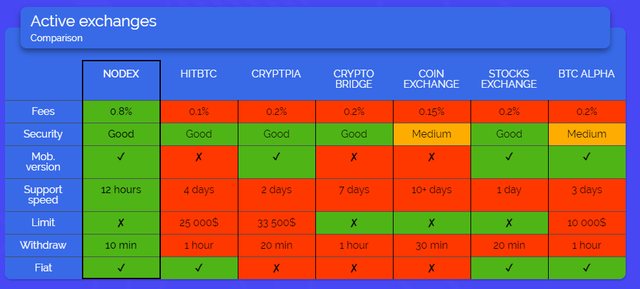 from the above considerations in my opinion this project is worth considering, that way for friends who are looking for an easy-to-use platform can consider this project some future plans are good.
in addition you can see the video below: