NIX Platform proudly announces it's newest partnership with ChainZilla in order to bridge the currently existing gap between DEXes. As one of NIX' first special use cases will be the DEX manager to improve liquidity and usage of DEXes, as well as the coming blockchain interoperability, this partnership was well received within both communities. You can read the full official announcement here.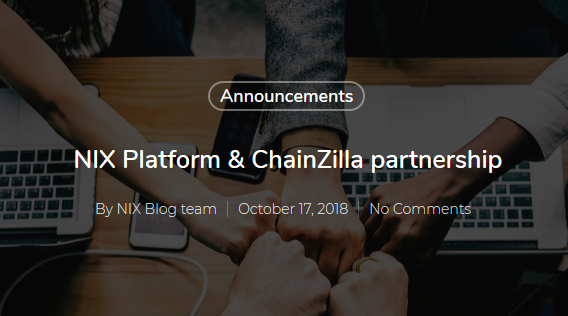 Furthermore, it has been hinted in the official NIX Discord server that another partnership will be announced very soon as final talks are being made. Recently, official word told that NIX will be listed on Coinroom and is trading live since October 15th. If everything goes according to plan and lets be honest, NIX never failed to deliver, the new super fancy GUI wallet will be released to the public in about a week. Fully address-less private transactions, called 2-Way Ghosting, have also been successfully tested on the NIX mainnet and will be introduced in the near future.
It's hard to keep up with NIX' rapid development and announcements. The team is rapidly expanding and new awesome announcements that are more action than talk are filling the Crypto Currency space with joy.
---
Join NIX!
Website: https://nixplatform.io/
Discord: https://discord.gg/mAzVYm4
Twitter: https://twitter.com/nixplatform
Telegram: https://t.me/nixplatform
Email: [email protected] / [email protected]