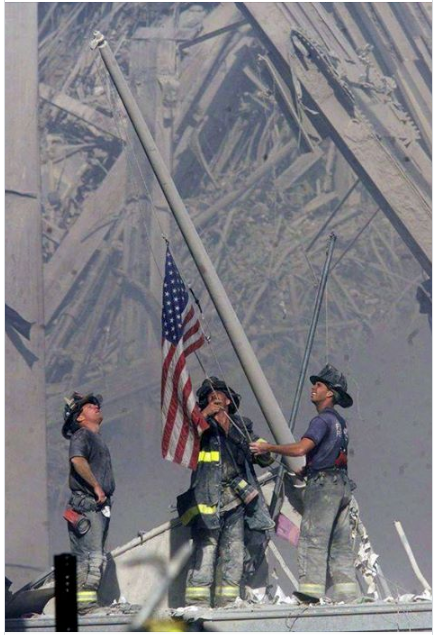 Raising the Flag at Ground Zero! Our Flag stands for so much you can't even put it into words. It was meant as a symbol for all that is good in our country. It is meant to remind us no matter our race, creed or status. . . we are all Americans who are capable of coming together to help one another. God bless America!
Someday all the evil perpetrated on the American people and those Directly involved. . .i.e. info not disclosed about Bush, Rumsfeld and the fact they tried to make a story fly in the wake of evidence showing Truth, true terrorists from within. . .Someday, All will Know What really went down and made everything Come Down! God bless the families dealing with the fall out from this tragedy. May those terrified to tell what they know find Courage and Peace.
This remembrance is Not meant to further a False Narrative, but rather pay homage and memory to those whose lives were taken and those left with only their memories of them.
This did not have to happen. Many do not understand the History that was in the making before George Bush was ever born and what came of his families connections to the banking cartel and Nazis.
This covers some of the history in depth of the Bushes. My research and the sources were a Real Eye Opener for me.
I did this last year after the SOTU and there was info in Qanon which led me to do deeper research on this key family.
Here is a video from Herman Cain, those looking can see how there was far more to the destruction than the sacrificial planes hitting those buildings. Too many lives were taken, and they didn't have to be.
Once again, many are not aware of the Why and true Controllers behind this horrible incident, but the suffering. . .no matter who they think did this. . .genuine and painful. I realize many sufferers left with the fall out, don't care who was ultimately behind it possibly. I would think their thoughts and memories are on the fact that it was comprised of senseless death and anguish. God bless all trying to make it through this struggle.
The Day Will Come when all wrongs will be set Right!
Revelation 21:4
And God shall wipe away all tears from their eyes; and there shall be no more death, neither sorrow, nor crying, neither shall there be any more pain: for the former things are passed away.
There is a great song by Jeremy Camp, who like many has gone through his own tragedies and understands the overwhelming pain of losing someone very close far too soon.
I leave you with this
World Trade Center 9/11 - Lee Greenwood ~ God bless the USA
May God continue to Bless America as he helps Patriots bring her back from the grip of All those Seeking to Destroy We the People and this great Land of Ours!
Please let me know your thoughts and experiences in the comments below as you remember those who are no longer here. Godspeed Fellow Patriots!