Independence day galore... Happy birthday Nigeria! It's all about the green and white. The pain behind that flag merried with freedom - 1st October 1960.
After the curation show on whaleshares with @kotturinn I was reminded about how special today is. This show is sponsored by @freedomexists. Wondering what's special about today? It's Nigeria independence day. Yaay! The day we got officially liberated from the British Government. This post won't be so historical while reading, the Internet has lots of info of how my county independence transpired.
According to my country's historical script; it assert Nigeria to be fully liberated in the year 1963 celebrated as the day we became a Republic. The British government cloak of power over our sovereignty vanished, yes! Freedom sets in itself. Lots of celebrations and joy bubbled all over the land. Before that after independence the British still held us like a whip in rulership.
The nitty-gritty behind the independence lies in the past. All I care about right now is the celebration of freedom. Yes! Freedom is the ability of free will and we got it. 58 years of liberation is amazing to experience as a citizen. Mind you, I wasn't born yet when all this happened. I learnt about it during my elementary school days whilst taking "government classes". The course was boring as the classroom manner of teacher-student interaction was appalling but still I liked some historically moments of my country Hero's past; most died for a Noble cause.
Happy birthday Nigeria, respect to Lord lugard wife Flora Shaw, she's the brain behind the name of my country.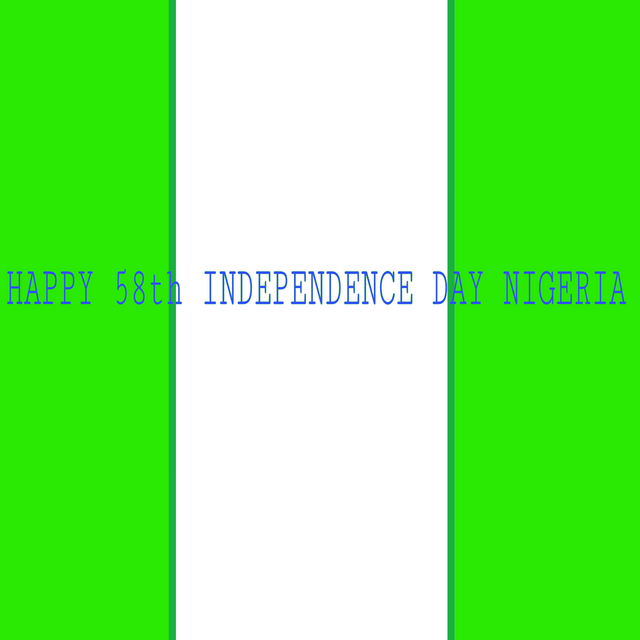 Happy 58th INDEPENDENCE DAY anniversary. Grateful to all the blessings dwelling on my mother land.
As a space force member(SSF7) on steemjet I hope @dimimp hosts a party for us.
SHOUT OUT TO ALL NIGERIAN MEMBERS
@surpassinggoogle
@gentleshaid
@desmoniac
@Deandaniel
@destinysaid
@onequality
@olumideolowoyeye
@olawalium
@Ehiboss
@ogoowinner
@greenrun
@sweetestglo-EU
@julietisrael
@jesse12
@warpedpoetic
@enolife
@etemi
@emmycapable
@ninoh22
@kristenantai01
@mbj
@yungchief
@gutzygwin
@ifeoluwa88
@burlarj
@dante31
@dorth
@afolwalex
@illuminatus
@amec
@camzy
@Oredebby
@Joshuaetim
@horpey
The list is endless. Happy independence day to our country.