Your Democratic Power Is Your Voter's Card
Many are busy criticising the government claiming that this government will not return to power or be re-elected 2019, but are yet to register and receive their Permanent Voter's Card, PVC.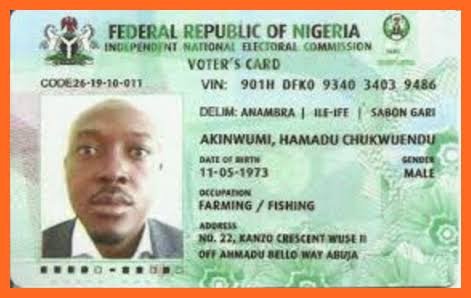 Image
It is funny when ignorance manipulates a people. The insistence that this government must go and not ready to participate in electoral process is putting the cart before the horse. Nigerians must come out enmass to take a decision that will move this country forward.
Every qualified Nigerian as a matter of fact must develope sense of participation in political processes. The believe that my vote can't count or the election is rigged even before it begins an the likes must be jettisoned. Nigerian community must know that one vote can make a difference. Thus, we must all strive to take part in his great decision making come 2019.
The following was sent to me on my WhatsApp handle to ascertain my electoral status. You can also find your own status and make haste to while sun shines. Go through it:
Hello, I just checked my INEC status, if you are a registered voter, check your voting status on the following link. It is seamless, innovative and reliable. Simply select :
State
Surname
Date of birth
http://voterreg.inecnigeria.org
If you are yet to register, what are you waiting for?
Remember!!!! Your Voters card!!! Is your right.
I wish you good luck as you discharge your civic duty come 2019.