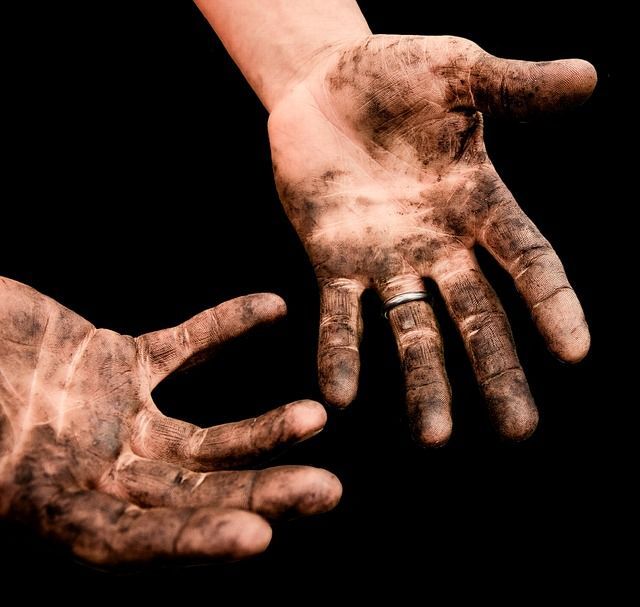 source
This is the second time i am entering this contest. We are to illustrate the image below
To me the image below is that of a man.
It is obvious that the man is married because he has a ring on his finger.
The man has dirty palms.
Illustration
To me the man in this picture has done something wrong, something that cannot be denied, something he regrets.
I'll like to buttress my point with a story
Her name was Shade and she has been hearing reports of her husband sleeping around with young girls in the school that he teaches. Shade met Femi in a club and they exchanged numbers. they started to get real and from there they went to visit each others relatives.
Their love began to grow but there was a problem. Shade was not ready for sex and Femi could not wait. Over the months this was the problem the lovers faced as Femi was always disturbing Shade for sex but Shade always turned him down. This continued for a while.
Shade discovered that Femi was no longer asking her for sex and was wondering what was happening. Shade asked Femi why he has decided to stop asking for sex that she was surprised he would stop. Femi said there was no reason for that as he wants to respect her decision.
Unknowingly for Shade, Femi has been sleeping around with other girls but Shade did not know about this. This continued for a while and the two love birds just continued with their love story.
After a while, they decided to get married. Their wedding was interesting as the two of them were happy they were finally married to each other. In the marriage they had ups and downs like normal couples do and they settled it as well.
It got to a point Shade was wondering why her husband does not demand for sex much the way he was before they got married. She called her husband and asked him . But as usual, he said there was nothing wrong. Femi hardly touch his woman in bed. But his wife does not know why this was happening.
Reports started coming in. Friends of the couple started reporting the husband to his wife saying he was always running after small girls in his school. Shade did not believe this as she thought they were just trying to come between her and her husband.
She summoned the courage to ask her husband about this but the husband denied it ever happened and he even got angry. The wife apologized and said it was the bad friends she kept that was just trying to come between them.
This went on for a while and the couples continued with their lives. On that faithful day, Shade went to see her husband in his school. She was not found of going to his school but she wanted to tell him that she was pregnant. This was a good news and she couldn't wait to tell him about it. Not knowing that Femi was in his office banging his student. She did not knock and just entered.
And wow she caught hr husband pats down with a small girl. She was shocked and she fainted and she died.
The man was ashamed of himself. He couldnt bear the shame. He felt he caused the death of his wife and could not live with himself.
That is the end of my story. lol
Thank you @gbenga for this wonderful contest.