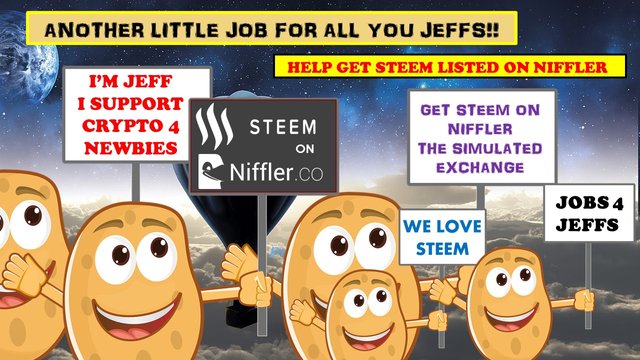 I am sure you have seen it written that "Steem is the Gateway to Cryptocurrency".
In alignment with this sentiment, I'm introducing here "Niffler", which seems to me to be "the Gateway to Cryptocurrency Trading".
Niffler is a new platform which teaches newbies crypto trading in a risk-free environment and where traders can earn from sharing their knowledge.
Currently there are only 11 Cryptocurrency tokens on the exchange – do you want to help STEEM get listed to be #12?
What are the benefits here to the STEEM Blockchain?
Heightened awareness of STEEM with all those using the Niffler platform
Newbies get to learn about Steem (External links from the site would send people towards Steemit / or the Steem Network)
STEEM will become even more associated as being the Gateway to the Cryptocurrency - a great place to be positioned for the "mainstream onboarding"
Simple steps on how to help get Steem listed: 5 STEP CALL TO ACTION
SIGN UP in 15 seconds here: https://niffler.co/goal/steem
Tell your friends and discord channels about this campaign
Resteem this article
You could write a blog about Niffler and its cool features. Feel free to copy this 5 STEP CALL TO ACTION and use the tag #NifflerOnSteem
Share the news on Twitter and tag @steemnetwork (https://twitter.com/SteemNetwork) in your tweets to increase the general awareness of the Steem Blockchain
We need 5,000 registered users to get STEEM listed – currently we have just 385 – so please share this news as wide as you can!
Resteemers Reward Pot
I'm going to share my current liquid STEEM balance of 10 STEEM with all the those who resteem this post in the next 24 hours. Equal share for each resteemer. Could be a nice reward if you are the only resteemer!
Mini-Tag-Fest
I wanted to tag a few of those I know on here who are traders and might like the concept @exyle @ezzy @theycallmedan (and they would probably hit the Niffler top trader leaderboard pretty easily) but also a few of those that I know are big time advocates of the Steem Blockchain who are fully aligned with the idea that Steem is a gateway currency – and have been fans of campaigns like this in the past @pennsif @hungryhustle @creatr @ricko66 @surfermarly @futurethinker @starkerz @anarcotech @bitrocker2020 @fredrikaa @anomadsoul @coruscate.
A bit about Niffler
The simulated exchange is a novel idea – and each newbie early adopter is given a simulated balance of $100,000 to start their learning experience in trading.
Users get to follow other traders, follow their patterns and learn from the experience.
Users can enter competitions to win real cryptocurrency tokens of their choice.
Traders that have built their experience quickly and earned some badges can start earning money from teaching others.
Traders earn money: through their "proof of experience": all you have to do is attain "trader status" from the simulated activity, and you can make money by giving guidance to newbies and demonstrating solid trading actions which lead to a growing portfolio.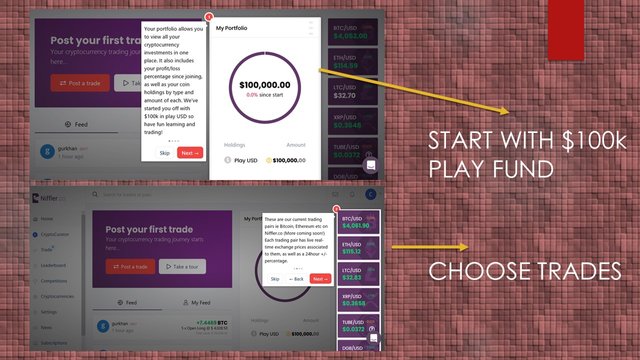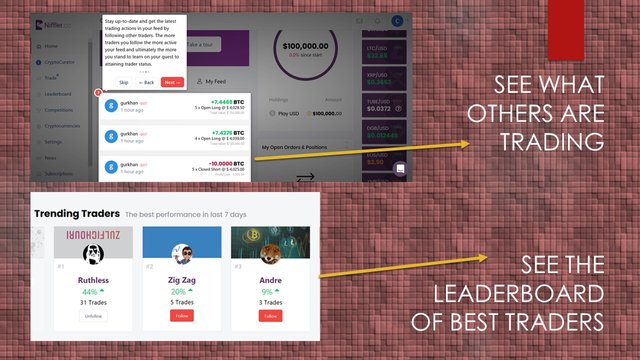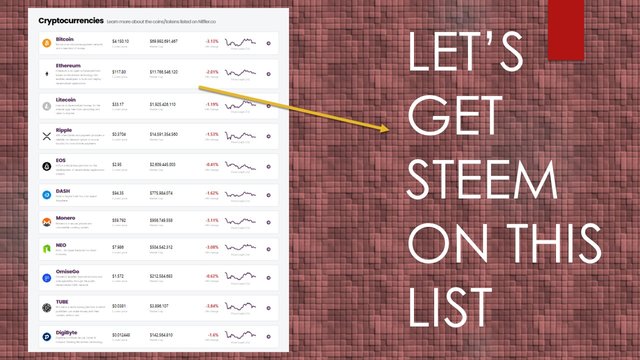 This looks like a really neat concept – I might see you there over there in the Niffler leaderboard.
Can you imagine what it would be like if the Leaderboard was actually full of Steem Legends!!
Final Call to Action
Please share the news to get Steem on Niffler.
JOBS 4 JEFFS
Dear Jeffs, you have one job, you know what to do, have fun!!!