NHL Update: Ottawa Takes Down The Stars From New York
Ottawa! OTTAWA!! That's not very exciting. Who knows what the TV executives and corporate front office types think of them eliminating the New York Rangers last night!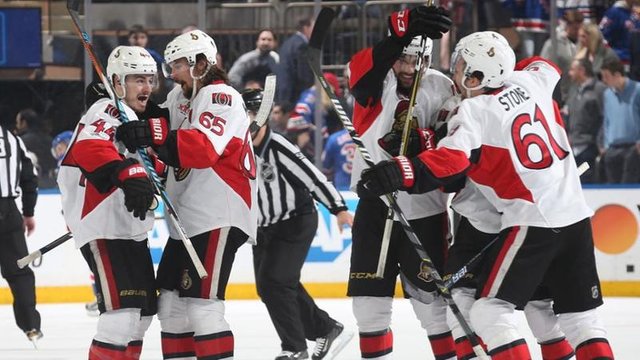 The Ottawa Senators celebrate after eliminating the stars from New York!
In a game in which they lead from start to finish the small market Ottawa Senators took out the darlings of New York in a 4-2 victory that has them going to the third round for the third time in their history.
For two of the last three years the Rangers were eliminated on home ice and it is now 22 years since they last competed for the Stanley Cup! All of this happened before some passionate celebrity fans including tennis legend John McEnroe, comedian John Oliver, singer Paul Anka, actress Debra Messing and actor Cuba Gooding Jr.
Erik Karlsson the Ottawa defense man who is their capatain and their star player once again lead the way with a goal and an assist. 
How do things stand now? After tonight we'll be down to just 4 teams as the Washington Capitals play the Pittsburgh Penguins and the Edmonton Oilers face off against the Anaheim Ducks in elimination games!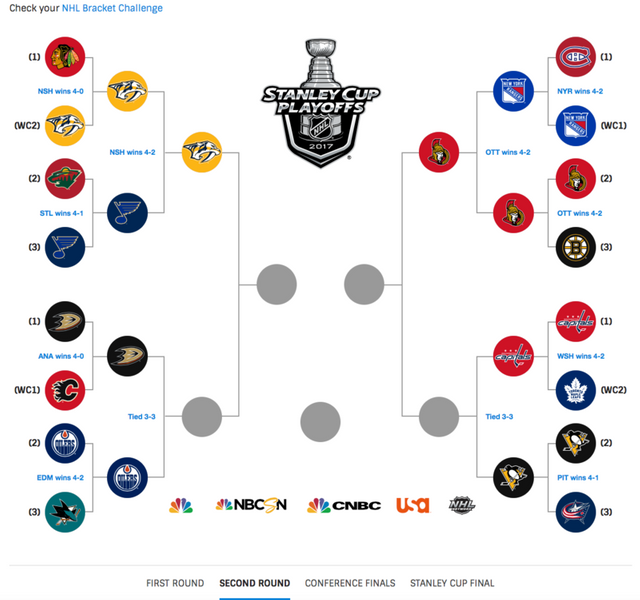 Keep Checking Here For Hockey Talk and Action From The World's Fastest Sport!
Until next time,