Hashletes iOS Review
I've been playing Hashletes since it came out on the iOS App store in November, and it has come a long way since its first release. Hashletes is a digital trading card app where you build lineups with the player cards you own and compete for cash. The collectible nature of the cards, the way the games are scored, and the way the prizes are distributed all make this a pretty unique app. It's definitely still got some areas where it can improve, but I've had a blast playing with my friends and family the past few weeks, and I am looking forward to the playoffs. Since they released their new game, Teams With, Friends, this week, I wanted to give a full review of the app to let everyone know my thoughts.
| Screenshot #1 | Screenshot #2 |
| --- | --- |
| | |
Getting Started and Collecting:
Hashletes is a digital collectible game where the assets are stored and protected on the Ethereum network. You collect player cards, you build lineups with them to win cash prizes, and when/if a player sells out from the Hashletes store, you can sell that card to other players. Overall its kind of a novel concept.
There are two ways to collect cards in Hashletes - opening packs of players (like Pokemon Cards), or buying individual players. When you sign up, you are given five packs of players that you can open and pick from to set your first lineup in a game. If you want a certain single player, like Tom Brady, you can go and buy him from the store yourself. The collectibility of the cards is actually pretty cool. It makes me think of Pokemon or Yu Gi Oh cards I collected as a kid, and seeing my signed players in my stack is pretty cool. That said, the stack is pretty slow, and sometimes I can't find players I've put in my archive. Overall though, the collectability of the app gives me something that I don't ever really see in FanDuel or DraftKings, so points for that.
| Screenshot #3 | Screenshot #4 | Screenshot #5 |
| --- | --- | --- |
| | | |
Playing and Winning:
Hashletes offers three games, Offense, Defense, and released this week, Teams With Friends. Offense and Defense has the user select seven/nine of the cards they own to compete against (over 5.5K people last week) other users for cash prizes. In the games, you build your team of Offensive and Defensive players, and you try to hit the "points target" that Hashletes gives you each week. If you hit the target, you split the prize with all the other users. It kind of feels like HQ trivia in the ways they distribute prizes, but sometimes it isn't clear what I'm winning until it hits my account. They could do a better job on highlighting what exactly my expected winnings are.
The main new update is the game they released this week, Teams With Friends. It allows people to find friends on the app, build a team with them, and compete for cash prizes that are pretty huge compared to Offense and Defense against other. The functionality can be a bit slow, which hurts the experience, but overall I feel like this is what the app was missing. I love watching football with my friends, and being able to build a team with them what I feel like I was missing here.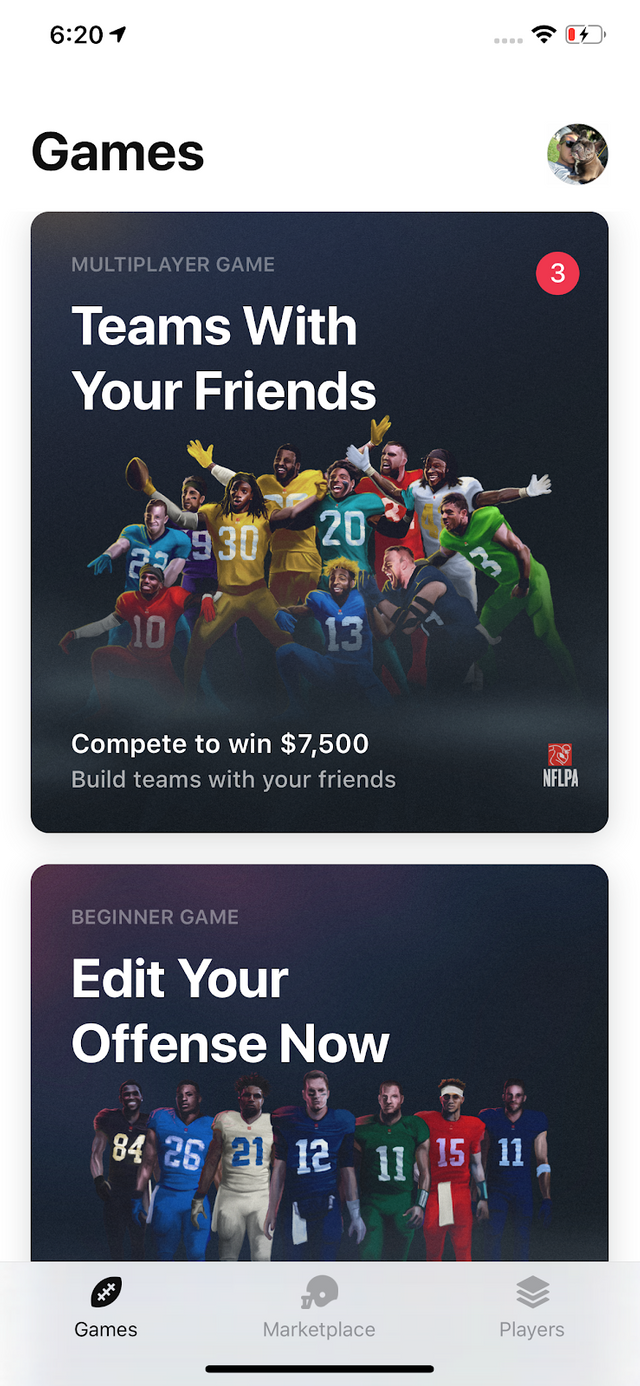 Overall:
Hashletes is definitely something new. Its got the collectability of a card game like Pokemon, the cash prizes of HQ trivia, and the gameplay of fantasy which is pretty unique. DraftKings feels like a casino, so I don't ever really want to play that, and I already lost my fantasy league, so I don't really have a way to play that either. Hashletes is a really good effort to bring a unique product to the fantasy space, and I'm going to continue playing and collecting.