Nafty is a REAL platform already live!
Introduction
NAFTY is the next-generation token for the adult industry, aimed to both empower content creators and reward content consumers across the Nafty Network – a social 360° adult-entertainment ecosystem for the Blockchain age.
As a deflationary token operating on the Binance Smart Chain, NAFTY transactions virtually have no gas fees, are fast to execute, and are even environmentally friendly, which fits perfectly with the team's social awareness approach towards the adult industry.
Another aspect of that, comes in the form of Nafty being a community project, meaning that the community will be involved in the development of the project, each member will be able to join in discussions, submit ideas and participate in the global expansion of the Nafty Network and its growth to new and exciting adult industry niches.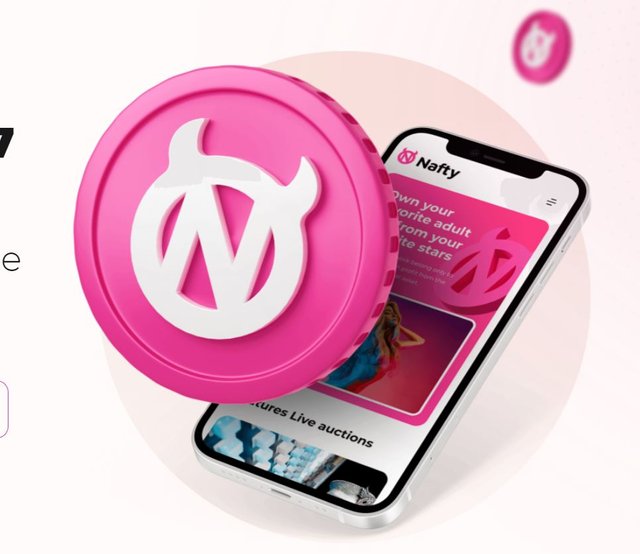 The Problems
The adult industry, valued at a staggering 97 Billion dollars, is facing an array of outdated issues which inflict all large centralized industries.
Censorship: Provocative content is being banned by mainstream media platforms such as Facebook, Instagram, and TikTok, even without it being sexually explicit, limiting adult content creators' abilities to promote their work to a mainstream audience.
In the last year, two main events occurred: First of all, fan clubs became extremely popular.
They still function as a middleman and charge creators 20% of all their income!.
The other interesting trend in recent months is NFT's, but the mainstream marketplaces still ban uploading, buying, and selling adult content
The Solution
The Nafty Network ecosystem and its utility token, NAFTY, are solving these problems while introducing new business models based on Defi principles.
Nafty is here to solve the 4 big issues in the adult industry: Middlemen: The producers, agencies, and platforms taking huge percentages from the creators.
Our token solution and platforms will cut those middlemen fees and give the creator more incentive to produce content.
Marketing: While major social and traffic sources ban adult content and promotions, we provide creators the ability to promote themselves and grow their fan base by shoutout management from inside the platform and affiliate programs to attract traffic and fans from other external sources.
Payment solutions: The majority of payment solutions ban the adult industry, whereas the others use this weakness to charge the creators huge fees, we will cut those fees by using blockchain technology and our token.
2% will allocate to the liquidity pool lock for a year
Liquidity pool
Token Sale N(BANFBT)Ywtoitkheanlsimaleitwofil5l bBeNoBnpDeXrSwaalellecta,prepdeudctiong1,0t0h0e rBisinkaonfcaelaCrogine token holder ('whales') who could manipulate prices.
Transaction fees: Each transaction triggers a 4% fee, is redistributed to all the current holders, in proportion to their current holdings.
Another 4% fee will be added to in the liquidity pool.
Urnt with every transaction, increasing the To reward holders we would like to carry out a buyback and burn or lock of LP tokens.
This would be done with a percentage of the profits generated from the platform
Token Holders
Token holders benefit from each transaction fee, both from the redistribution that increases their token holdings and from the burning of the token that increases the value of their tokens
They can use the token on our ecosystem platforms.
Nafty.tv — Content subscription platform which charges a monthly/yearly fee for exclusive content (Netflix on the blockchain).
This is different from other marketplaces because people will be able to post full adult videos and buy them, send them, sell them or collect them.
They can do this without ever having the file stored on their computer, meaning they can keep their porn private.
We are already collaborating with famous models and artists that feature their 18+ content on our platforms.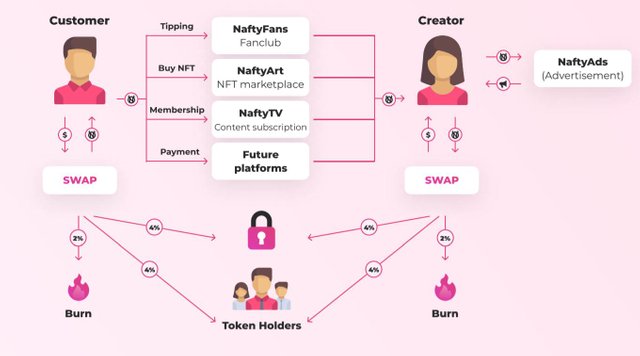 Value for Holders
NAFTY's concept generates automatic passive income for its holders.
We have built a powerful team of experts, with years of experience in technology and the industry, who are willing to take the step to fundamentally change how it is operating for the benefit of creators, the community and consumers.
Our team is interactive and transparent with token holders and always ready to support and serve our community, their needs, desires and opinions.
Our team is made up of professional and experienced people in the areas of the adult industry, crypto and technology.
For more information. Visit https://naftytoken.com/
https://twitter.com/naftyofficial
https://t.me/naftydiscussions.
My POA: https://www.altcoinstalks.com/index.php?topic=218981.msg1196381#msg1196381