KINGSWAP: THE NEW AND RELIABLE DECENTRALIZED FINANCIAL PLATFORM

Decentralized finance, or Defi has been on the crypto radar for long and many projects like synthetics and Maker has been offering Defi services. The bull run of 2020 was entirely as a result of Defi gaining huge popularity and adoption. It sits at the center of the massive crypto Bull Run seeing most projects like YFI and co hit a new ATL surpassing bitcoin price.
Also the demand of decentralized trading exchange gave rise to decentralize platforms like Uniswap. a protocol on ethereum blockchain that allows anybody with access to any ethereum wallet swap/exchange ERC20 tokens. It was launched in May 2020 enabling direct ERC 20 to ERC 20 swaps with lots of features like users providing liquidity and earning incentives. It was the first exchange to function as a public good. Without platform fees or middlemen leaving everything in the hands of the community including free token listing. Later, as a result of competition and trading liquidity pools, a Uniswap token(UNI TOKEN) was created to incentizes uniswap users, to vote on how the protocol is run and to earn rewards for providing liquidity.
AS ERC20 tokens continue to grows, More swap exchanges emerges, kingswap! another quality defi project was recently launched to provide better liquidity pools, offers more unique qualities than Uniswap and lot of incentives for users. The Kingswap platform comes with better blockchain community-oriented features than uniswap offers and also better price curves different from uniswap simple price maker which depends on "demand and supply". The kingswap platform offers NFT tokens for token holders which can be exchange in the market.
FEATURES AVALIBLE ON KINGSWAP PLATFORM
ULTRA HIGH YIELD REWARDS PER BLOCK
EXTENSIVE STAKING REWARDS
OFF- RAMP FIAT CONVERSION WITH DEBIT CARD.
KING TOKEN NFTS(COLLECTIBLES).
SIMILARITIES BETWEEN KINGSWAP AND UNISWAP.
i;Both platforms are used for swapping ERC20 TOKENS and runs on the ethereum blockchain platform.
ii;Both uses the automated market maker (AMM) to determine price of token listed on the platform.
iii; Liquidity pools are been offered and liquidity providers are been rewarded. Rewards differs on both platform. The much reason kingswap is better than uniswap and sushi swap.
iv; A platform governance token is available on both platform (UNI TOKEN FOR UNISWAP) and KING TOKEN for kingswap.
v; LISTING is free on both platform as long as liquidity for trading is made available.
vi; Both offers a yield farming platform where a variety of tokens pairs are made available with an APY(annual percentage rate) attached.
WHY KINGSWAP IS BETTER THAN UNISWAP EXCHANGE.
Although the kingswap! platform is a fork of uniswap. It offers better and quality incentives and options than Uniswap. First.
1; Liquidity providers on uniswap earn a percentage of the trading fee of 0.03% for providing liquidity on any trading pairs WHY liquidity providers on Kingswap earns king tokens and also 0.2% of trading fees.
2; Trading fees on UNISWAP goes for 0.5% to 1% for fast transaction while Kingswap offers a slippage tolerance of 0.25% for fast transaction making a better option than uniswap.
3; The KINGSWAP platform offers an NFT Collection for token holders. A non-fungible token which can be purchased or earned for holding kingswap token. these tokens has value and are tradable on exchange (OPENSEA).Also holders of the kingswap NFTs are entitled to Future airdrops in the kingswap platform. Meanwhile the uniswap platform does not offer any Collectibles to its platform users. the avalible NFTs on the Kingswap platfrom are shown below.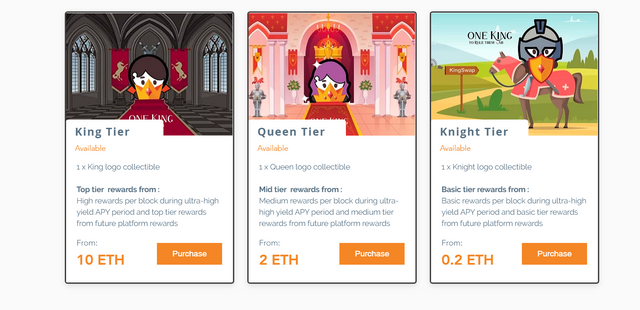 Currently, the kingswap platform has raised 20 million USD in funding by its supporters which includes (venture capitals) and liquidity support.
CONCLUSION: The future of cryptocurrency lays on Defi. kingswap! platform is one of the long term project that will promote and support Decentralized platform in the long term future and blockchain technology. Also the crypto sector is decentralized and funds can be lost. It is advisable that users are to trade with caution and also invest in whatever they can afford to lose.
FOR MORE INFORMATION ABOUT THE KINGSWAP PLATFORM, VISIT THE FOLLOWING LINKS.
WEBSITE: kingswap!
TELEGRAM: https://t.me/kingswap
TWITTER: https://twitter.com/Defi_KingSwap
Discord: https://discord.com/invite/fD2DrJY
GITHUB: https://github.com/KingLuigy/KingSwap
LINKEDIN: https://www.linkedin.com/company/kingswap
LINKEDIN:https://www.linkedin.com/company/kingswap
GITHUB: https://github.com/KingLuigy/KingSwap