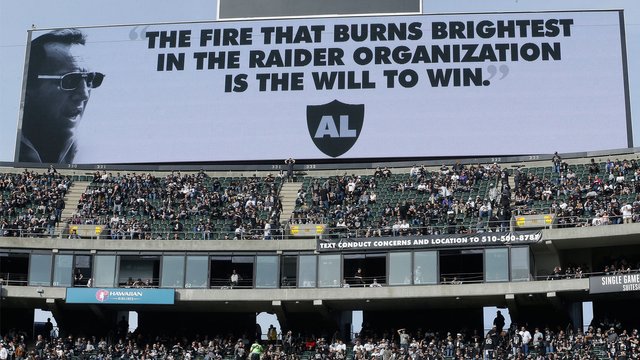 Over the last several decades, few American football teams have made as many head-scratching decisions as the NFL's Oakland Raiders. Most recently, there was a fan rebellion on social media when the team traded away its best player less than two weeks before the season began. Going into this season, many fans were excited by the team's new head coach and the maturing talents of its two top players (Quarterback Derek Carr on offense and Linebacker Khalil Mack on defense). With the sudden subtraction of Mack from the roster (in exchange for future draft picks), this becomes a mediocre team which probably will not be playing for a championship this year or next.
Since the Raiders will be leaving working class Oakland, California for the bright lights of Las Vegas, Nevada around that same time, Oakland-area fans feel that the team has sacrificed them (again). Here was the city of Oakland's last legitimate window to win and it has been closed to local fans, who will lose their team from this region once it moves away (again). While the NBA's Golden State Warriors also announced plans to leave (for a new stadium across the bay in San Francisco), the Warriors have done their current host city proud by winning three NBA championships in their final years as an Oakland team. It's hard to imagine the current Raiders matching that feat even once.
The Not-So Greatness of the Raiders Decisionmaking
But this is hardly the first time that the fans' hearts have been broken by this team. Let's look back and recall some of the most notably strange or painful decision that the Raiders NFL franchise has made. I'll present them in order from best to worst (in my own opinion).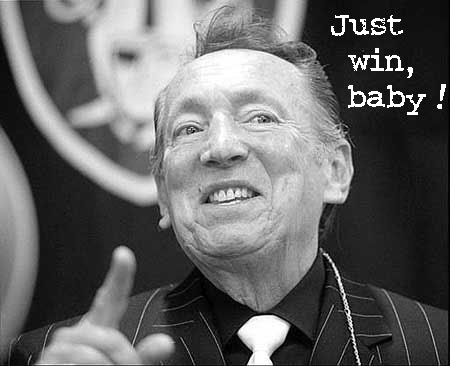 The late owner Al Davis. Source: https://finsmobunleashed.com/2015/06/22/go-balls-deep-dolphins/comment-page-1/
There are other developments that could be added to this list, but I won't go there. If former owner Al Davis were still alive, I might add the firing of former coach Lane Kiffin to this list just for fun, but since Kiffin has burnt bridges since then in his descent to coaching at a little-known college in a minor conference, perhaps the hiring of a young, untested Kiffin was a bigger mistake in the first place. Not renewing the contract of broadcaster Greg Papa was an unfortunate recent decision, since he was one of the best reasons to listen to a Raiders football game.
But let's stick to these five major decisions. Which one was the worst and why?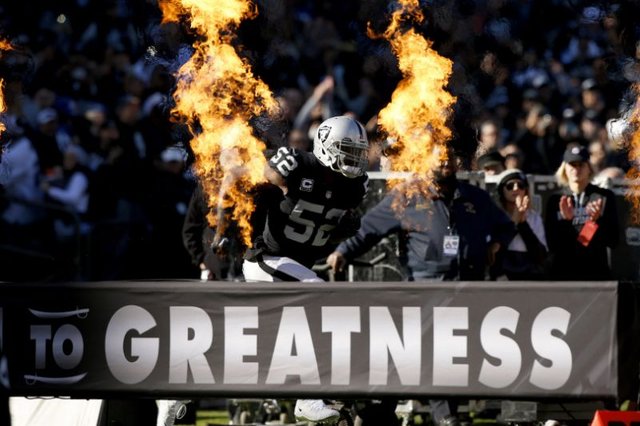 Khalil Mack with Raiders. Source: NBCsports.com.
5.) Trading Away Khalil Mack
Yes, this story slots in at # 5, I am judging it to be the LEAST bad from this list of decisions. There are three facts that inform my judgment. First, Mack was holding out from training camp, though under contract, and was demanding more money. Second, the Raiders already committed a huge amount of money in salary to the team's other top player, quarterback Derek Carr. Third, the money they would have needed to pay Mack can be spent on signing 2-3 other very good players rather than just one.
I didn't like it either, but when rumors of a trade began brewing, I concluded that trading away 2016 NFL Defensive Player of the year Khalil Mack was the best decision to make in a difficult situation. It will enable the Raiders to pay multiple other players with that money rather than just one. And the team received two high draft picks in return, which bodes well for its future.
4.) Leaving Oakland the First Time (for Los Angeles in 1982)
Also low on this list is the Raiders franchise's 1982 move to Los Angeles. This move broke the hearts of Oakland fans and understandably so, since their team basically packed up and moved out overnight. But Los Angeles is one of the largest entertainment markets and it should be capable of supporting two NFL teams. During the team's stay in Los Angeles from 1982-1994, it gained a lot of fans across Southern California. Then-owner Al Davis' reasons for moving to and from Los Angeles seemed to have more to do with the best deal he could get on a stadium lease.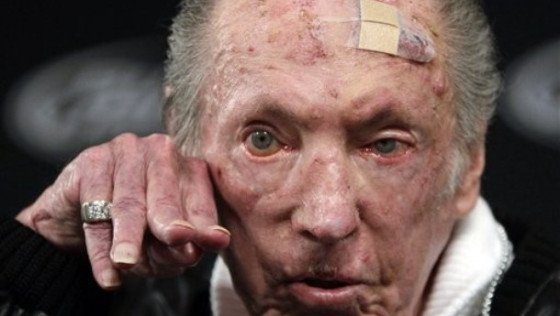 Al Davis. Source: NBCsports.com.
But let's face it: Any team's franchise owner, if he/she is smart, wants to be in Los Angeles. Stadium issues aside, it's a great market. There were more potential fans in the Los Angeles area than there have ever been in Oakland or the surrounding East Bay. And in 2015, when the Raiders again had exhausted Oakland options for a new stadium and were looking to move, the team's ownership (the late Al's son Mark) again chose Los Angeles and tried to move there (unsuccessfully that time).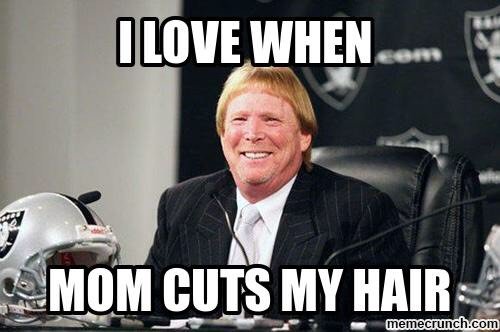 3.) Leaving Oakland the Second Time (for Las Vegas, approved by NFL in 2017 and anticipated to occur in 2019 or 2020)
The second time the Raiders wanted to move to Los Angeles, the move was thwarted by the stadium-building plans for two other LA- bound teams, the Rams and Chargers. The NFL owners instead approved the Raiders' plans to move to Las Vegas, which will occur in the next few years. Again, the news that their team was moving broke the hearts of a lot of Bay Area Raiders fans. But the team stayed in Oakland for long enough to determine there was no viable option there for a new stadium, whereas Las Vegas was glad to build a new one.
2.) Drafting a Kicker in the First Round (Sebastian Janikowski, 2000)
I had to include this one the list! In 2000, in a giant 'F*** You!' to football and its conventions, owner Al Davis selected a kicker with the 17th overall pick of the 2000 draft. In the modern era, it was the only time (before or since) that anyone has reached so high for a kicker. For those who don't know the game, kickers kick field goals and kick-offs, which are isolated plays separate from the main flow of the game. Many of the league's best kickers have been players who went undrafted or were selected in the late rounds of the draft.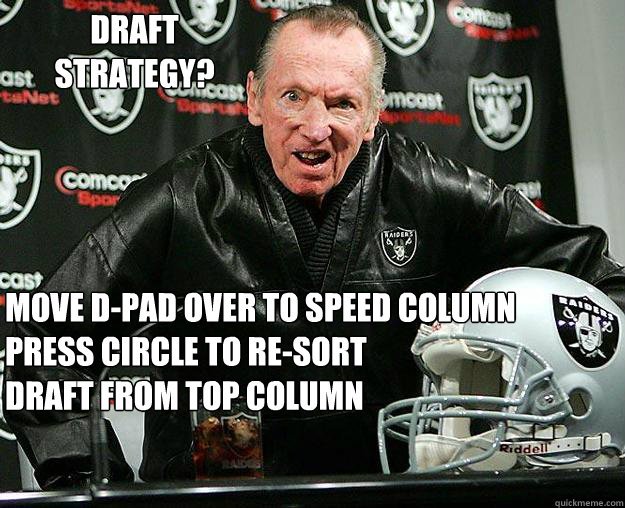 Why? Because other positions are highly sought-after and difficult to fill with top talent. The draft is a team's major opportunity to bring in young talent on affordable salaries. And you don't need to spend huge capital to bring in a decent kicker. There are lots of them available for a lot less of an investment than Al Davis made by selecting Sebastian Janikowski. To Janikowski's credit, he went on to have an excellent career, but with the # 17 spot in a draft, Davis could have selected any one of a group of difference-making offensive or defensive players who could have helped his team much more…and still would have had his choice of kickers in the later rounds (when Janikowski himself still may have been available).
Then again, it was a better draft pick than taking Jamarcus Russell, who did have first round talent in college, but proved to have zero motivation to succeed in pro football.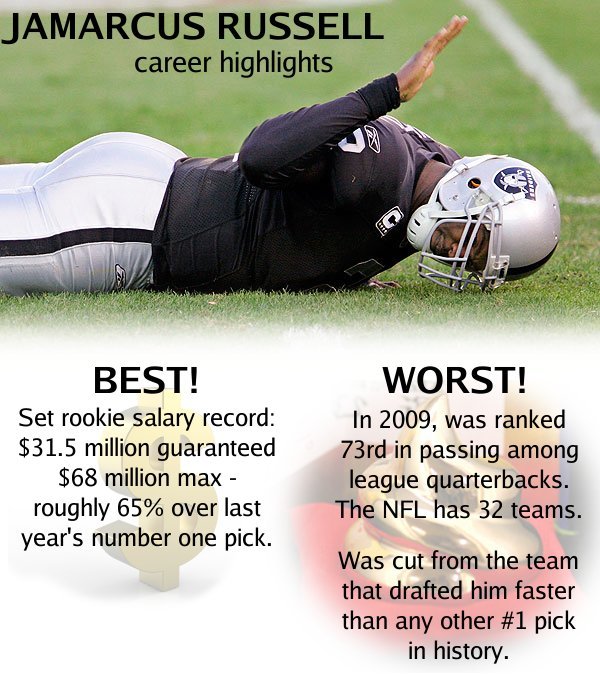 Jamarcus Russell was not a winner in the NFL. Source: cracked.com.
1.) Leaving Los Angeles (for a second stint in Oakland, 1994)
Again, this time in reverse, Los Angeles fans were heartbroken while the Oakland fans who still remained were joyous at the Raiders moving back up to Northern California. The NFL wanted the team to stay in Los Angeles, which resulted in owner AL Davis filing a lawsuit against the league (the earlier move TO Los Angeles also resulted in a lawsuit).
In hindsight, this was the worst of these moves that the Raiders have made in recent decades.
There were two teams in Los Angeles during the Raiders' stint there, but Rams owner Georgia Frontiere was complaining to anyone who would listen for many months before she finally moved the Rams to St. Louis in 1995. She was looking for every reason to leave and doing so very publicly. When Davis moved the Raiders out in 1994, it was VERY forseeable that Frontiere was about to do the same with her Rams. Yes, entertainment was different then and sports a lesser business than it is today, but staying there would have given the Raiders sole possession of that extremely lucrative LA market. It would have avoided the heartbreak that Southern California fans faced when the team left. It would have avoided the second heartbreak that Oakland fans felt when the team announced its later move to Las Vegas.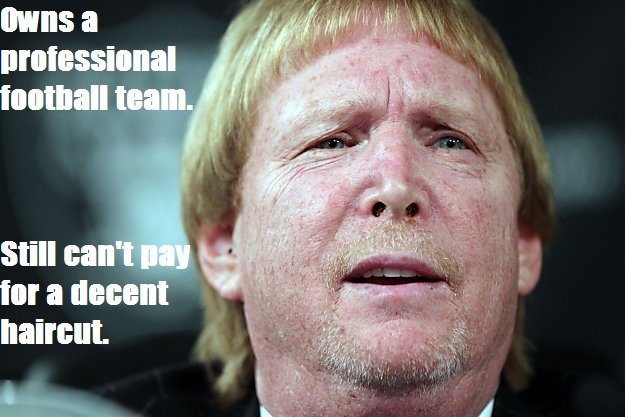 Owner Mark Davis. Source: funnyjunk.com.
And rather than moving to Las Vegas, which was the team's second choice in 2015-17 after first trying to move to Los Angeles again, the team already would have been in LA. Davis did not keep the team in Los Angeles because the stadium issues there have always been difficult (look how many years it took for the Rams and Chargers finally to have a new stadium built). But Davis would have done better to have used his leverage to get the city (or some city in the LA metropolitan area) and the NFL to build him a stadium in the years that followed. Instead, he went north and got stuck in a bad situation in the Oakland Coliseum, where the fans never returned in droves after the team's relocation there.
Leaving Los Angeles in 1994 was the worst of a series of questionable decisions by the Raiders in recent decades. But that's just my opinion and I'm just one armchair quarterback/GM/owner/wise guy.
There are also other decisions I didn't even mention here, such as firing/trading former head coach John Gruden, who went on to coach Tampa Bay and face the Raiders in that year's Super Bowl AND beat them. Then, years later, the current Raiders owner hired him back to coach again (this season will be his first year back)…should they ever have let Gruden leave? Al Davis also fired coach Art Shell once and re-hired him back later before re-firing him. This franchise has a history of cycles and returning to the same places (like Oakland and LA) and…sometimes, some maddeningly weird decision-making.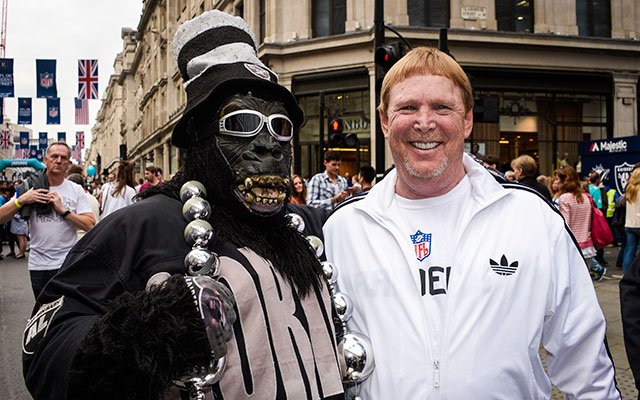 Current owner Mark Davis (on the right). Source: CBSsports.com.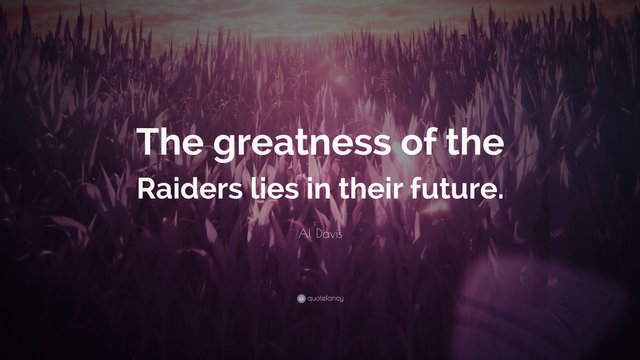 Hmmm. They haven't won anything since the early 1980s, so that greatness is scarce in the recent past or present. When the future finally brings success, the late owner Al Davis will be smiling from above. His ghost might even throw a press conference.
---
Images are credited in the image or text, except that many are widely distributed memes. Top image from NBCsports.com.