Next Protocol will bring us to the robotic world of crypto
Hello every one today we will discuss about the futuristic world of robots and crypto emerge together to a have safer environment and comfortable work place for every one. As we all know what is happening in our world today, we are in the pandemic where COVID 19 make the whole world stop for many months and people loss there job because of it and countries around the world are struggling to control it to make there people lives safe.
That is why today a company called NEXT. NEXT is a UAE based company actively reprogramming and adapting popular robotic platforms as corobots, to assist humans in retail and commercial workplace. NEXT Protocol see's the immediate need of a robotic products that can help humans in implementing various task to make work place safer and contactless to prevent the spread of COVID 19 virus. As we all know that we really need this robot technology to fight virus and the future pandemic that will hit's the world. If you want more information about the project you can visit there site here: https://nextprotocol.tech/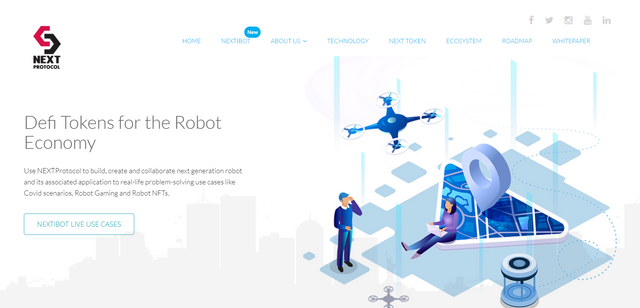 Next Protocol has a perfect innovations to the robots, they are now Blockchain and Defi driven. It means that they built there own token also that is based on Ethereum network a ERC - 20 Token. Robot Services using Robots NEXTiBOTs , OEM Robots enable the Robots to run with its own tokens, deploy and Mint business specific ERC20 robo tokens. Each robot earnings can also be shared with the Token holders who would stake their Robot Tokens for yield. Next Protocol Robots is not only making our lives easier but they can also be monetizing robots through Defi. If you want more information about the project you can visit there site here: https://nextprotocol.tech/
That's how new product works today all thing or product that is built in blockchain defi will will allow people to earn passive income buy staking there token and one example for that is t his project where Robots where built for humans comport and make businesses at the same time by staking there tokens. That is why I believe in the futures we can see a lot of robots in action is various company , in public places , malls , hospital , school and government offices doing jobs that people handle before. NEXT Protocol are here to engage your customers intimately while limiting human contact, Interact with customers and staff to share information and enable telepresence to work together while staying apart. Next Protocol is aim to do products that can help deferent sectors and industry that evolving our daily lives today like Healthcare sectors where they are concentrating right now because of the pandemic, fighting pandemic and preventing future pandemic is a very big challenge for them and to all industry that make robotic products. Education and Training sectors , they want to make robots that will help our school safer for student to go and learn. Shopping, Logistic and Transportation sector as we know every one is going to the malls to buy food product and other goods that we need in every day living. Technology and Manufacturing sectors that manufacture and supply food products and goods to the market and more other sectors. We need those sectors to be use robotic technology to operates there to prevent virus out break as we know now that contact less or social distancing is one of the key to stop virus like COVID 19. If you want to know more about this project you can visit there site here: https://nextprotocol.tech/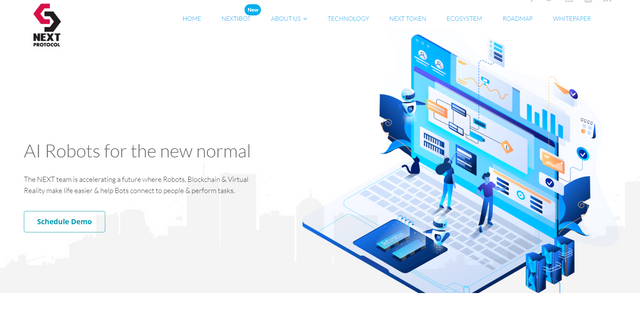 As we see now Next Protocol and other industry have a big responsibility to make our lives back to normal again because as I write this blog, I saw it on the news that some countries are having a second lock down, I means that the treat of COVID 19 virus is not over yet. That is why I urge every one to support this project Next Protocol because they are doing there best to make things for the good of all. Lets buy NEXT Token in order to support this project, we need to stand and support each other to stand to any treat that will destroy many lives because we need to make our lives back to normal again.
Next Protocol is also engage in Gaming, since they are driven by blockchain, Defi, they have there own token called NEXT Token. NEXT Token allows Developers to build Robot Applications with their customized tokens and deploy in the marketplace for business and companies to buy and consume them. The developers make games and collaborates with the gaming company and put it to the Next Protocol platform in orders for the gamers to play the games and get more followers and they provides incentives to the gamers. And there's many futures are built on the Next Protocol but we cannot discuss them all. If you want more information about the project you can visit there site here: https://nextprotocol.tech/
Now let's talk about NEXT Token. NEXT Tokens can earn Rental yields for Robot applications that are being in used business scenarios through Blockchain Wallet Node for each Robot. Algorand blockchain will be used for the decentralization and swarm robotics. The NEXT token can be use on Staking and Yield to the business models that is on Next Protocol Platform. If you want more information about the project you can visit there site here: https://nextprotocol.tech/
This are the benefits you can get in holding NEXT Token:
Representative Ownership of each Robot built on NEXT Protocol is distributed across a finite number of NEXT tokens. Based on token staked, owners can collect revenue from rent of these robot, and vote on Robot work and deployment decisions.
Each robot built on NEXT Protocol can have an asset management company managing its revenues on token owner's behalf. This asset management company sources projects, rents the robot, collects rent, and manages repairs, so the diverse group of NEXT Token owners don't have to take any hassles.
With Blokchain driven Robot Registry, we know when these robots are being used. When they are idle the Hexa Core processors of the robots are used as edge computing problem solving nodes, to earn rewards passed back to token holders.
Owning robots with Representative NEXT Tokens allows you to collect quarterly/monthly rent sent in crypto to your KYC verified account. Rent is paid using a US-Dollar stablecoin, sent directly to the Ethereum wallet that owns the NEXT Token.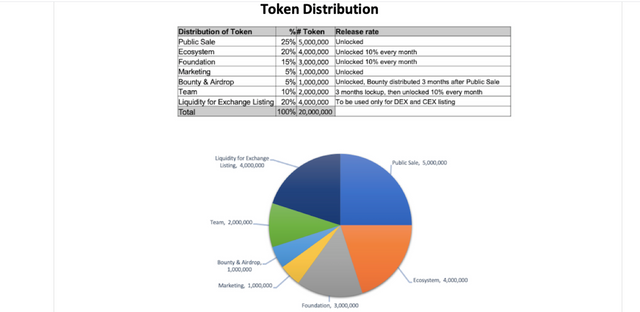 Next Protocol token Information:
The NEXT Token supply is : 20 000 000 NEXT
Token symbol: NEXT
You can also visit there social media here:
Next Protocol Website : https://nextprotocol.tech/
Facebook: https://www.facebook.com/Nextibot-106367817781928
Twitter: https://twitter.com/ProtocolNext
LinkedIn: https://www.linkedin.com/company/nextprotocol/
Instagram: https://www.instagram.com/nextprotocol/
Youtube: https://www.youtube.com/channel/UC7AefOa83Ee-JeKW8eqt0Fw
Telegram: https://t.me/nextprotocol
---
---
Proof of authentication Link:
https://bitcointalk.org/index.php?topic=5306559.msg56014408#msg56014408
Emirex ID: UID: ID6F4FD33880
Email:
[email protected]
Forum username: staingmoney
Forum link:
https://bitcointalk.org/index.php?action=profile;u=2934282