Runes are now limited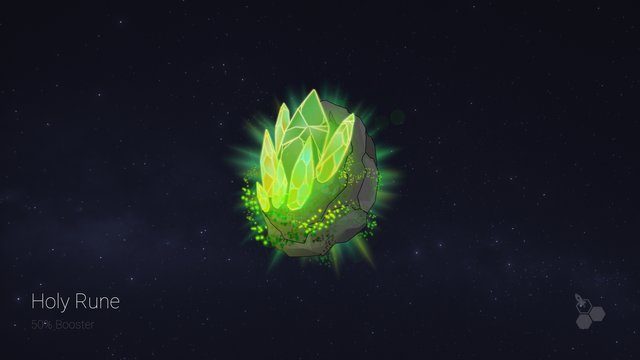 A special concern for us is the establishment of a functioning ecosystem. Trading is an elementary component of NextColony. In order to give all traders a real benefit, it is therefore important that we are limiting some items. This is why we are going to fulfilling this wish today.
This sentence is on the NextColony website and we take it very seriously:
---
Trade digital collectibles
---
We announce today that we limit the Runes from now on. There are three different Runes, which are limited as follows:
Rune (500 pieces)
Mighty Rune (250 pieces)
Holy Rune (100 pieces)
If these Runes are sold out, we guarantee that we will never sell this item again. So you have the possibility to use, collect or trade this digital collectible. We also guarantee that we will not sell similar items. That means: there won't be any other items that will boost the planet resource bonus of coal, ore, copper or uranium.
We've already sold some of these items:
Rune (14 pieces)
Mighty rune (7 pieces)
Holy rune (4 pieces)
---
There is good news for all traders: 7 Runes have already been destroyed. Even a Holy Rune has been destroyed! That's good, because the stock is smaller.
Important: From now on no more Runes can be destroyed, because we prevent now the merging with the atmosphere planet.
---
What is Rune?
With a Rune, you can permanently improve the productivity of a planet and thus make it even more powerful and more valuable. Merge your Rune to a planet and the Rune will become an integral part of the chosen planet. The Rune acts like an additional boost to the existing Rarity-Boost of a planet. There are three different Runes: Rune (10%), Mighty Rune (25%), Holy Rune (50%). Per planet only one Rune-Boost can be active. This means that there is a maximum of a 50% Rune-Boost for one planet. A new Rune-Boost overwrites (destroys) the old Rune-Boost. With valuable Runes you should boost mainly the valuable planets. So be careful when choosing your planets. Runes are tradable. Important: As the Rune boosts the production of the planets type, you should only use a Rune on these types: Ore, coal, copper and uranium. On an atmosphere planet a Rune has no effect.
Source: https://nextcolony.io/faq (please login to see)
---
There are only 96 Holy Runes left
Get your Holy Rune now »
---
The release of the Runes remains the same. That means, the maximum number of available Runes daily is:
4 Rune
2 Mighty Rune
1 Holy Rune
---
The Runes become especially important in the ongoing course of the game, when the planets are further upgraded.
Runes are powerful items and they come into their own when they are merged with Legendary + Resource (coal, ore, copper, uranium) Planets.
---
Tell your friends, your family, your neighbors, and all your colleagues about NextColony.
Join the official discord server now.
Resteem to the moon.
Stay tuned.
NextColony