NEXO! Don't sell your CryptoAssets, instead use them as collateral to get loans.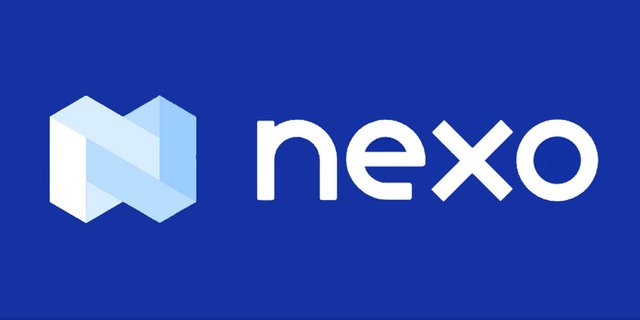 Having to sell a percentage of your Crypto portfolio in order to finish an urgent problem is one of the biggest hesitations for any Crypto holder, as a Crypto enthusiast and solid holder I can relate to this and I know most of you out there similarly do understand. The bear markets are hard to withstand especially if you have bills to pay or business to facilitate. Holding cryptocurrencies is one of the most known ways to earn from Cryptocurrencies, many Crypto holders always boast about their portfolios that compounds regularly, some stake their crypto to earn some dividends, some just believe in some projects that will multiply their portfolios when that success finally happens.
But what happens when you have to sell your Crypto because you badly need some cash?
Money loaning has always been a common practice in our traditional money system, banks, small organizations, your neighbour, the company where you work, and so on. People are always willing to loan out some money but as we all know all these sources of loans come with some shortcomings that none of us can no longer tolerate. To a Crypto holder, it becomes even harder because few people or organizations are willing to accept your Crypto as collateral and even if they did, it wouldn't come with any convenience, and that my friend is where Nexo comes in.
Nexo attempts to lend money to Crypto holders with their digital assets as collateral. Any crypto holder can borrow any fiat currency and still maintain their position on their Crypto portfolio.
So what exactly is Nexo?
Nexo is a Switzerland based project that is driven by a FinTech Group, Credissimo, one of the leading loaning companies in Europe that have successfully loaned money to millions of people for more than 10 years.
It is the first blockchain company to offer Crypto-backed loans, and it can offer loans globally.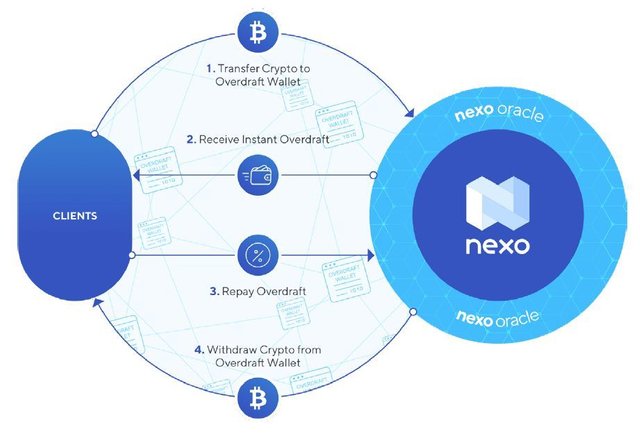 Nexo's basic business model
Nexo loans a Crypto holder fiat money that can be deposited on his bank account or his credit card and his current Crypto holdings are locked up as Collateral. The locked up Crypto adjusts in value according to its current price and payments are made according to the current Crypto value.
How do I Join Nexo?
Nexo tries to be unique by making it easy for anyone to attain a loan as opposed to some blockchain based companies that offer similar services. For example, SALT demands membership and incorporates the need for tiers for more borrowing potential. With Nexo, they try to make it very easy for anyone who owns Cryptocurrencies to access their lending services.
You can Sign up on Nexo, and get ready to deposit any amount of Crypto into your Nexo wallet. Your Crypto is under solid security and insurance of up to $100M by audited custodian BitGo.
Nexo will avail for you the loan instantly when you need it. You can stake up to 20 Cryptocurrencies like BTC, ETH, BNB, ADA, XRP, NEXO coin to be eligible for a loan.
The moment you transfer your digital assets to your Nexo wallet, the loan limits are set-up instantly by an automated system called Nexo Oracle. The loan depends on the current market value of your digital assets and it's always the same value of your Crypto assets. Users can borrow up to 2 million USD.
Applying for a loan is very easy and quick, your loans are instantly deposited on your bank account or debit card.
Repaying loans can be made in fiat and paying in Nexo coins will offer you a discount of 50% on interest charged on loans.
After paying your loans, your currently locked up Crypto assets can now be withdrawn.
Experience with Nexo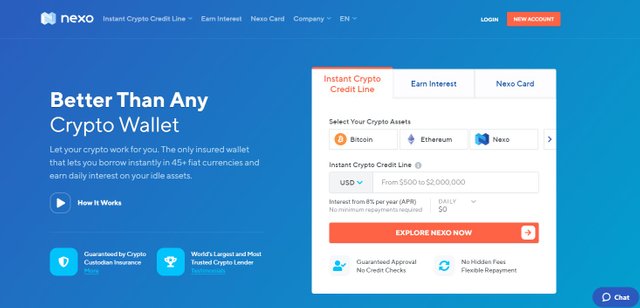 Nexo is very simple to master and use regularly. The depositing, loaning and withdrawing processes are seamless, their KYC verification doesn't take long to be completed, usually a few minutes and rarely just within 24 hours. The KYC verification has three levels and each comes with specific withdraw levels;
No verification- No bank account withdraw, $20,000 Crypto withdraw per day.
Basic Verification- $10,000 bank withdraw per month, $100,000 Crypto withdraw per day.
Advanced Verification- $200,000 bank withdraw per month and no limit on Crypto withdraw.
Neither does Nexo impose any hidden fees nor charge any capital gains from the given fiat loans, it's all transparent and fair.
When your Crypto assets increase in value, Your Nexo credit card will receive some additional credit.

Using the Nexo card has some advantages like, not paying for monthly fees, full-time fraud monitoring, assistance, and making repayments in various ways.
Why you should consider Nexo
Instant Crypto-backed loan, the easiest way to use your Crypto as collateral to borrow some fiat.
Smart contracts that are secure and transparent.
Full-time monitoring of your assets.
Nexo coin can be exchanged on more than 20 exchanges.
Nexo doesn't charge any hidden fees both on card transactions and loans besides direct interests.
Low-interest fees if compared to competitors like ETHLend and BlockFi
Convenient loan repayments, no minimum repayments and monthly fees.
Nexo card has some of the cheapest and most convenient ways to make both Crypto and traditional transactions. (additional discounts on transactions)
Nexo offers 30% of dividends from profits to Nexo holders.
The great Nexo team of 14 members have experience of more than 10 years in this space.
Cons
The 8% interest on loans is very far from what borrowers have experienced. Most users have experienced about 14% interest which is slightly higher than their direct competitor SALT which charges a 12%.

The loan terms are not so different from the traditional bank loan system.
Verdict
Nexo is clearing up some of the biggest obstacles that Crypto users are facing, users can now cash out some money and still retain their Crypto assets for as long as they want. The convenience of the blockchain contract and zero fees on most activities is a big bonus.
Nexo is clearly leading the blockchain loaning section with its instant Crypto-backed loans and very low fees.
Rating.


Disclaimer
Cryptocurrency and related investments are very risky. It would be best if you did your own research and you may want to consult a financial advisor. All the analysis presented here is for informational purposes only. And you should not take it as investment advice.
Nexo https://nexo.io/