Our Cinderellas went to bed before midnight but the clock has finally struck 12 and Matt and I can hear the fireworks from our condo. 🎆 We can even see a few off in the distance. No parties for us, so what better way to usher in the new year than with a Steemit post?! LOL
Out with the old
The last day of 2018 started at 5:30am when Matt got up to read, Squirt started to cry, and a car alarm went off in the basement. The alarm ended up waking both girls 🙄 Thankfully they went back to sleep around 6:30 ... but the car alarm continued blaring until 10:30 pm — yep, 16 hours of BEEP, BEEP, BEEP!! Perhaps it was just an early noisemaker welcoming in the new year.
When the girls went down for their nap, I got to go out with two of my friends for lunch. It was great to catch up. I even snagged an extra hour at a coffee shop to catch up on work projects! While I was away, Matt changed two poopy diapers. 😱 I think that means we can expect big things for 2019 - maybe a mom's night away?!
In with the new
This year will be bringing with it a lot of changes for our family, including moving (again), increased work loads, and new goals.
I think the biggest challenge will be a new work schedule. I'm going to start teaching two days a week at the same place Matt works ... and the girls are coming with us! 6am wake-ups, 1-hour commutes, lesson planning, meal prep, and long days for all of us — my organizational abilities will definitely be stretched!
In spite of the changes, I'm excited about the new year. I hope there will be lots to share here! 🎊 And I look forward to hearing about all of your new year plans, resolutions, goals and challenges!
Happy 2019!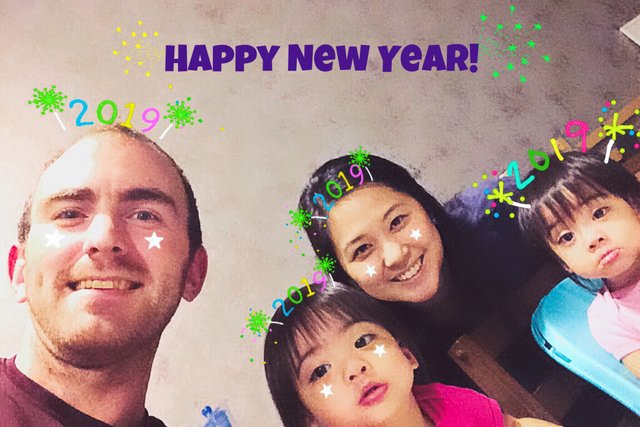 Posted using Partiko iOS