Dear Steemians, Happy New Year!
I hope that the new year will be one of the best years of your life. May all your dreams come true & all your hopes be fulfilled! I wish you a lot of luck to you and all your family members and friends!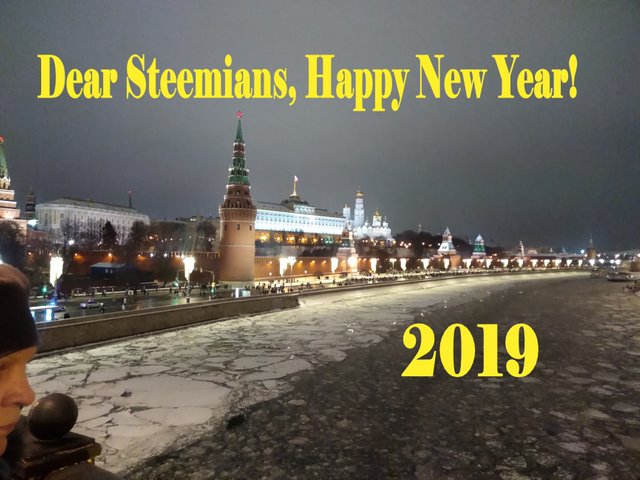 I took this picture during the New Year's Eve from one of the Moscow River bridges
Also I want to include the list of Steemians that helped me have a lot of fun during my journey on STEEM blockchain in 2018. So, thank you my fellow Steemians and I wish you all the best to you and your family members!
This is the list of my fellow Steemians who I have followed (read and watch their content) and/ or engaged with:
@alicedorin77, @anomadsoul, @armia, @behelen, @bengiles, @blind-spot, @blueeyes8960, @chesatochi, @cleanplanet, @clixmoney, @cowboysblog, @crypt-skip, @crypto.talk, @d00k13, @dcooperation, @donefezy, @drisers, @e-avantgarde, @eaglespirit, @edwardsun55, @elizacheng, @fabianklauder, @french.fyde, @fulltimegeek, @georgipraskov, @good-darma, @hafizullah, @hashcash, @hauptmann, @iamjadeline, @idiongo, @irinap, @javirid, @johnstone, @jongolson, @kawaiicrush, @koreanoprah, @kpine, @kuttmoped, @lyndsaybowes, @madushanka, @marksheppard, @mjtravel, @mamun123456, @mushanov, @nathanmars, @peliken, @practicaleric, @prc, @prettynicevideo, @rehan12, @reseller, @scottshots, @shanibeer, @soufiani, @steemcafe, @steemersayu907, @steemitbaby, @sudutpandang, @tanbay, @teneresa, @tibfox, @tinmar, @to7, @tomhall, @toofasteddie, @travelling-two, @vladivostok, @worldtraveller32, @yanipetkov, @yann0975, @zainenn, @zekepickleman, @zetacoin.
Thank you guys! I am glad that I have engaged with you on STEEM Blockchain!