-GADGETSREVIEW- Application for the Community Curator Project of Steemit
What is the Gadgets Review Community?
In our lives, we buy many household items, technological products, small appliances, perfumes, make-up items, brand dresses, shoes, watches. We all need different things from time to time and visit many websites to find out if these products are of good quality. With quality promotions created in this community, you will now be able to get information by reading the comments and promotions of people who use the same product, instead of wasting time in many websites, forums, etc.

What is the Purpose of the Gadgets Review Community?
People will have an idea about this article by reading the promotions about the items you use and the promotions about the products they want to buy. With GadgetsReview, you can easily find out whether the product you want to buy is of good quality and what positive or negative aspects it is.
How Can We Promote Products in the GadgetsReview Community?
There is no limit to the items you want to promote. You just need to have used / or continue to use the product you want to promote. You can advertise about make-up, a brand name pen or a perfume. There is no limit. You can also advertise about any app or game you use on playstore and appstore.
In the GadgetsReview Community, How Do We Earn Revenue?
You need to wait for the moderation process by sending your promotions to the discord group. If you have not made a mistake that violates the rules in the community and you have made a quality promotion, you will get votes from the account @ alikoc07. You will be informed about how many votes you have earned with each product you have promoted and why you cannot win votes. In this way, users will be able to improve their publicity and see that the community is proceeding honestly.
What are the Rules of the Gadgets Review Community?
There is no limit to the products you will promote. (excluding medical drugs, alcohol, drugs, +18 products)

You must have used the product you are promoting before or you are still using it now.

Do not promote a product that you found over the Internet but did not use.

The photos of the product must be original and your photos.

You can make your promotions in any language.

Evaluate the product you are promoting over 5 points.
How to Promote in the Gadgets Review Community?
I want to illustrate by introducing you to the iphone 5s that I used before.
Model: iphone 5s 16gb white smart phone
I used the phone for about 2 years. Having 16 gb of storage space, if you are a person who likes to take lots of photos and videos, I can say that there is an insufficient storage space. A phone with a camera that you can still do well compared to next-generation cameras may be on sale at the moment, but I wanted an example publication to the GadgetsReview Community with this device. If you want to play games with high graphics on the phone, it would be disappointing for you. I can say that its battery is good for use. But I dropped it into water and bought a different device because my phone was not repaired. It has single line input, memory: 1GB, screen size: 4.0 inc. As it is a fingerprint reader and its screen resolution is 640x1136 Pixels, it has made it one of the best phones of 2013-2014. The case is sturdy and durable.
My rating: 3.5

Turkey Price Now: $ 325
You can explain more features and the time it uses.
How can this community contribute to the Steem Platform?
Steem platform supports quality posts in many topics such as art, technology, crypto, travel, culture, education. But when we promote about the products we use on the steem platform, there is no community to support. We all have technological items, watches, smartphones, chargers, perfumes or small household items. We are increasing many websites for which brand of this kind of goods you need, which is better quality and price is suitable for me. People using the Steem platform with this community will be able to obtain information from people who use this product and promote it. Since everyone has different types of goods, both quality and different promotion will be written in terms of content. Many new users can be added to the Steem platform using this community.
For this community; I need support to upgrade on the hive platform.. Contact me to support and collaborate. You can comment below this post or send a message from discord.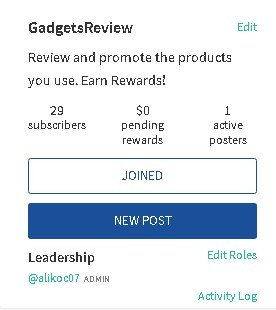 ---
A ) The Community or subject areas you would like to curate ?
There is no limit to the topics we will support, no matter which category the promotion of any product used by the author is suitable; that article gains votes after the moderation process.
B) Your experience and background on Steem ?
I have been actively using the steem platform for 2 years. I am Turkish and many Turkish users were actively using it when I joined the steem platform. I was one of the top employees of a company that supports the Turkish community with many labels such as #tr, #cointurk, # kusadasi. I was writing articles about the promotion of cryptocurrencies for the company, I am one of those who designed the concept for competitions for the Turkish community. When Steemin fell from 80 cents to 30 cents, the company finished community support and competitions.
C) Any languages you are fluent in ?
D ) Why you think you would make a good curator ?
In the GadgetsReview community I designed, everyone can promote the product it uses in a quality and easy way. I think I will be a good curator because I will measure the quality of all posts shared in the community. I will give feedback on why an author has not received a vote using the GadgetsReview community and how to get votes. Thus, the most fair and well-promoted authors will be able to win votes. We will answer any questions they want to ask authors using this community on discord. If the GadgetsReview community is considered suitable for the curation project; Moderators will be included for the control of the promotion of the articles.